TIMELINE: From Minneapolis to DC, how the death of George Floyd impacted us one year later
Demonstrations and peaceful protests drew millions in cities across the nation — including here in the DMV.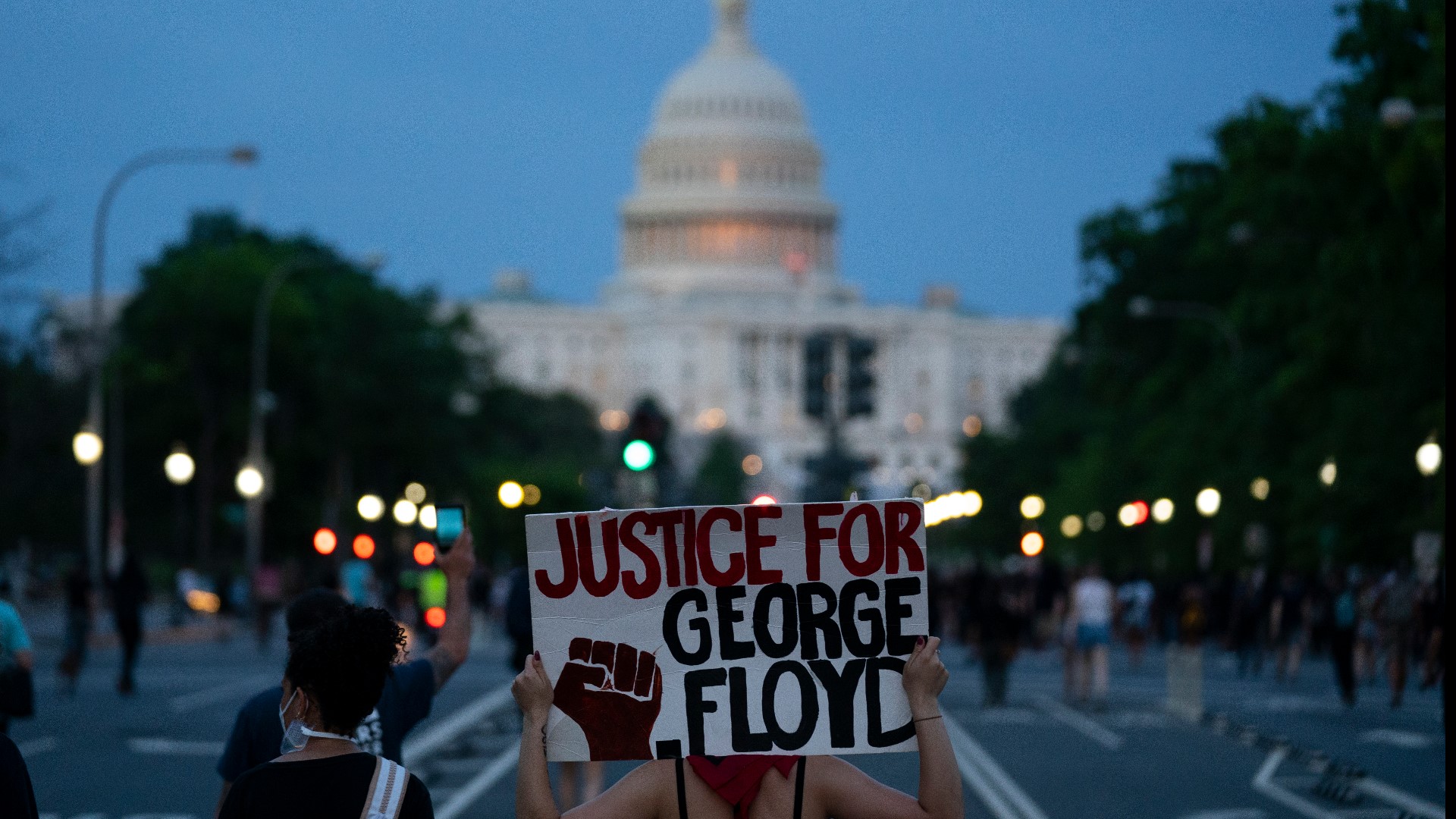 From "I can't breathe" to "Say his name," these two seemingly simple phrases have evolved into national outcry in the 365 days since George Floyd was murdered. Floyd was killed while being taken into police custody in Minneapolis, Minnesota on May 25, 2020, and as his then 6-year-old daughter Gianna said, he "changed the world."
In demonstrations and peaceful protests that drew millions in cities across the nation — including here in the DMV — thousands have called for action to be taken regarding police reform while they mourned the death of another unarmed Black person at the hands of law enforcement in the United States.
Here's a look back at the impact George Floyd's death had across D.C., Maryland and Virginia and how things have changed in our area exactly one year later.
May 2020
:
George Floyd Murdered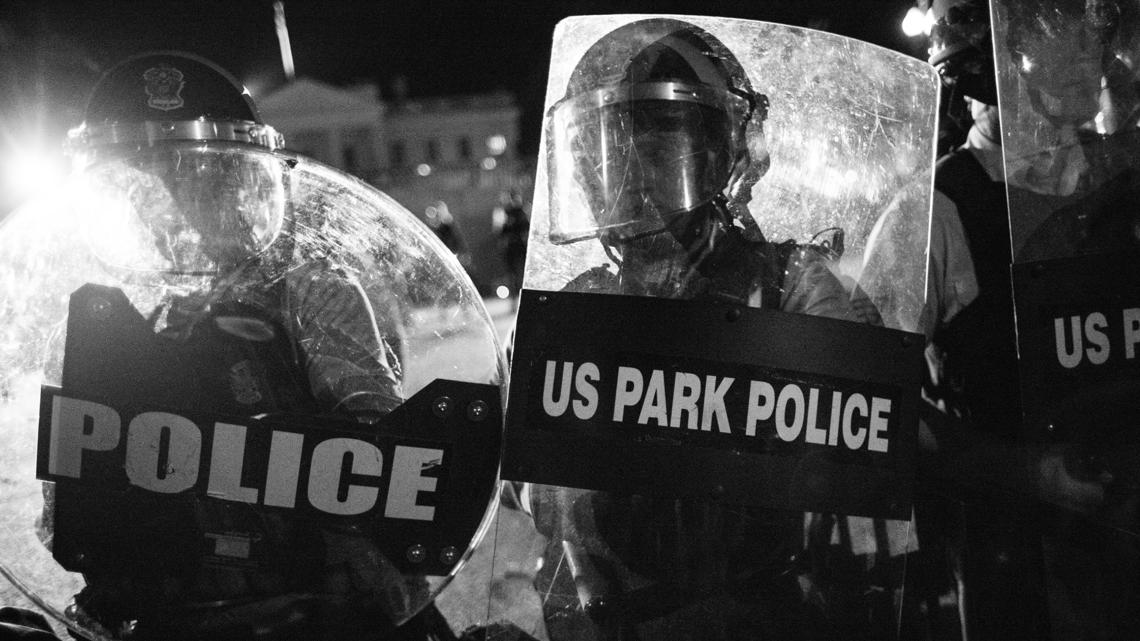 May 25, 2020: George Floyd was killed by former Minneapolis Police officer Derek Chauvin after being arrested for suspicion of using narcotics. Officer Chauvin was seen on video pressing on Floyd's neck for 8 minutes and 46 seconds. Floyd is heard saying several times that he could not breathe.
May 26, 2020: Hundreds of protesters took the streets of Minneapolis, Minnesota in reaction to the death of George Floyd.
May 27, 2020: The four Minneapolis Police officers involved in the death of George Floyd were fired. Minneapolis Mayor Jacob Frey identified the officers as Officer Derek Chauvin, Officer Thomas Lane, Officer Tou Thao and Officer J Alexander Kueng.
May 27, 2020: Protests start in several cities across the country, including LA, Ferguson, New York, Kentucky, Atlanta and the District
May 28, 2020: The governor of Minnesota activated the National Guard following vandalism, looting and damaging of businesses.
May 29, 2020: Former Minneapolis Police Officer Derek Chauvin was arrested and charged for the death of George Floyd.
May 29, 2020: Former President Donald Trump delivers a message to protesters via Twitter calling them "thugs" and stating, "When the looting starts, the shooting starts."
May 29-30, 2020: Hundreds of people in D.C. marched from 14th and U Streets Northwest to the White House in the evening protesting the death of George Floyd in Minneapolis.
The protesters eventually moved toward Capitol Hill and took to the highway, blocking traffic at the 395/695 interchange. Protests remained mostly peaceful, but there was an intense moment where a Secret Service agent tackled a protester to the ground as the crowds moved towards the White House.
Outrage over George Floyd's death ignites second day of chaos in DC
May 31, 2020: A Justice for George Floyd protest took place in Manassas, Va. Some protesters turned violent and began throwing bricks, rocks and bottles at passing cars and at police, officials said. Prince William County residents in Virginia were asked to shelter in place following the violence.
Virginia Gov. Ralph Northam declared a state of emergency in response to escalating violence across the Commonwealth.
D.C. Mayor Muriel Bowser and former D.C. Police Chief Peter Newsham talked about the aftermath of overnight protests at a news conference. They confirmed several local businesses were damaged and 11 DC police officers were left with non-life-threatening injuries.
Newsham said one officer sustained injuries to their leg and underwent surgery for a 'compound leg fracture' after being hit by a brick. About 29 vehicles were damaged or spray-painted, at least three vehicles were set on fire, and 17 arrests were made overnight, including charges of rioting, burglary, and simple assault.
May 31, 2020: The Secret Service briefly took Former President Trump to the White House's underground bunker on Friday night as protesters gathered outside, according to media reports.
May 31, 2020 (overnight): During the third straight night of protests, demonstrators started fires near the White House as tensions with police grew.
June 2020
:
A Month of Protest
July 2020
:
Change is Coming
July 14, 2020: George Floyd's family sues former Minneapolis police officers charged in his death. Minnesota lawmakers passed a bill designed to change culture and practices in oversight of the state's police officers.
July 15, 2020: Defund the Police becomes a hot topic across the United States and in Washington DC. Many use the phrase chanted at protests following Floyd's murder is used to call into question the number of funds given to the police departments.
July 17, 2020: DC City Council revises police reform legislation amid calls for changes to the proposal that was sent from Mayor Bowser's office. Before George Floyd's murder, DC's Mayor Bowser wanted to add more funding and police officers to the force.
July 18, 2020: Washington Football Team announced it will retire team name and logo "Redskins" amid calls following the death of George Floyd. The team faced calls for its name and logo for over a decade, but with stadium sponsor Fed-Ex holding financial support up, it really put an end to the uses of both.
August 2020
:
March on Washington
During the month of August, Rev. Al Sharpton and the National Action Network hosted the 2020 March on Washington in D.C. The march, which was held on Aug. 28, coincided with the original March on Washington for Jobs and Freedom, which took place in 1963, and where Dr. Martin Luther King, Jr. delivered his "I Have a Dream" speech.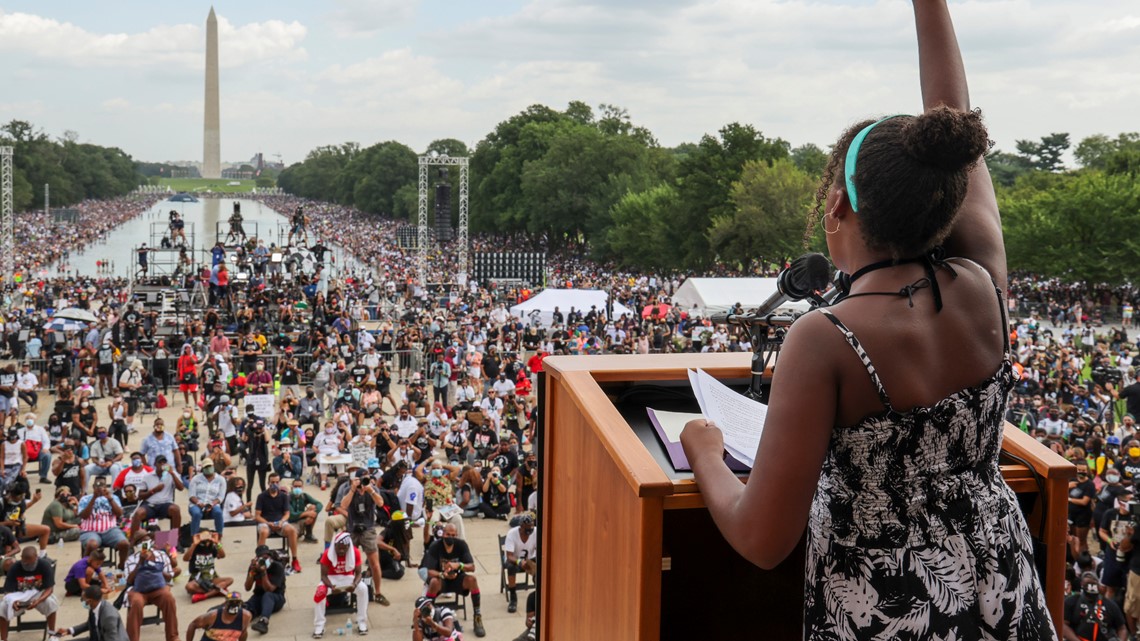 August 1, 2020: March on Washington organizers released the schedule of events for the march – including strict safety measures due to the ongoing COVID-19 pandemic.
August 7, 2020: The families of the country's most recent victims of police brutality will attend the 57th anniversary of the historic March on Washington on Aug. 28, the National Action Network (NAN) announced.
August 8, 2020: A Virginia panel has recommended moving the state's statue of Robert E. Lee at the U.S. Capitol to the Virginia Museum of History and Culture in Richmond.
August 17, 2020: George Floyd's brothers led a moment of silence during the first night of the Democratic National Convention to honor the Black Americans who had been killed by police.
August 19, 2020: Despite concerns from health officials and state leaders, National Action Network announces they will proceed with the March on Washington event – as Rev. Al Sharpton speaks with WUSA9 to discuss the Network's plans for the march and what participants can expect if they participate.
August 28, 2020: Thousands of people descended on the National Mall to participate in the National Action Network's Commitment March: Get Your Knee Off Our Necks, also known as the 2020 March on Washington.
August 31, 2020: Virginia Governor Ralph Northam announced the launch of a new African American history course that will be available to 16 Commonwealth school divisions.
Sept/Oct. 2020
:
Racial Reckoning
Sept. 9 2020: Prince William County votes to rename Jefferson Davis Highway, changing it from the name of the former Confederate President to Richmond Highway
Sept. 18, 2020: Minneapolis City Council votes unanimously to rename a street after George Floyd.
Oct. 7, 2020: Derek Chauvin posts a $1 million bond and is released from state prison. People protest his release across the country.
Oct. 9, 2020: The Hennepin County Court says Chauvin can leave Minnesota because of "safety concerns"
Oct. 19, 2021: Juneteenth officially becomes a state holiday after lawmakers unanimously approved legislation during the Virginia General Assembly special session.
Oct. 28, 2020: Virginia Governor Ralph Northam signs police reform bills into law, banning no-knock warrants, giving localities power to create civilian review boards and limiting the use of neck restraints
November 2020
:
Joe Biden Wins Election
Nov. 1-2, 2020: As Election Day loomed, D.C. prepared for possible unrest and activists prepared for demonstrations.
Nov. 3, 2020: Crowds gathered on Black Lives Matter Plaza awaiting word of a winner of the 2020 presidential election, but record-breaking voter turn out slowed the process, and a winner was not determined on Election Night
Nov. 6, 2020: Election uncertainty continued through Friday. Musician Kenny Sway, who took the microphone during the summer social justice protests in D.C., was once again called on to soothe crowds at Black Lives Matter Plaza.
Nov. 7, 2020: After days of uncertainty, the 2020 presidential election was called for Joe Biden and Kamala Harris. Crowds gathered at Black Lives Matter plaza for a block-party-like celebration that continued for two nights.
DC reacts: Biden projected winner
Nov. 11, 2020: Following the election, supporters of President Trump organized a march to protest the 2020 election results, pointing to baseless claims of election fraud. Counter protests were also planned.
Nov. 14, 2020: Protesters and counter-protesters clashed for the first time in a series of rallies protesting the 2020 election results.
Nov. 28, 2020: D.C. Archbishop Wilton Gregory becomes the country's first Black Cardinal.
December 2020
:
Justice in Policing
Dec. 7, 2020: Virginia Gov. Ralph Northam signs Breonna's Law, which bans no-knock search warrants.
VMI removed the statue of Confederate Gen. Thomas "Stonewall" Jackson after allegations of systemic racism.
Dec. 12, 2020: Gov. Ralph Northam announced a proposal to spend $25 million to transform historical sites in Virginia.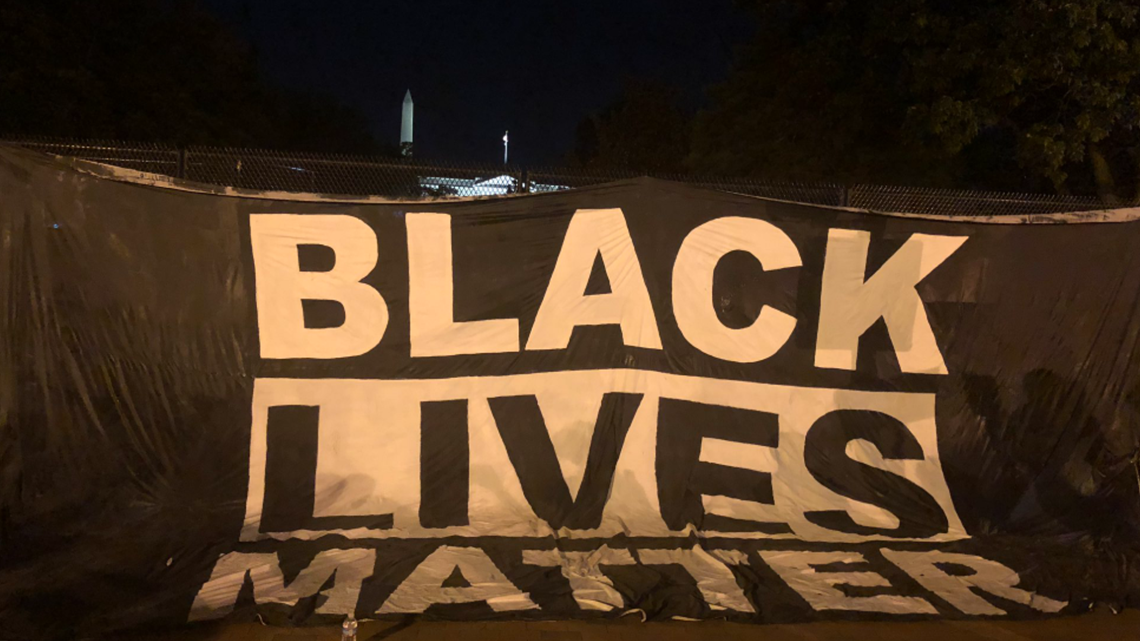 December 22: Anne Arundel County named Amal Awad as police chief, an openly gay Black woman.
January/February 2021
:
New Year, New Beginnings
Jan. 12, 2021: Although originally the four officers were set to be tried together, Judge Peter Cahill rules Derek Chauvin will be tried alone due to the COVID-19 pandemic and courtroom space limitations.
It is later determined that Tou Thao, Thomas Lane and J. Alexander Kueng will be tried in August 2021. They're each charged with aiding and abetting second-degree murder and aiding and abetting second-degree manslaughter.
Jan. 20, 2021: After months of heavy campaigning and some heated exchanges on the presidential debate stage amid the pandemic, President-elect Joe Biden and Vice President-elect Kamala Harris are sworn in on Inauguration Day.
59th Presidential Inauguration
Feb. 12, 2021: The City of Minneapolis moves forward with plans to memorialize George Floyd at the location of his death, the intersection of 38th Street and Chicago Avenue, now known as "George Floyd Square."
The city announced its plan to utilize the area to advance racial justice and healing, while also opening the intersection back up to traffic; the intersection was blocked by barricades after Floyd's death.
February 24, 2021: Rep. Bass reintroduces the George Floyd Justice in Policing Act after it failed to pass a Senate procedural vote to advance in 2020.
March/April 2021
:
Trial of Derek Chauvin