WASHINGTON — It will be breezy today so dress for wind chills in the 30s. Wednesday is cold and blustery also. Highs will hold mostly in the 40s, but there will be more sunshine.
Quick Forecast:
Tuesday: Blustery, colder, partly sunny, isolated shower. High: 47.
Tuesday Night: Partly cloudy and cold. Low: 35.
Wednesday: Sunny, breezy and chilly. High: 49.
FORECAST DISCUSSION:
A winter storm warning is in effect for Garrett County and the Allegheny Mountains in West Virginia through Tuesday Night.
Tuesday will be much colder. Expect a blustery and gray morning, with an isolated shower this afternoon. High temperatures will stay in the 40s, most wind chills stay in the 30s. Some sunshine is possible for the afternoon.
Wednesday remains cold and blustery, with a return to sunny skies.
Detailed Forecast:
Tuesday: Breezy, mostly cloudy in the morning, partly sunny in the afternoon. Isolated shower possible. Highs 41-49. Winds WSW: 10-20.
Monday Night: Partly cloudy and cold. Lows: 28-36. Winds: WSW 10-15.
Wednesday: Mostly sunny, still breezy. Highs 46-52. Winds: W 10-15.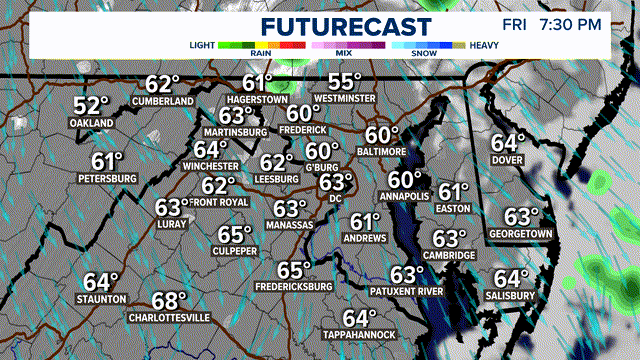 Extended Forecast:
Cooler-than-average weather continues into Wednesday, with highs once again only in the 40s. Highs return to the 50s Thursday and Friday. Expect a dry Thursday, followed by isolated showers for Friday. More showers are likely to start the weekend.

Thursday: Sunny start, a few p.m. clouds. Highs 50-55.
Friday: Mostly cloudy, isolated showers. Highs 50-55.
Saturday: Mostly p.m. rain. Highs 47-51.
Sunday: Rainy and chilly. Highs near 50.
APP USERS: Click here to see the radar loop