WASHINGTON — There is a Flood Warning for parts of Fairfax County until 12:30 p.m.

A Flash Flood Watch has been issued for the DMV east of Interstate 81 on Wednesday until 11 p.m.
Expect a few early morning showers and thunderstorms, with some dry time for the late morning. More thunderstorms will pop-up in the DMV during the afternoon.
View Live Interactive Radar Below: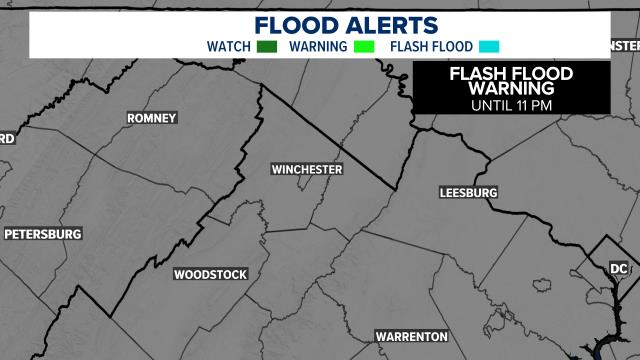 Quick Forecast:
Wednesday: Afternoon showers and storms, heavy rain possible. High: 89.
Thursday: Periods of showers and storms, some heavy rain. High: 82.
APP USERS: Click here to see the radar loop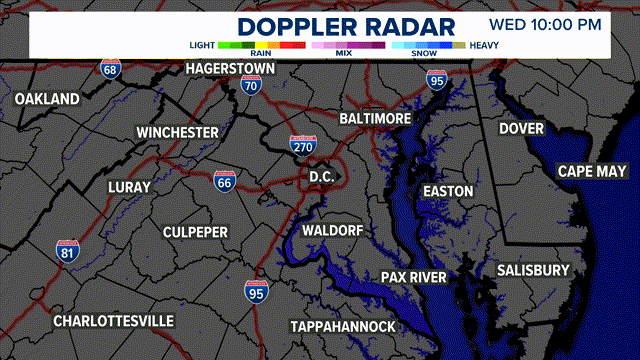 Isolated showers and thunderstorms move through the DMV before 9 a.m.
A cold front approaches later Wednesday and then stalls near the DMV for the rest of the week. This will spark off thunderstorms, some with heavy downpours. A Flash Flood Watch covers most of the DMV until 11 p.m. Wednesday. We issued a Yellow Weather Alert for Wednesday and other alerts may be needed Thursday and Friday.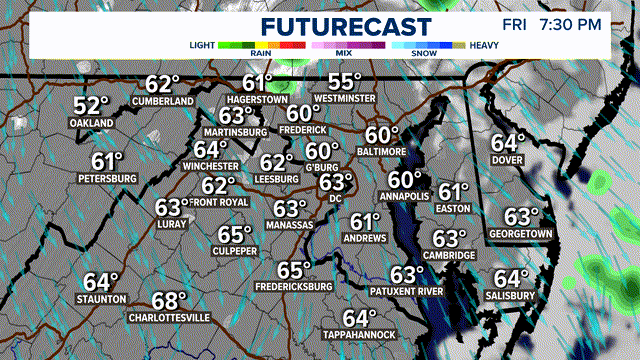 Detailed Forecast:
Wednesday: Periods of showers and thunderstorms, some heavy rain possible. Isolated strong storms during the afternoon. Partly sunny and humid. Highs: 86-91. Winds: SSE 5-10.
Wednesday Night: Evening thunderstorms, then dry. Partly cloudy. Lows: 69-75. Winds: S 5.
Thursday: Thunderstorms, heavy downpours possible. Mostly cloudy and humid. Highs: 79-82. Winds: SE/NE - 10.
Extended Forecast:
Storm chances remain high Friday and will continue through Saturday. An upper-level trough will draw moisture into the DMV, meaning heavy downpours are possible with thunderstorms. Strong storms are possible each day. The clouds and showers will keep the high temps in the 80s by Thursday.

We'll also be tracking a tropical system in the long range forecast. Tropical depression Eleven is forecast to become a tropical storm later Wednesday or Thursday.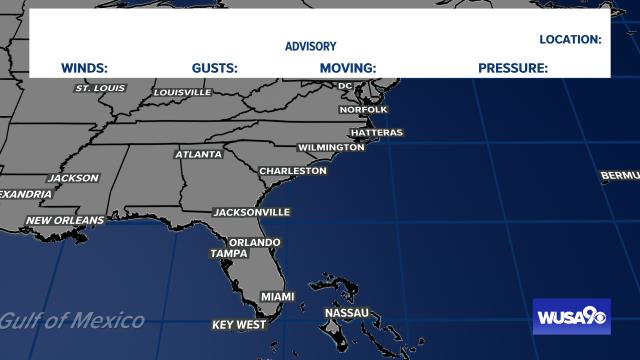 Friday: Mostly cloudy and humid, scattered thunderstorms, some heavy. Highs: 83-86.
Saturday: Mostly cloudy, isolated thunderstorms. Highs: 80-84.
Sunday: Mostly cloudy, scattered thunderstorms. Highs: 76-80.
Monday: Scattered thunderstorms. Highs: low to mid-80s.