WASHINGTON — Fall officially begins Monday, September 23rd at 3:50 a.m., the overall pattern will be a dry and warm one into the beginning of October.

While we could use some rain, we stay dry in the metro through Sunday with unseasonably warm to hot temperatures.

A cold front Monday night may trigger some isolated showers/storms Monday afternoon into the evening.
QUICK FORECAST
Saturday night: Clear to partly cloudy and comfortable. Low: 68.
Sunday: Mostly sunny and hot, but not that humid. High: 89
RELATED: The remnants of Imelda are bringing flooding to Texas and Louisiana. Jerry is strengthening in the Atlantic.
RELATED: September 10th is the peak of hurricane season.
FORECAST DISCUSSION:
A great last weekend of summer with highs in the 80s to near 90.
While the sunshine may be nice, we really need some rain. This month we've only had just over a tenth of an inch of rain. We are in the first stage of a drought across much of the area.
wusa9 weather team
RELATED: We're on pace for one of D.C.'s driest Septembers
Click here to see the animated Futurecast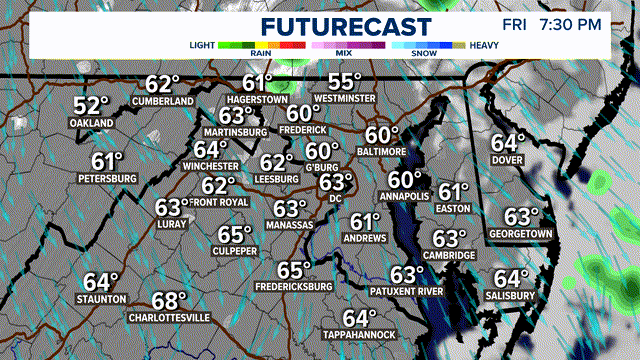 RELATED: DC has officially hit 90 degrees 57 times this year
WUSA
DETAILED FORECAST:
Saturday night: Clear to partly cloudy and mild. Lows: 60s. Winds: Light.
Sunday: Mostly sunny and hot, but not that humid. Highs: 85 - 90. Winds: S 5 - 10.

RELATED: VERIFY: Yes, 'wipers on, headlights on' is law in the DMV and you can face fines if you don't

EXTENDED FORECAST
Hotter temperatures return into the weekend, but the pattern stays dry east of the Blue Ridge. The next possibility of some showers/storms will be Monday afternoon into Monday night. Our first week of fall will be on the warm to hot side.
wusa9 weather team
Monday: Partly sunny to mostly cloudy and very warm with isolated p.m. showers/storms. Highs: Upper 80s.
Tuesday: Mostly sunny and a bit cooler. Highs: Around 80.
Wednesday: Mostly sunny and pleasant. Highs: Low to Mid 80s.

Click here to see the animated radar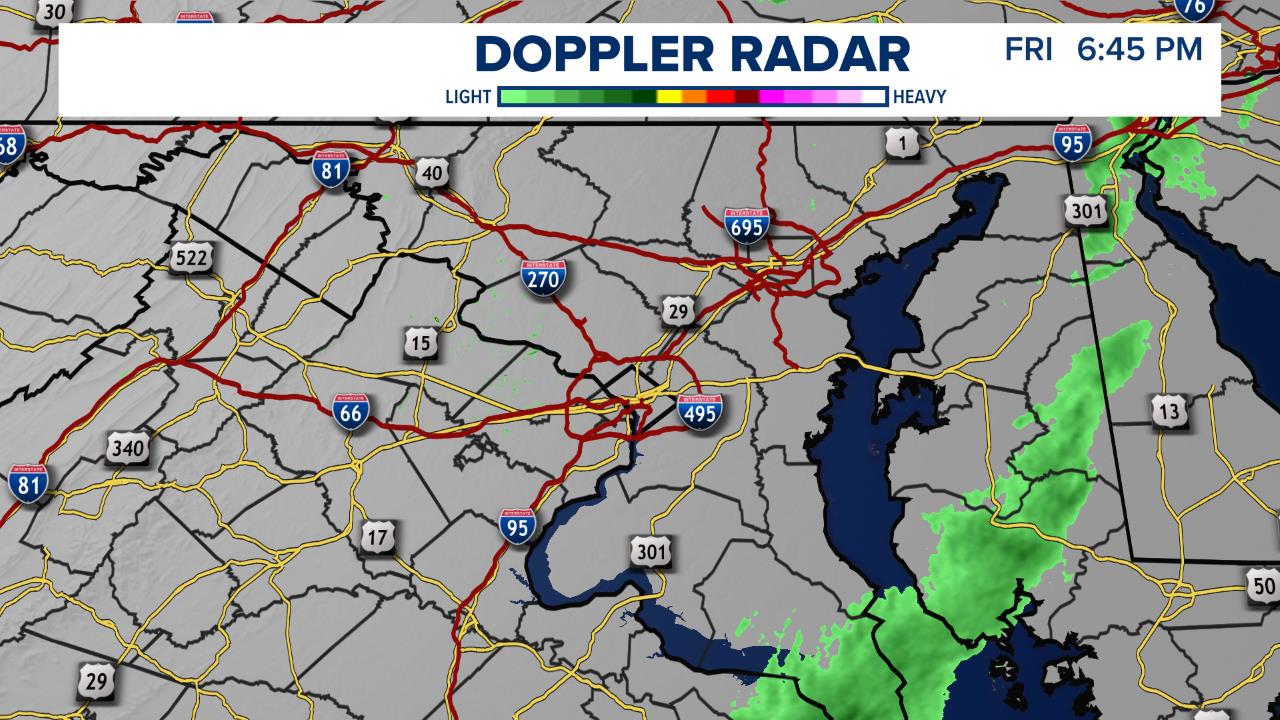 wusa 9 weather
RELATED: Here's how 2019 in DC matches up against its wettest year on record
RELATED: How to customize the stories and alerts you get from WUSA9
Twitter Feeds:
Topper Shutt: @TenaciousTopper
Melissa Nord: @MelissaNordWx
Howard Bernstein: @hbwx
Miri Marshall: @MiriWeather
Download the brand new WUSA9 app here.
Sign up for the Get Up DC newsletter: Your forecast. Your commute. Your news.