WASHINGTON — A cold front moves through Saturday morning and could trigger some morning and afternoon showers. Still warm Saturday with highs in the 70s. A shock to our system Sunday with highs only in the 50s with a cold rain. We have issued a Yellow Weather Alert for Sunday.


Mild overnight with a late shower possible but not much if any fog. Lows will fall into the mid 50s to mid 60s.
A cold front will move through the Metro Area Saturday. Some models are bringing the front in a bit earlier so some morning showers are possible but the best chance of showers and even an isolated storm will be Saturday afternoon and evening. The best chance of showers will be south of DC. It will turn cold briefly behind the front with highs only in the low to mid 50s Sunday. We have posted a Yellow Weather Alert Sunday for a cold rain and drizzle.
Detailed Forecast:
Overnight: Partly to mostly cloudy, late shower possible. Lows: 56 - 64. Winds: SW - 10.
Saturday: Mostly cloudy and warm with a few showers possible, more south. Highs: 70 - 75. Winds: SW to NW 10 - 15.
Sunday: Mostly cloudy and cold with rain and drizzle. Highs: 49 - 54.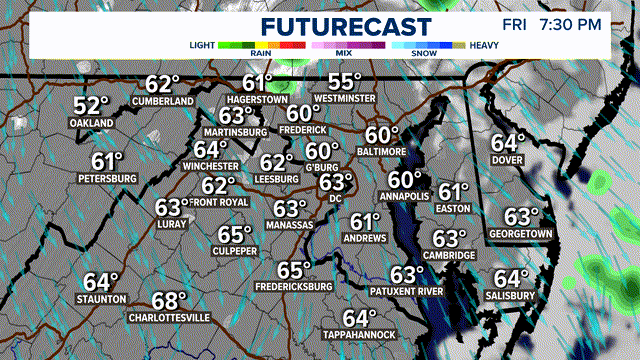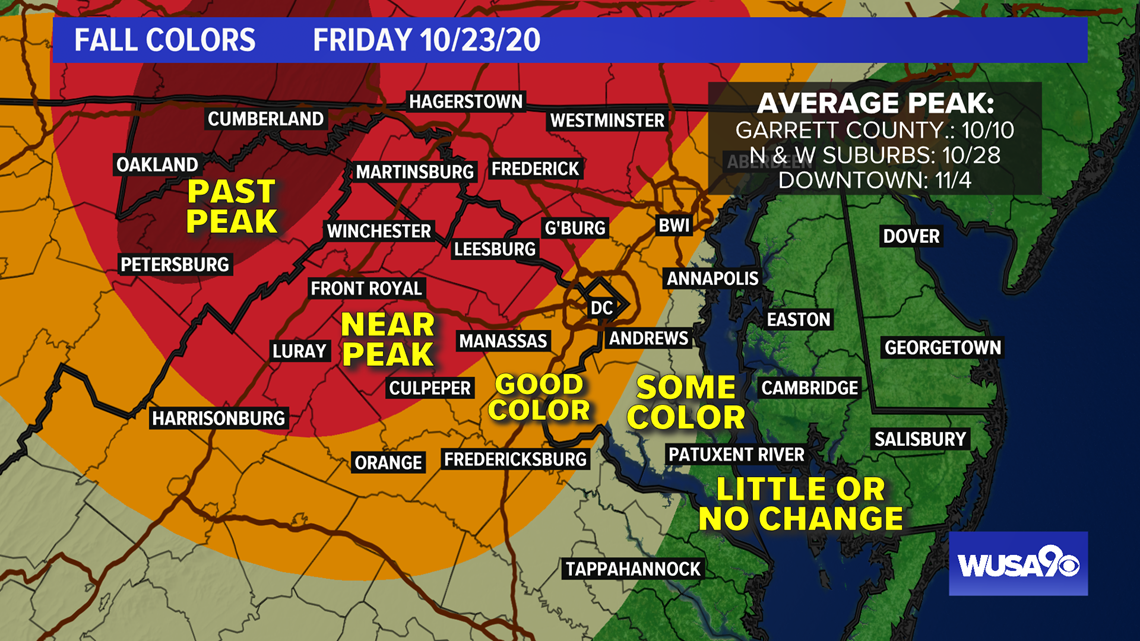 The front moves back as a warm front Monday with a few early showers possible. We return in the warm sector of air with highs back into the 70s. Seasonable Tuesday with a morning shower possible and highs in the mid 60s.
Monday: A morning shower possible then partly sunny, warmer. Highs: 70 - 75.
Tuesday: Partly cloudy and seasonable, a.m. showers possible. Highs: 62 - 66.
Wednesday: Partly sunny and mild. Highs: 67 - 72.

APP USERS: Click here to see the radar loop