WASHINGTON — Widespread rain and showers return for this evening into Wednesday morning. Some heavy rain is possible, especially across southern Maryland and the northern neck of Virginia. Critical timing for heavy rain will be 6 p.m. until midnight.
Quick Forecast:
The rest of Tuesday: Scattered showers/storms return after 5 or 6 p.m. High: 78.
Tuesday Night: Rain with isolated storms, locally heavy rain is possible, easing by daybreak. Low: 57.
Wednesday: An early shower, partly sunny. High: 71.
FORECAST DISCUSSION:
A strong autumn cold front rolls through the Mid-Atlantic Tuesday. Widespread showers, along with isolated thunderstorms are likely throughout Tuesday night. Isolated flooding issues may occur. The rain ends by dawn in most areas and leaves us in pretty good shape for Wednesday. Expect anywhere between 1/2" to 1.5" of rain. Isolated locations may approach 2" of rain by early Wednesday.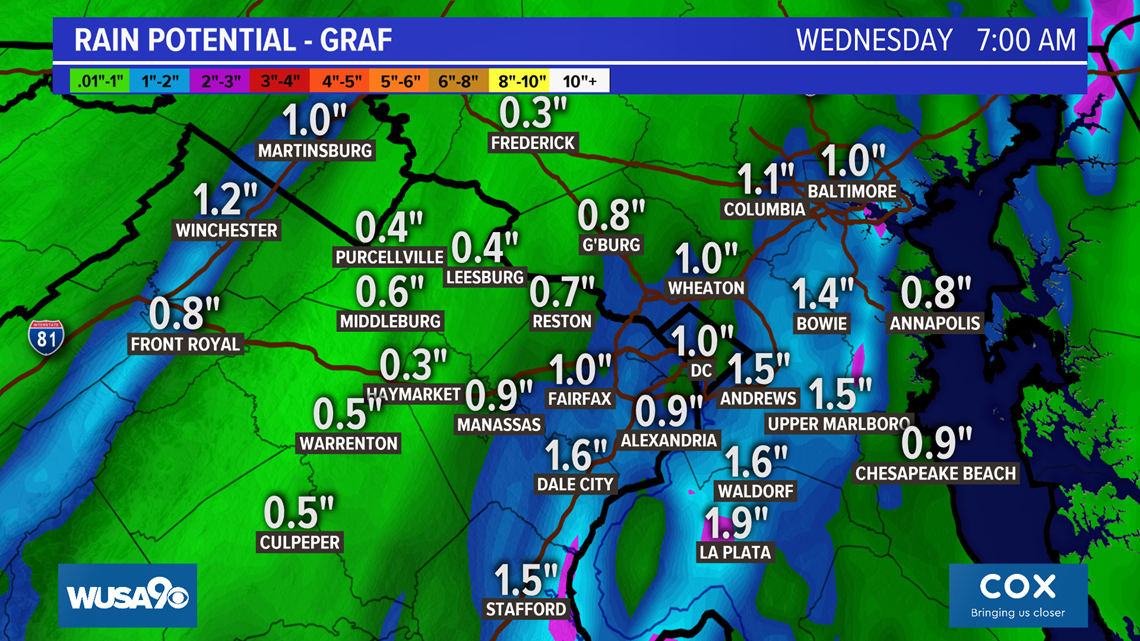 Wednesday will end up mostly sunny, breezy, and a little cooler. High temperatures in the upper 60s to low 70s.

A series of fronts will move through the region this week, bringing a push of cooler autumn air on Wednesday and through to the weekend.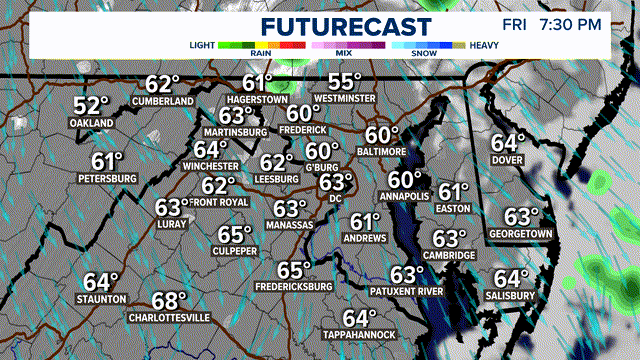 Detailed Forecast:
The rest of Tuesday: Increasing showers and storms in the afternoon and evening. Cooler north and west of D.C. Highs: 68-78. Winds: S 5-10.
Tuesday Night: Moderate to heavy rain likely, especially before 2 a.m. Lows: 49-58. Winds: NW 10-15.
Wednesday: Early clouds clearing to a sunny, breezy day. Highs: 68-72. Winds: W 10-15.
Thursday: Partly cloudy with a chance for a shower after dark. Highs: 69-74. Winds: W 5-10.
Extended Forecast:
Another cold front pushes through Thursday night, bringing even colder air to the D.C. region.

Showers are possible Thursday night into early Friday with our next cold front. Much cooler air moves into the DMV Friday behind that front, with highs in the low to mid-60s.
We end the week feeling like fall, with highs in the 60s through the weekend.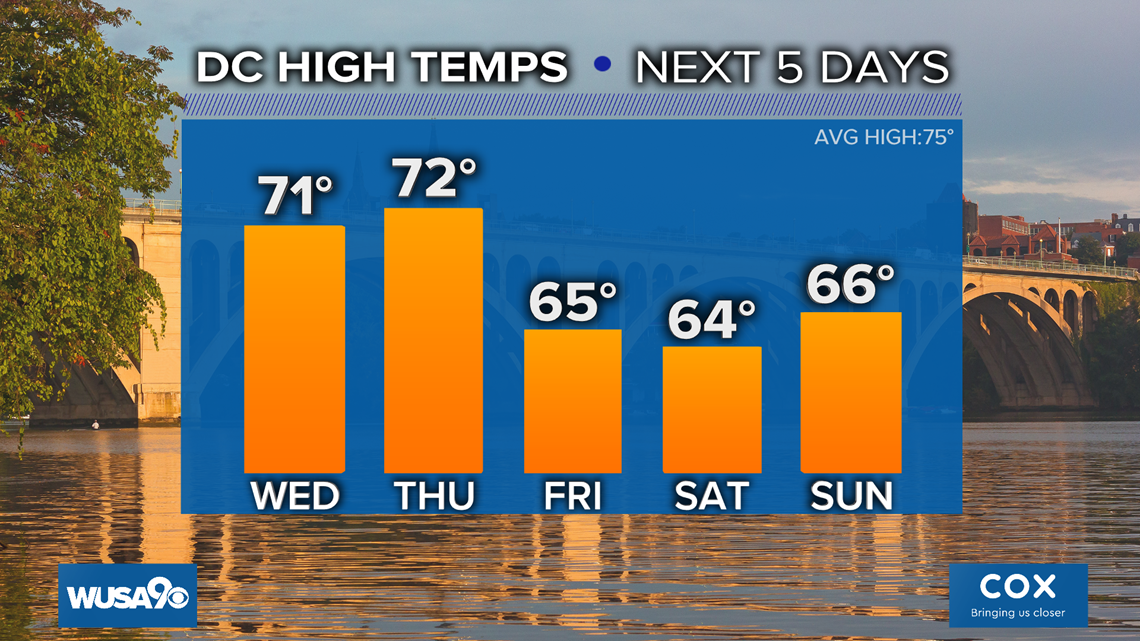 Friday: Slight chance of an early morning shower. Partly sunny and cool. Highs: 62-66.
Saturday: Mostly sunny. Highs: 61-65.
Sunday: Partly cloudy. Highs: 63-67.
Monday: Chance for light rain. Highs: low to mid-60s.
APP USERS: Click here to see the radar loop