WASHINGTON — With many pools closed around the DMV people looking for places to cool off might consider Rock Creek, but the Department of Energy and Environment said that's illegal.
Still — the Rock Creek Conservancy says people are defying the law and going in the water. And as our #TheQandA team reports — it's not only illegal, but officials say the water quality is very poor.
After all of the rain that we got from Isaias overnight and into the morning, Rock Creek isn't as clear as it normally is.
Officials tell WUSA9 that's because there is more bacteria in the water that can make people sick. So when it comes to finding a safe place to swim in the District, this is not it.
"Most people when they're in Rock Creek and they see the beautiful creek that we all love, it looks pristine and gorgeous," says Jeanne Braha, Executive Director of the Rock Creek Conservancy.
Rock Creek Conservancy is a non profit organization that works to educate the community about and advocate for all 33 miles of Rock Creek and its parks. Braha says, while the creek water generally looks clean, it's just not safe for people to enter.
"We know from testing the water ... as well as from data that's collected by government agencies we know that the stream's water is really impaired."
By impaired, Braha means the water from the creek is contaminated with bacteria like e-coli and fecal matter.
"So yes there is poop in the water in Rock Creek," said Braha.
And it's not just coming from the creatures that call Rock Creek home.
"It picks up anything that's on the ground on the way and you know we see litter, and we know that comes through stormwater, but there's lots of stuff you can't see so if you don't scoop your dog's waist when you're out for a walk … that comes along for the ride," said Braha.

So how can we stop that ride before it starts?
Robbie O'Donnell, the watershed program manager for Anacostia Riverkeeper says we'd need to fix DC's very old sewage system.
"It was mostly built, kind of around the turn of the Industrial Revolution."
O'Donnell says the sewage system that we have in about one-third of the District is called a combined sewage system.
"And so this means that stormwater, so rain, is falling on the streets, your houses, everything like that," said O'Donnell. "And that's getting put into the same pipe as sewage."
Well, O'Donnell says it comes down to flow capacity.
Take a look at this picture taken this morning by Trey Sherard.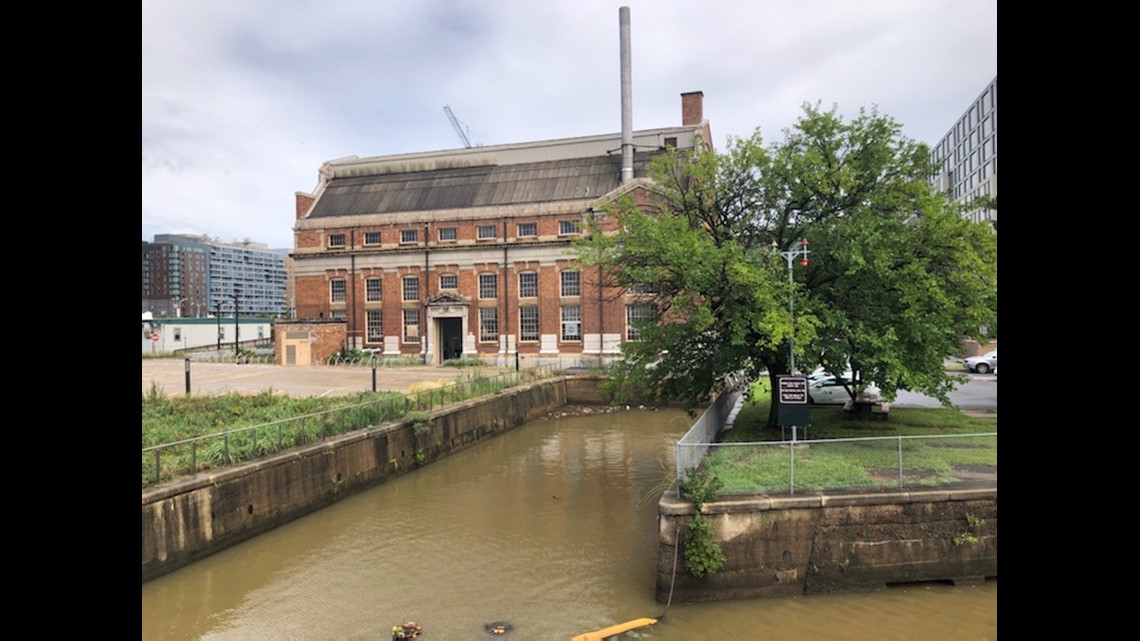 O'Donnell says What you're seeing is a sewage overflow in Anacostia by Nationals Park baseball stadium.
"So you can imagine when we get a big rainstorm like we just got that kind of overloads the system in a way," said O'Donnell. "And so instead of backing up into your house which would never be good ... they kind of decided, the people who designed the sewers, to outlet them into waterways."
And he says that is a direct input of sewage into the water body.
Jeffrey Seltzer, Deputy Director for Natural Resources at the DC's Department of Energy and Environment, said that through the Clean Rivers Project the District is actively working to reduce the amount of sewage that flows into local waterways.
"The overflows in the Anacostia River will be reduced by 98% by 2023. And in Rock Creek we will reduce up to 96% of them by 2030."
According to the DOEE, it's been illegal to swim in DC waterways way since 1971. And while they hope to have swimmable creeks and rivers someday soon, it's just not safe right now.