WASHINGTON — If you are a snow lover living in the D.C. region, you've probably come to expect disappointment when it comes to winter forecasts. Sadly, we aren't likely to break that pattern in 2020-2021, as we are likely looking at a weak La Nina winter. However, we are expecting quite a bit more white powder to fall this winter than last year.
We've done a deep dive into the data to bring you our winter weather predictions.
Here's How Much Snow To Expect
We are forecasting below-average snowfall in the Metro and average snow accumulation far north and west of the District. Compared to last year's snowfall, though, we are predicting 15 times more snow this winter for a few locations, including National Airport.
D.C. can expect around 9 inches of snowfall this year, which is half the city's average accumulation but fifteen times last year's amount.
If you're south and east of town, we're forecasting 2-4 inches for places like Waldorf and La Plata, and 2-10 inches essentially from I-95 east and south.
The farther west you live, you have a better chance at having cold air in place, and places like Cumberland are looking at 30-40 inches of snow.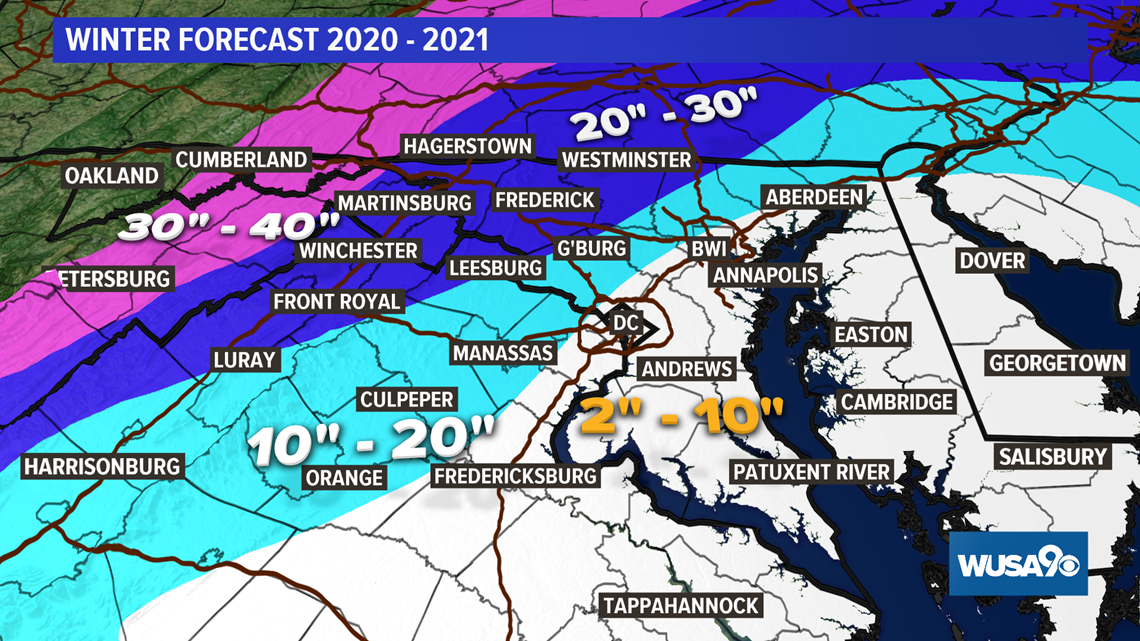 Zone-By-Zone Snow Forecast
Below you'll find a list of airports and cities with around how much snow to expect, as compared to how much that location averages based on the last 30 winters.
Average: Forecast 2020 - 2021
Snow Forecast: Winter 2020-2021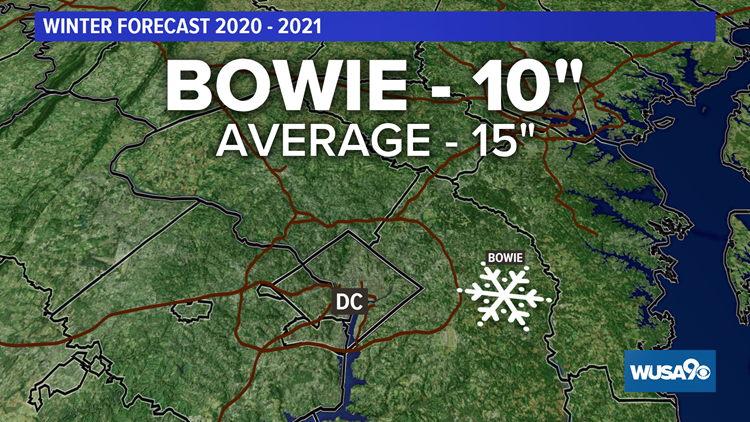 Winter 2020-2021 Temperatures
We are foresting above-average temperatures for December through February. This does not mean that we will not see some arctic outbreaks -- we will -- nor does it mean to book tee times all winter. We are simply forecasting temperatures slightly above the average for those three months.
Statistically, temperatures averaged over December, January and February -- known as meteorological winter -- have been slightly above with weak La Ninas. If this winter's La Nina strengthens into a moderate La Nina, then temperatures could end up a bit below average.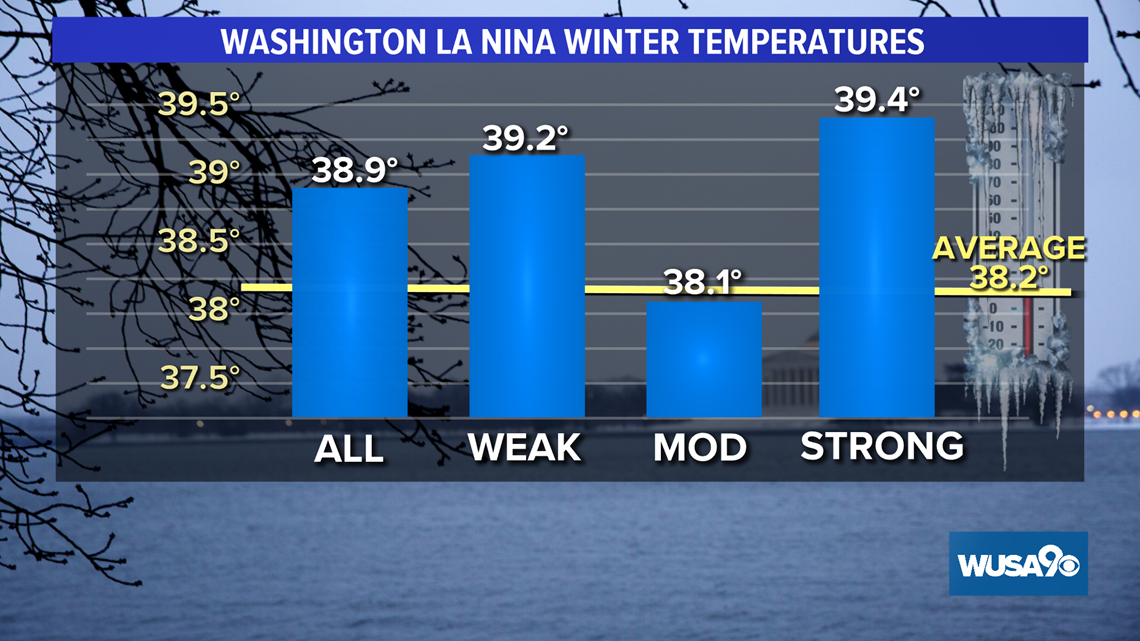 What Drives This Forecast: La Nina
We have a little better than a 50% chance of having a weak La Nina winter. Thus, there are no strong signals pointing to a cold and snowy winter or to a dry mild one. If this weak La Nina continues, snow lovers will more than likely have another disappointing year.
But why are weak La Nina winters bad for snow lovers?
The northern branch of the Jet Stream, the storm track, is forced north of the Mid-Atlantic taking the storms to our west, which draws up warm air from the south resulting in rain and not snow. Snowstorms must track south and east to hold in the cold air.
When the jet stream dips south and east of the DMV, that keeps the storm track south and east of us holding in the cold air.


How does 2020-2021 compare to last year:
Last winter we had a neutral phase, neither El Nino nor a La Nina, and snow lovers suffered through the third least snowy winter on record with a paltry .6 inches.
When we don't have an El Niño or a La Niña, we're in the neutral phase of the El Niño Southern Oscillation, an atmospheric weather cycle that drives our jet stream patterns. Although this neutral phase doesn't have an official name, it's commonly referred to as 'La Nada', which translates to 'the nothing' in English from Spanish.
Only two other winters -- dating back to 1887 -- had less snow than we saw last year: the winter of 1972-1973 and 1997-1998 when only .1" was recorded at National Airport. The winter of 1972-1973 was a strong El Nino year, while the winter of 1997 – 1998 was a massive El Nino year.

Is there any hope for snow lovers this winter?
The winter of 1995 – 1996 was a weak La Nina, like this year is predicted to be, and we had 46 inches of snow in downtown D.C. that winter.
So are we saying there's a chance we see a 2020 pandemic blizzard? Well….a slim one.
The Blizzard of 1996 left 24.6 inches of snow at Dulles, marking their third biggest snow on record. Of course, at National much less snow was measured. Officially 17.1 inches fell in the January 1996 blizzard.
It snowed in six months that winter. At National we had .5 inches in November, 1.3 inches in December, a whopping 23.8 inches in January, a respectable 5.2 inches in March and even a trace of snow in April.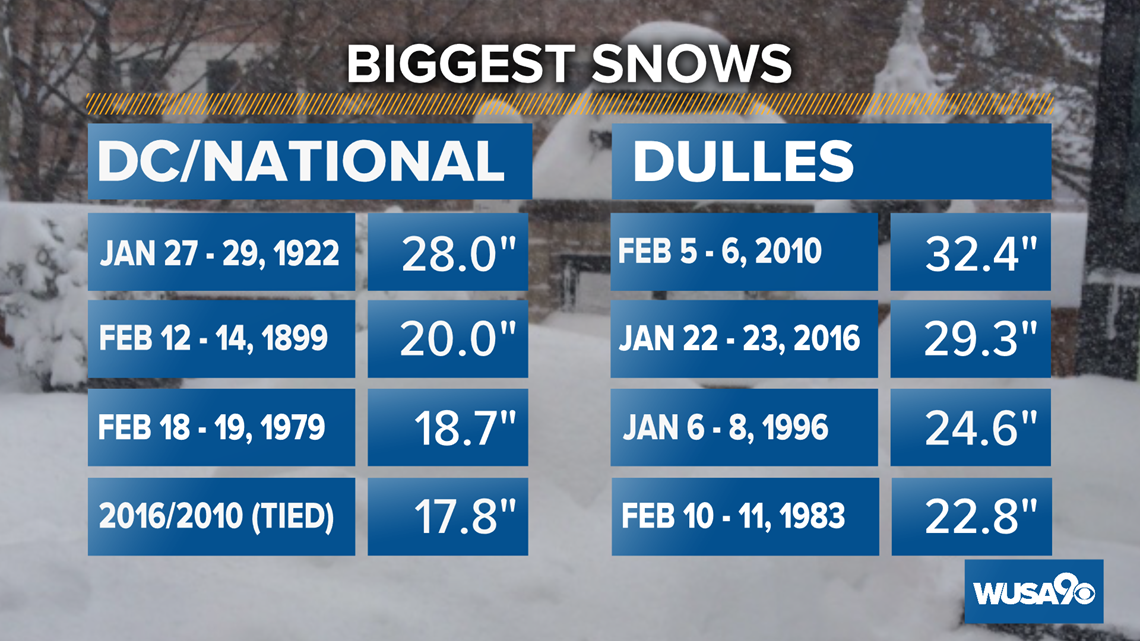 In addition to a nearly snowless winter, 2019-2020 was also the seventh warmest on record. Some DMV residents were able to play golf all last winter and every weekend in February.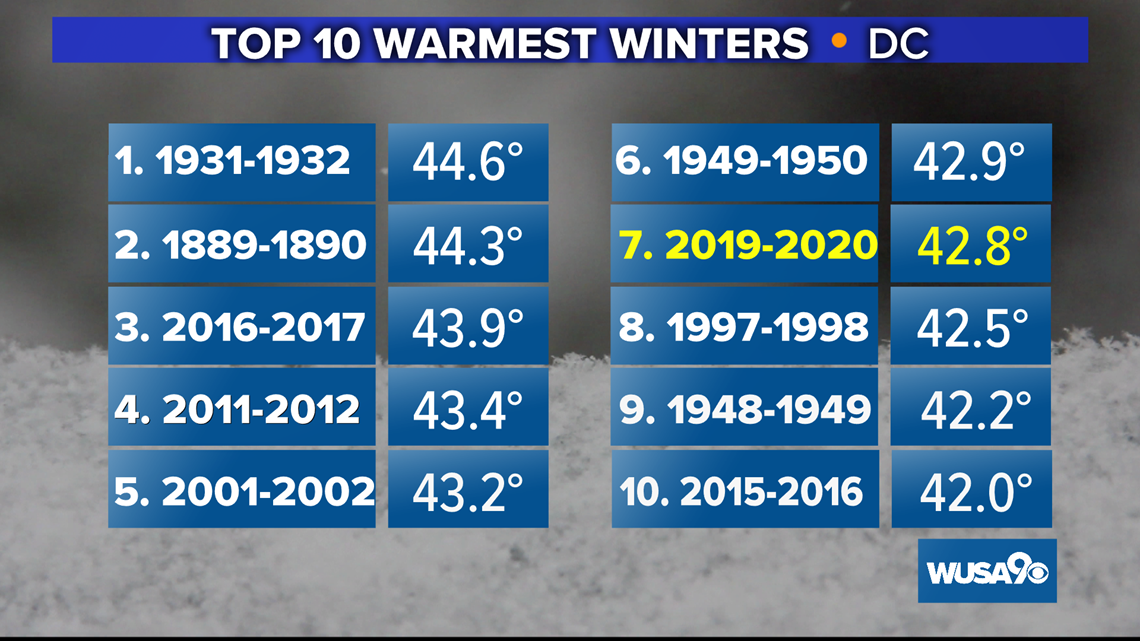 If you are a snow lover, then you have been disappointed for the last seven winters, with perhaps the exception of 2013 – 2014 and 2015 – 2016.
Let's review the last seven winters.
2019-2020: .6' La Nada (forecast to be a weak La Nina)
2018-2019: 15.9" Weak El Nino
2017-2018: 7.8" Weak La Nina
2016-2017: 3.4" Weak La Nina
2015-2016: 22.2" Strong El Nino (18.8" in the blizzard alone)
2014-2015: 18.3" Weak El Nino
2013-2014: 32.0" La Nada (trace of snow November and April and measurable snow December, January, February and March but no blizzards)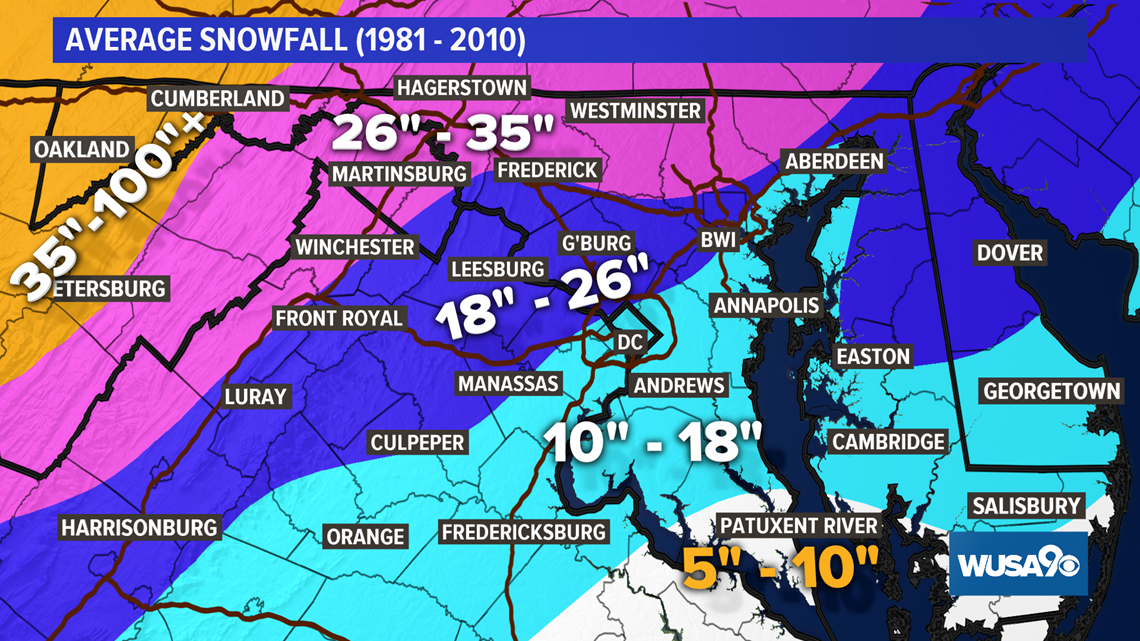 When Can We Expect The Most Snow?
Predicting exactly WHEN our first nor'easter or big snow of the season will fall is too difficult this far out. Check back with this story for more as the winter gets closer.
So in sum, we are calling for less than average snow in the immediate D.C. area and above-average temperatures across the board for the winter of 2020 – 2021.
Our prediction for the first measurable/1 inch of snow this year is Dec. 16, 2020.