WASHINGTON — Zeta slammed into Louisiana Wednesday afternoon with winds at 110 mph, just shy of Category 3 status. Tens of thousands of Louisiana residents have been left without power.
Zeta strengthened into a Category 2 storm Wednesday afternoon but then weakened to a Category 1 Thursday night.

The latest information has Zeta with 60 mph winds, now a tropical storm. The storm is moving quickly to the northeast at 39 mph.
DMV Impacts
Now that Zeta has made landfall, it will continue to weaken and the remnant low will move northeast toward the DMV. Moisture associated with what is left of Zeta will fuel rain in the D.C. Metro through early Friday. We could see significant rain from Zeta across the DMV. As of 8 AM , most areas had picked up between 0.5" and 0.8" of rain. Rain will be heaviest through Thursday afternoonbefor tapering to showers in most areas by 4 p.m. We'll see on and off showers Thursday night with a few showers lasting into early Friday morning followed by clearing and colder air to follow for Friday afternoon into Sunday morning.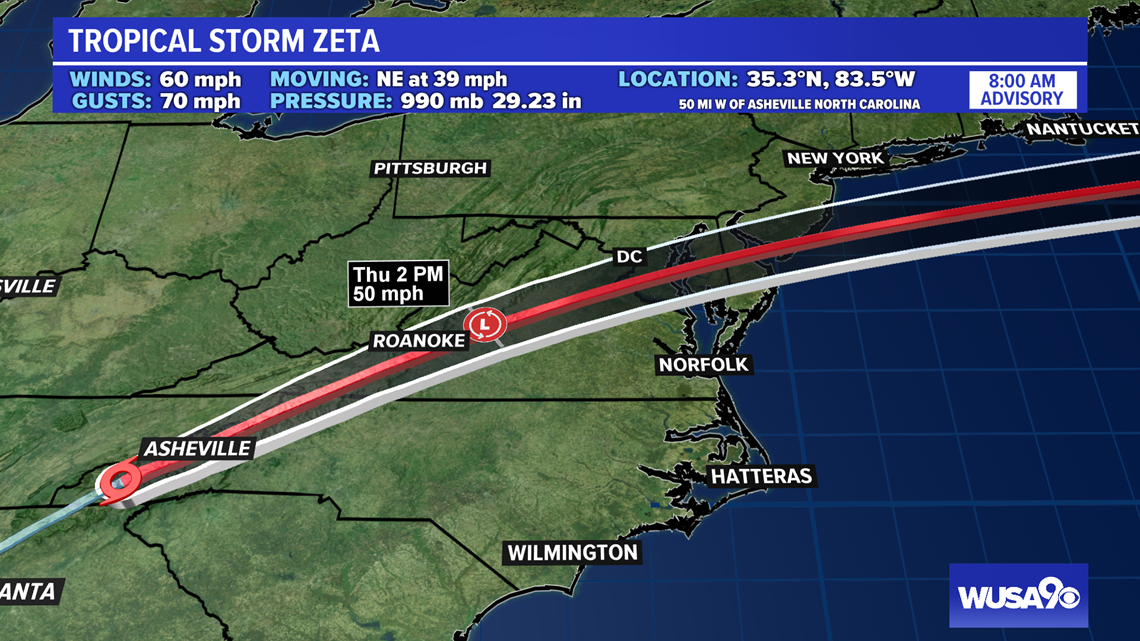 Zeta will produce heavy rainfall across the South and Mid-Atlantic. Some totals could exceed 43 inches. The GFS model has the heaviest rains over the D.C Metro.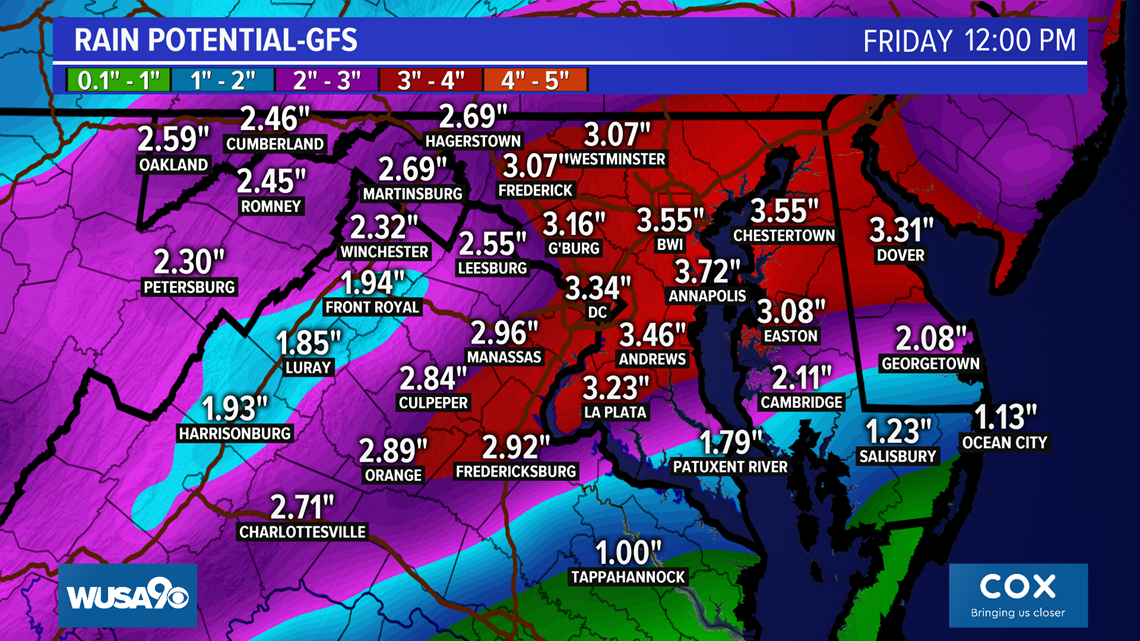 Meanwhile, the European Forecast Model and the National Weather Service National Blend of Models place 1.5" to 3.5" of rain across the D.C. area as Zeta moves through. Both models are in agreement as to the timing of the rain: late Thursday night through Thursday evening.

The European model has the heaviest rainfall amounts southwest of D.C., but still significant rains over much of the area.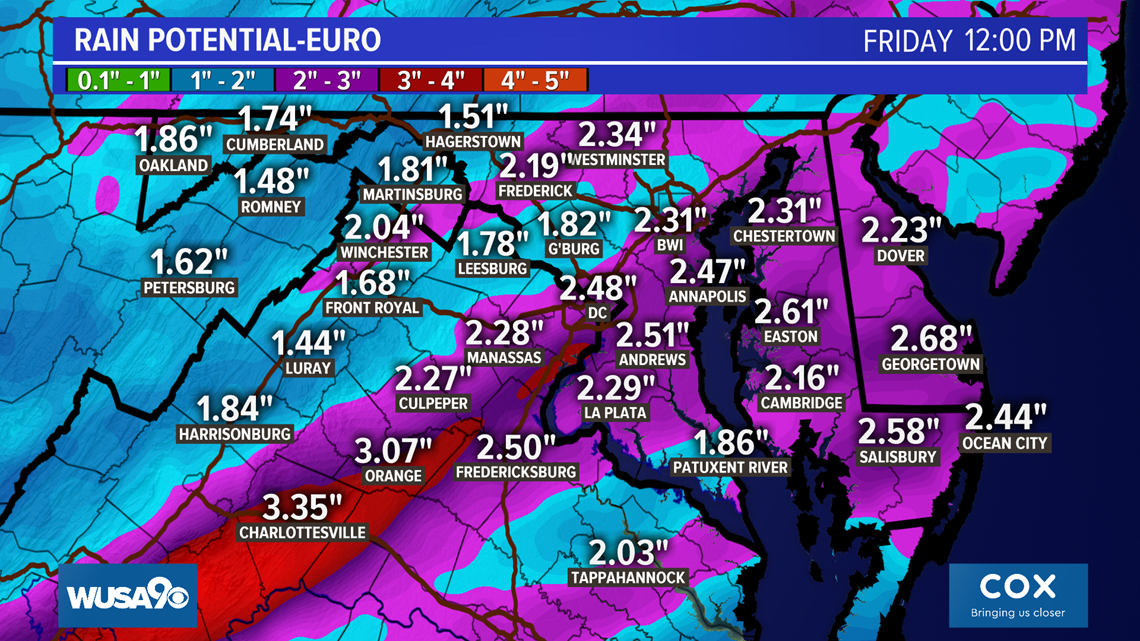 A Flood Watch covers most of the DMV. Hagerstown, Martinsburg and Winchester are not covered by the watch but heavy rain is still likely.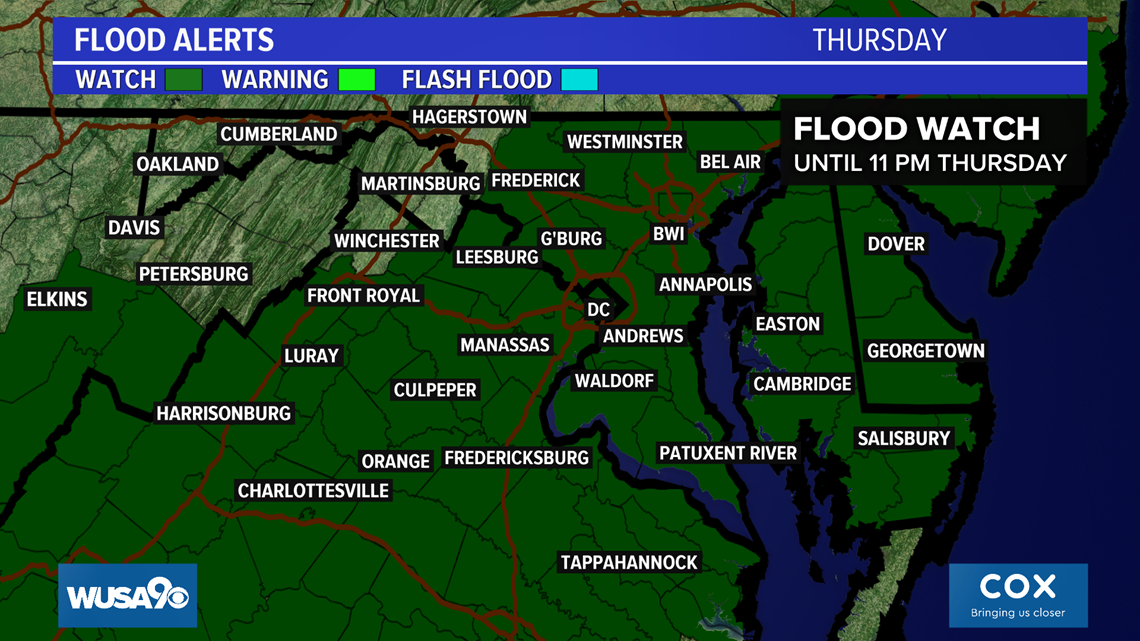 Here is the latest advisory from the National Hurricane Center

Here is the latest discussion from the National Hurricane Center
Zeta is the 27th named storm of the 2020 Atlantic Hurricane Season. It is the earliest forming 27th named storm in the Atlantic basin. The previous record was Nov. 29, 2005, according to Philp Klotzbach, a hurricane expert at Colorado State University.

The WUSA 9 Weather Team is monitoring the tropical storm. Please check back for updates as the forecast may change.