WASHINGTON — An Arkansas man captured in a viral image with his feet up on a desk in the Speaker of the House's office suite on Jan. 6 was ordered to serve more than four years in prison Wednesday.
Since his arrest just days after the riot, Barnett has been outspoken in his criticisms of the Justice Department and the police who defended the Capitol – who he accused at trial of assaulting protestors and instigating the attack on the building. Prosecutors said he had also tried to profit from his notoriety and entered a recorded jailhouse phone call into evidence showing he'd suggested copyrighting the wording of the crude note he'd left behind for then-Speaker Nancy Pelosi (D-CA) reading, "Hey Nancy, Bigo was here, b*****." In a sentencing memo, prosecutors said Barnett also sold autographed photographs of himself with his feet up on what he thought was Pelosi's desk.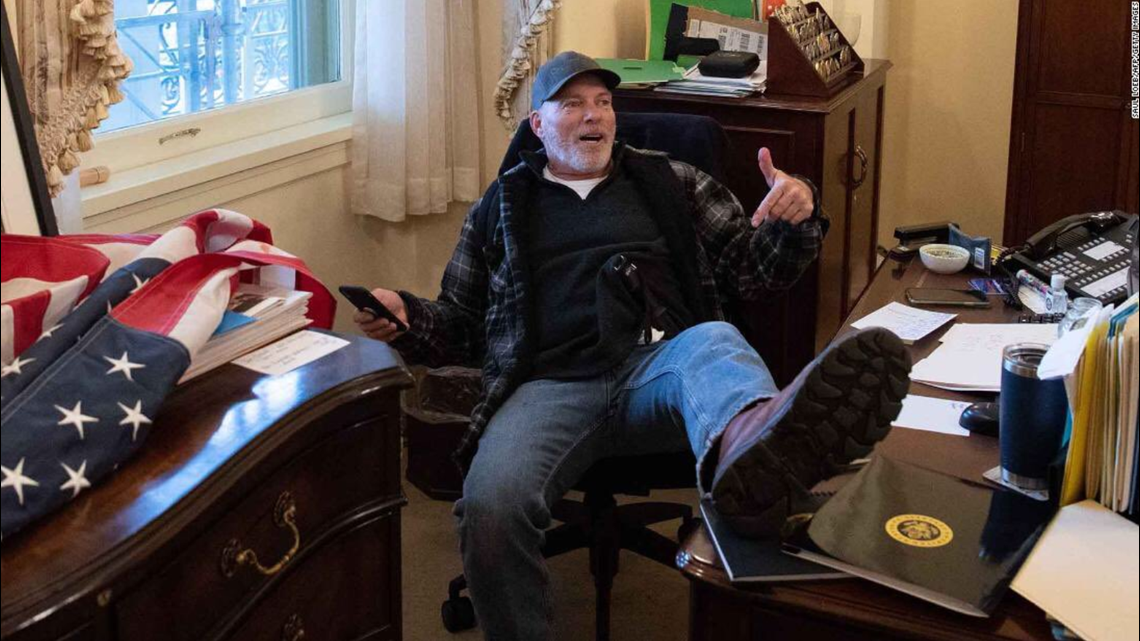 The DOJ's memo also identified more than a half dozen instances of what it described as Barnett's "willingness to lie under oath" during his trial, including contradicting information he'd given to the FBI by testifying that his cell phone had fallen off a truck.
"When confronted with evidence undercutting his claims on the stand, Barnett repeatedly deflected, chalking up the contradictions in his testimony to 'head trauma' (for which there was no evidence)," prosecutors wrote.
Prosecutors estimated Barnett's recommended sentencing guideline at 70-87 months and asked U.S. District Judge Christopher Cooper to give him the upper end of that range, citing his "brazen disrespect for every form of authority."
"Barnett recognizes no authority but himself and is willing to do 'whatever it takes' to get what he wants, even if it requires haring others, stealing, or breaking the law," prosecutors wrote.
On Wednesday, Cooper granted the Justice Department's request for a significant enhancement that brought Barnett's sentencing guideline to their calculated range. He also agreed that Barnett hadn't been truthful on the stand — and hadn't come to D.C. just to peacefully watch former President Donald Trump's final rally.
"I think you knew breaching the Capitol was potentially in the cards when you came to D.C.," Cooper said, later adding, "Once you were here, you told everyone who would listen that you weren't here to play."
But Cooper also said the enhancement for obstructing the administration of justice, though applicable, was unduly punitive for what Barnett actually did. Ultimately, he varied downward to the sentence recommended by the probation office to 54 months, or four-and-a-half years in prison. Barnett was also ordered to serve three years on supervised release and pay $2,000 in restitution.
Before hearing his sentence, Barnett spoke briefly. He once again claimed police were using excessive force against protesters. That, he said, was what made him angry. He acknowledged the government was correct when it said he hadn't expressed much in the way of remorse.
"They say I'm not remorseful. But listen to what they say I should be remorseful for," Barnett said. "They say I'm a terrorist."
Barnett was represented at trial by defense attorneys Joseph McBride, Jonathan Gross and Bradford Geyer. McBride was allowed to withdraw from the case in April following Barnett's conviction on all counts. In their sentencing memo, Gross and Geyer had asked for Barnett to be given a much lighter term of a year in prison with credit for approximately four months he'd already served in pretrial detention.
"Mr. Barnett is outspoken about his political views and has attended dozens of rallies in his life, but was always peaceful, never violent," they wrote. "On January 6, he was shocked to his core when he saw what he believed and still believes was a disproportionate response by the police. He saw and heard the sounds of war as flash bombs were fired into the crowd and protesters screamed. It was traumatic and conjured flashbacks to his worst experiences as a firefighter. It made him angry, and he expressed his anger nonviolently, though he deeply regrets how he acted that day, particularly in front of Officer Craig in the Rotunda. Yet despite his intense feelings, he never lifted a hand towards a law enforcement officer that day, or ever in his life."
After hearing his sentence, Gross requested Cooper recommend Barnett be placed at a federal facility in South Dakota with a dog training program — which Barnett said he would enjoy. Barnett said Wednesday he intended to appeal his conviction.
We're tracking all of the arrests, charges and investigations into the January 6 assault on the Capitol. Sign up for our Capitol Breach Newsletter here so that you never miss an update.