WASHINGTON — Two men who geared up with weapons and body armor and then traveled across the country with a third man – and, ultimately, forced their way into the U.S. Senate chamber on Jan. 6 – were set to be sentenced Wednesday by a federal judge in D.C.
Beginning on Dec. 31, 2020, three men – Josiah Colt, of Idaho; Nathaniel DeGrave, of Las Vegas; and Ronald Sandlin, of Tennessee – created a private group chat on Facebook to plan for former President Donald Trump's "Stop the Steal" rally on Jan. 6, 2021. According to prosecutors, the men discussed shipping guns to Sandlin's residence and "filled up" online shopping carts with weapons and paramilitary gear to the Capitol. When they left from Tennessee bound for the District of Columbia, their rental car was loaded up bear spray, gas masks, a handheld stun gun, military style vests/body armor, helmets, several knives and two guns: a Glock 43 pistol belonging to Colt and a M&P bodyguard pocket pistol belonging to Sandlin. When they entered the Capitol as part of the mob, DeGrave was carrying one of the cans of bear spray and Sandling was armed with a knife, and all three were wearing protective gear.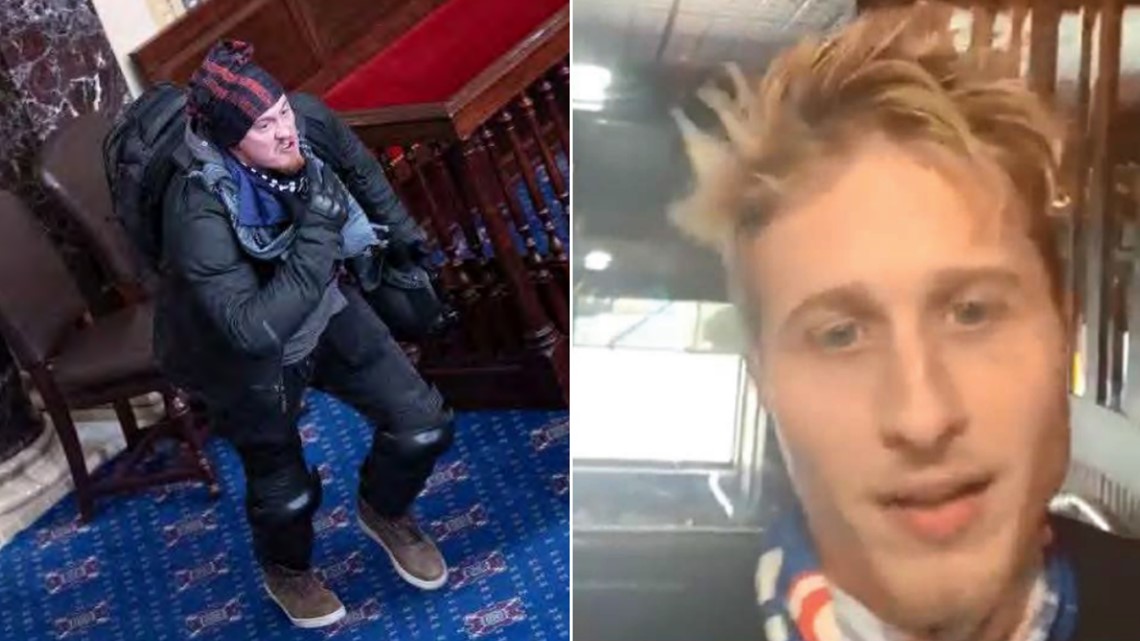 On Jan. 6, the men watched Trump's speech on a television at a TGI Friday's in Alexandria, Virginia, before deciding to enter the city and head to the Capitol. While still at the table, Sandlin livestreamed a video in which he forecast what they were about to do.
"I think it is time to take the capitol and I don't say that lightly," he said. In the video, according to prosecutors, Sandlin said no less than four times, "Freedom is paid for with blood."
The men ultimately did help take the Capitol. They scaled dismantled bike barricades to reach the building and entered through the Upper West Terrace doors at approximately 2:35 p.m. As the men joined the mob in shoving police to force the door open, Sandlin yelled at three outnumbered officers, "Your life is not worth it today."
The men again pushed past police once inside and forced their way into the Senate Gallery. There, Colt climbed down into the Senate Chamber, where DeGrave told him to open doors on the floor below. As Colt ran to the dais where then-Vice President Mike Pence had been presiding just a short time earlier, DeGrave yelled out, "Sit in Pelosi's seat! That's your f***ing seat now!"
DeGrave yelled at other rioters to "take laptops, paperwork, take everything, all that s***" before eventually leaving the Senate Chamber. Once outside of the building, he held his arms up triumphantly and yelled, "We f***ing did it… We're the heroes of this whole f***ing thing." He later told an unknown individual, "We worked as a team. We were the ones that infiltrated."
Colt, who became one of the most viral images of the riot thanks to a photograph of him dangling from the Senate balcony, was arrested six days after the riot. DeGrave and Sandlin were arrested two weeks later at DeGrave's home in Las Vegas. Colt was also the first to plead guilty. In July 2021, he accepted a plea deal on one count of obstruction of an official proceeding.
DeGrave pleaded guilty in June 2022 to two counts: conspiracy to obstruct an official proceeding and assaulting, resisting or impeding police. In a sentencing memo, prosecutors credited his cooperation with securing the guilty plea of the final defendant, Sandlin, to the same charges in September. Sandlin was sentenced in December to more than five years in prison.

In a sentencing memo filed last week, prosecutors said Colt, the man who opened the doors that allowed other rioters to occupy the Senate Chamber, should serve 18 months in prison. They said he anticipated a "civil war" on Jan. 6 and planned weeks ahead to interfere with the peaceful transition of power. But, they also credited his early and public cooperation in a "high-profile investigation garnering national attention."
Colt's federal public defender, Mark Ackley, argued a term of six months of home confinement was more appropriate. He said the government distorted Colt's planning before Jan. 6 – he was worried, he said, about violent counterprotests at the president's rally – and ascribed every statement made by Sandlin and DeGrave to his client.
"And here is the bottom line," Ackley wrote. "Josiah's conduct on January 6 was reprehensible and felonious. He does not contest that. But his sentence should reflect his actual conduct; it should not be distorted to justify a sentence greater than necessary."
For DeGrave, prosecutors sought a much higher sentence: more than three years in prison and a $50,000 fine to capture at least some of the money he raised by seeking donations through a crowdfunding site while claiming to be a "political prisoner" of the "corrupt Biden regime." Prosecutors said DeGrave raised as much as $120,000 on GiveSendGo, a right-wing crowdfunding site popular among Jan. 6 defendant, and had repeatedly suggested he only entered the Capitol to film the riot.
"DeGrave seems to have adopted the view that his forcible breach of the Capitol was animated by his desire to shoot a documentary, as opposed to his political rhetoric and hostility towards elected officials," they wrote. "While defendants often have dual purposes underlying their criminal conduct, attempting to diminish his culpability by claiming some sort of First Amendment justification for his actions is, again, contrary to his sworn statements at the plea hearing and in his Statement of Offense as well as the notion of true remorse."
In his sentencing memo, DeGrave's attorney, William Shipley, did in deed argue the men were "LARPing" – or "live action role playing" – for the camera.
"Much of what the trio did was for the creation of video and audio they intended to monetize on various social media sites as well as selling the video/audio to anyone who might have wanted access to what they produced," Shipley wrote.
Like Colt's attorney, he said DeGrave came to D.C. expecting violence – but only because he expected Pence to prevent the election from being certified.
"Mr. DeGrave traveled to Washington D.C. expecting that violence would follow the Vice President taking such action," Shipley wrote.
Arguing for a sentence of two years in prison – most of which could potentially be served in a halfway house thanks to the 17 months DeGrave has already served in pretrial detention – Shipley highlighted his work ethic and previous success as co-founder of a fitness supplement business. He also said DeGrave now regrets claiming "political persecution."
"Nathaniel recognizes the intellectual dishonesty of admitting the criminality of his own conduct on January 6 on the one hand, and complaining about unfair treatment by the criminal justice system on the other," he wrote
DeGrave and Colt were scheduled to be sentenced Tuesday at 10 a.m. and 1 p.m. respectively by U.S. District Judge Dabney Friedrich.
We're tracking all of the arrests, charges and investigations into the January 6 assault on the Capitol. Sign up for our Capitol Breach Newsletter here so that you never miss an update.