WASHINGTON — A Capitol riot defendant who left a crude note for former Speaker of the House Nancy Pelosi on Jan. 6, 2021, suggested copyrighting the phrase, "Nancy, Bigo was here" – seeking, prosecutors alleged this week, to prevent anyone else from capitalizing on his virality from an image of him posing with his feet on a desk inside her office.
Federal prosecutors played an audio recording Wednesday of a jailhouse call made by Richard "Bigo" Barnett, of Gravette, Arkansas, while he was in pretrial detention on charges stemming from the 2021 assault on the U.S. Capitol Building. Barnett, now 62, was arrested two days after the riot and remained in custody until U.S. District Judge Christopher Cooper released him to home confinement on April 27, 2021.
During the call, made to his wife, Barnett suggested copyrighting a portion of the note he left for then-Speaker Pelosi: "Hey Nancy, Bigo was here you biatch." Barnett is also accused of stealing an envelope from the speaker's office – although his attorneys have argued he more than compensated for its fair market value by leaving a quarter behind.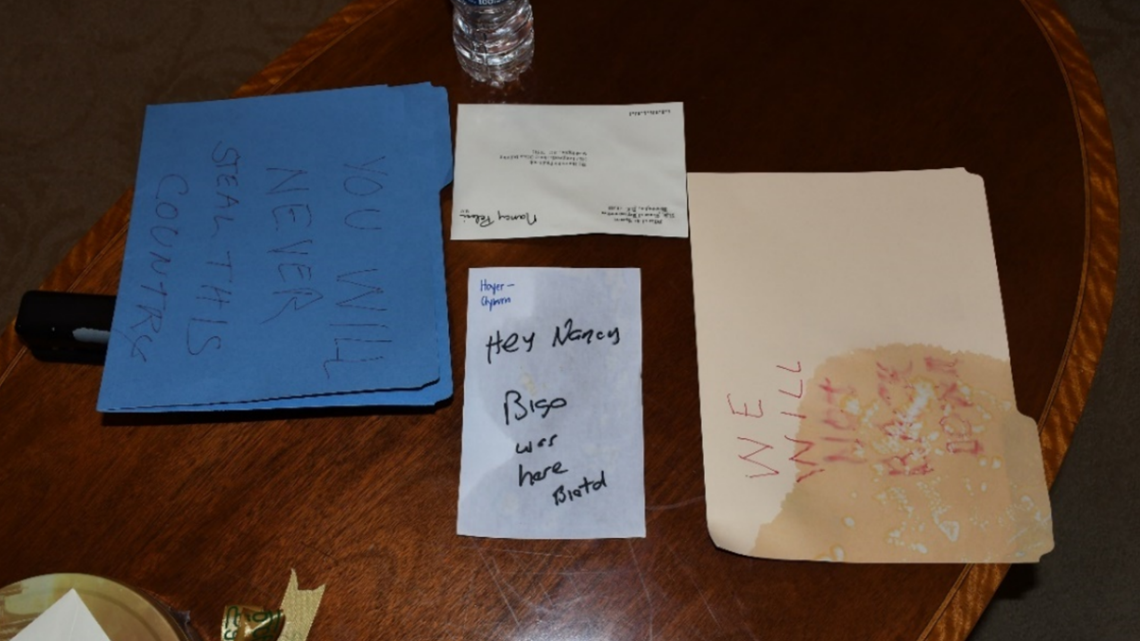 Barnett began trial in D.C. last week on eight counts, including felony counts of obstruction of an official proceeding, civil disorder and entering and remaining in a restricted building with a dangerous weapon. Prosecutors have shown jurors videos of Barnett showing off the 950,000-volt "Hike n' Strike" walking staff he carried into the Capitol, including one surveillance video from inside a hotel bar on the evening of Jan. 5. During the defense's opening statement Wednesday, one of Barnett's attorneys, Joseph McBride, said they would prove the stun gun feature of the staff was not functional on Jan. 6.
In contrast to Assistant U.S. Attorney Alison Prout, who told jurors Barnett had come to D.C. "prepared for violence" on Jan. 6, McBride characterized his client as a politically incorrect man from rural Arkansas who simply wanted to voice his displeasure with the results of the 2020 presidential election.
"For Richard, the 2020 election was a knee on the throat of democracy," McBride said
McBride suggested the government had overcharged Barnett – a former firefighter who, since his arrest, has made his living buying and selling classic automobiles – and treated him as a domestic terrorism suspect on par with Osama bin Laden.
"He's not Osama bin Laden. He's not a tier 1 domestic terrorist," McBride said. "He's a crazy guy from Arkansas who got pushed into the U.S. Capitol."
An FBI special agent testified earlier in the trial the "tier 1" terrorism designation Barnett had received only indicated the agency did not believe he'd worked in concert with anyone else on Jan. 6.
In addition to McBride, Barnett is represented by attorneys Jonathan Gross, Bradford Geyer and Carolyn Stewart. His defense team has denied he had any sophisticated understanding of or intention to disrupt the certification of Electoral College votes on Jan. 6. McBride told jurors Wednesday his client was "entirely disconnected" from the mob's efforts to resist police in the Capitol Rotunda on Jan. 6 and laid the blame for the scope of the riot on "bad actors and multiple policing failures."
Defense attorneys told Judge Cooper on Wednesday that Barnett would be taking the stand in his own defense. That could happen as early as Thursday morning when the trial was set to resume.
We're tracking all of the arrests, charges and investigations into the January 6 assault on the Capitol. Sign up for our Capitol Breach Newsletter here so that you never miss an update.