WASHINGTON — A jury convicted an Arkansas man on eight criminal counts Monday for carrying a stun gun walking stick into the office suite belonging to the Speaker of the House on Jan. 6, 2021.
Jurors deliberated for less than three hours before returning a guilty verdict on all counts in the trial of Richard "Bigo" Barnett, 62. Those counts include felony charges of civil disorder, obstruction of an official proceeding and entering and remaining in a restricted building with a dangerous weapon.
Barnett, of Gravette, Arkansas, turned himself in to police on Jan. 8 after returning home from Washington, D.C. By then, a photo of him leaning back with his feet up on a desk in the Speaker's office suite had become one of the most viral early images of the Capitol riot. Barnett, who testified in his own defense during his trial, said he was pushed into the building and inadvertently wound up in the Speaker's office suite while looking for a restroom.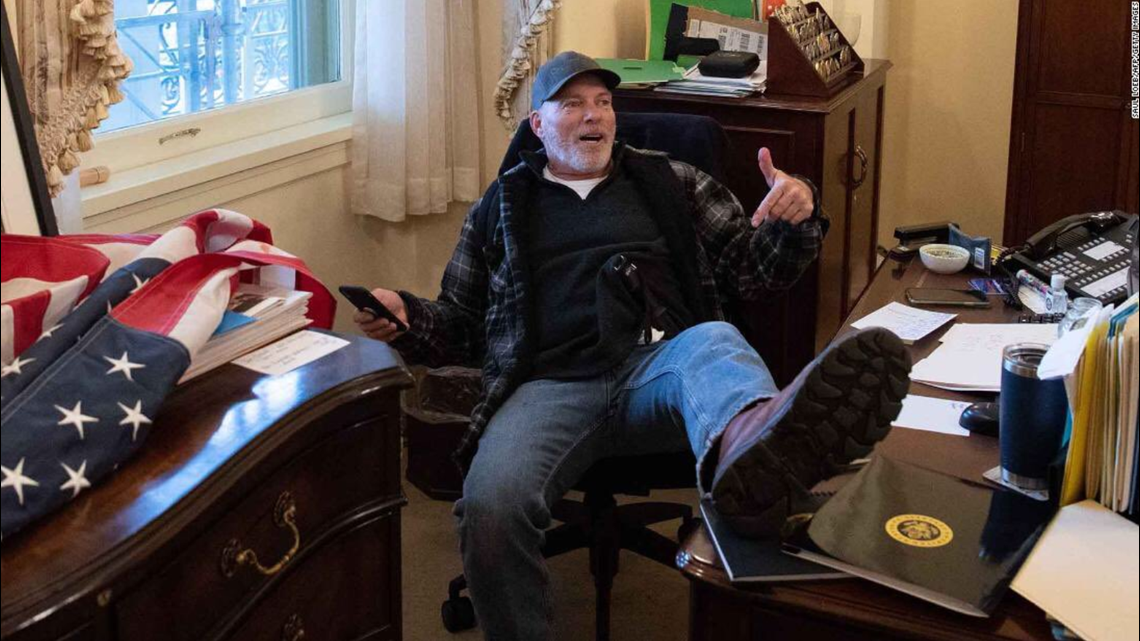 During his testimony, Barnett said he regretted posing for the photo – although on cross-examination prosecutors pointed out he'd attempted to sell signed copies of it to raise money for his legal defense. Assistant U.S. Attorney Michael Gordon also questioned Barnett about his repeated suggestions to his wife while he was in jail that they should copyright the wording of the crude note he'd left behind for then-Speaker Nancy Pelosi (D-CA).
Prosecutors argued Barnett had come to the Capitol on Jan. 6 "prepared for violence." Jurors saw belligerent social media posts and videos of him showing off the 950,000-volt "Hike 'n Strike" stun gun walking staff he'd brought with him to D.C.
Outside of court Monday, Barnett and attorney Joseph McBride promised an appeal, saying he hadn't received a fair trial because of the political composition of the D.C. jury pool.
Barnett was scheduled to be sentenced on May 3 at 2 p.m. by U.S. District Judge Christopher Cooper. He will likely face a minimum recommended sentencing guideline of 15-21 months in prison on the obstruction of an official proceeding count, but could potentially face a much larger sentencing ask from prosecutors.
We're tracking all of the arrests, charges and investigations into the January 6 assault on the Capitol. Sign up for our Capitol Breach Newsletter here so that you never miss an update.