WASHINGTON — A federal judge ordered a decorated former Army Ranger to serve more than five years in prison on Wednesday for joining one of the most violent and prolonged assaults on police during the Capitol riot.
Robert Morss, 29, of Pennsylvania, was one of nine defendants indicted for their role in the attack on police defending the Lower West Terrace Tunnel on Jan. 6, 2021. Morss was convicted after a stipulated bench trial in August of three felony counts of obstruction of an official proceeding, robbery and assaulting police with a dangerous weapon.
Morss, who was working as a high school history teacher at the time of his arrest, served three tours of duty in Afghanistan with the 2nd Ranger Battalion and received the Army Commendation Medal for his service, among other awards. He received an honorable discharge in late 2015 and then a degree from Pennsylvania State University.
On Jan. 6, Morss tried to disarm an officer of his baton and then successfully ripped a police riot shield away. He then helped to organize the shield wall rioters used to try to force their way through a line of outnumbered officers and into the Capitol. One of his co-defendants, Patrick McCaughey III, of Connecticut, was sentenced to more than seven years in prison for crushing DC Police Officer Daniel Hodges in a doorframe while part of that shield wall.
Prosecutors argued Morss' military service gave his role in the riot a "darker character" than other participants – something another federal judge had already agreed with. In July 2021, U.S. Magistrate Judge Michael Harvey ordered Morss held in pretrial detention after finding he'd used his military experience and Ranger training to organize other rioters to become "more effective, more forceful and more violent." In the Justice Department's sentencing memo, prosecutors asked U.S. District Judge Trevor McFadden to see Morss – who came to the Capitol dressed in combat gear and armored plates and carrying a knife – the same way.
"The image of a battle-dressed Army Ranger turning against his own country and attacking the men and women protecting the Capitol building is striking," Assistant U.S. Attorney Jocelyn Bond wrote. "In choosing to go on the attack on January 6th, he turned his back on his duty to serve and protect his country as he once did."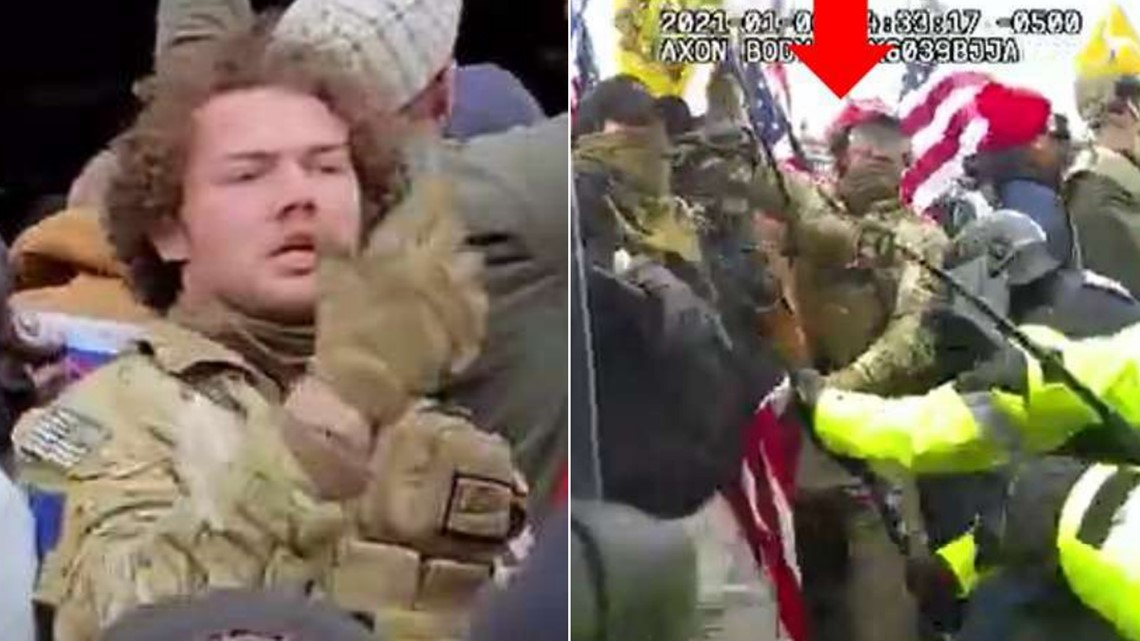 U.S. District Judge Trevor McFadden agreed. McFadden said he was shocked to see a former Ranger attacking police — at one point telling him he appeared "completely out of control." He also rejected Morss' argument that he'd simply gotten caught up in the moment.
"Unlike other rioters who came expecting violence from antifa, I think you came prepared to fight law enforcement," he said.
Although Morss said he now regrets his actions on Jan. 6, when he was arrested investigators found a note on his phone describing what he would say if he ever appeared before a judge.
"[Y]ou ask if I regret my involvement and what happened on the sixth," Morss wrote, "the answer is a resounding no."
He struck a different tone on Wednesday, telling McFadden he'd gotten caught up in a "sedutive maelstrom of ingredients" that led him to actions he's now ashamed of.
"All I can offer to you to prove the truthfulness of my statements is a broken and contrite heart," Morss said.
Prosecutors asked McFadden to sentence Morss to nine years in prison – a sentence they were never likely to receive. McFadden sentenced Morss' co-defendants Geoffrey Sills and David Lee Judd, who were convicted of similar charges on the same day as Morss, to 4.3 and 2.6 years in prison, respectively. McCaughey, who opted to go to trial, was convicted on nine counts, including three separate felony counts of assaulting police.
Morss' attorney, Nicholas Smith, had also successfully argued in the past that two significant enhancements the government sought for obstructing the administration of justice shouldn't apply in Jan. 6 cases. McFadden agreed with Smith's arguments during a sentencing hearing for rioter Timothy Hale-Cusanelli in September and has consistently denied those enhancements in subsequent cases.
In his own sentencing memo, Smith asked McFadden to sentence Morss to not more than two years in prison – approximately the amount of time he'd already served in jail since his arrest.
Ultimately, McFadden ordered Morss to serve 66 months, or approximately five-and-a-half years, in prison. Morss will also have to spend two years on supervised release and pay a $2,000 fine. McFadden rejected the government's request for a terrorism enhancement — at least the fifth time a judge has declined to apply it in a Jan. 6 case.
We're tracking all of the arrests, charges and investigations into the January 6 assault on the Capitol. Sign up for our Capitol Breach Newsletter here so that you never miss an update.