WASHINGTON — A Connecticut man who crushed a D.C. police officer in a doorframe on Jan. 6 was sentenced Friday to more than seven years in prison — one of the longest sentences to date in a Capitol riot case.
Patrick McCaughey III, who was convicted in a September bench trial of seven felonies and two misdemeanors, was ordered to serve 90 months in prison, to be followed by two years of supervised release, by U.S. District Judge Trevor McFadden. McCaughey had faced a recommended sentencing guideline of 151-188 months in prison and prosecutors asked for him to receive 15 years behind bars. His attorney, Dennis Boyle, requested a significant downward variance to just one year in prison.
McFadden, a former police officer and 2017 nominee of former President Donald Trump, had already sentenced a number of McCaughey's co-defendants — and he told McCaughey he viewed him as the most serious offender yet. Last month, McFadden ordered Geoffrey Sills, of Mechanicsville, Virginia, to serve four years in prison for robbing and beating an officer with his own baton. Two weeks earlier, he sentenced Tristan Chandler Stevens, who went to trial with McCaughey, to five years in prison for assaulting former U.S. Capitol Police Sgt. Aquilino Gonell with a riot shield. David Mehaffie, an Ohio man who was convicted of two felony counts but found not to have engaged in or aided the assault on police, was sentenced by McFadden to 14 months in prison.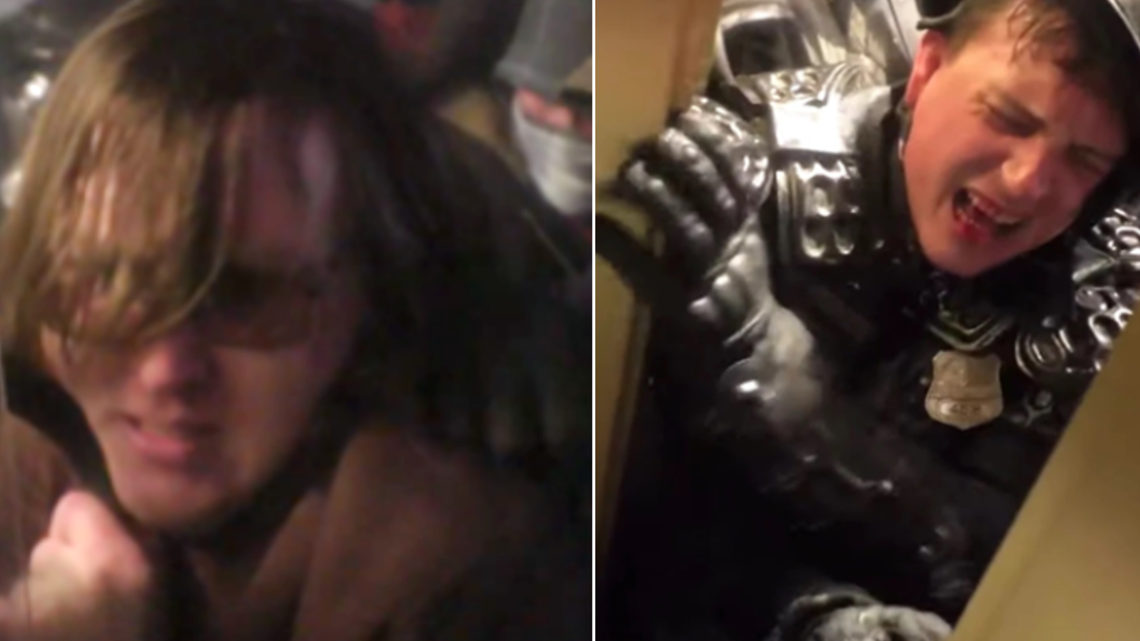 McCaughey was convicted of three separate counts of assaulting, resisting or impeding police, including an enhanced felony charge for using a deadly or dangerous weapon. He was the only defendant not already in pre-trial detention who McFadden "stepped back" – or ordered immediately into custody – following his conviction. While delivering his verdict, McFadden described in detail the harrowing moment when McCaughey used a riot shield and the force of the mob behind him to pin DC Police Officer Daniel Hodges in a doorframe while he screamed for help.
"Officer Hodges' gutwrenching cries of pain shocked Mr. McCaughey into action," Judge McFadden said, adding a short time later, "I note that even after he saw Officer Hodges injured, he carried on to battle Officer [Henry] Foulds."
On Friday, McFadden said he believed McCaughey had lied on the stand and rejected his efforts to downplay his role in the riot.
"Your actions on Jan. 6, and in particular your attack on Officer Hodges, made you a poster child for all that was dangerous and appalling about that day," McFadden said.
"In this case, the restraint applied to the victim was neither fleeting nor accidental," they wrote. "It was concerted, forceful and intended to harm law enforcement generally for defending the tunnel and its entrance."
McCaughey's memo struck a decidedly different tone. Over 25 pages, his attorney, Boyle, repeatedly described his 25-year-old client's "selfless" nature and role as a "pillar in his community" – the affluent Connecticut town of Ridgefield. McCaughey blamed his father, described variously as a "fervent Trump supporter" and "radical," for his presence in D.C. His aunt is quoted as remembering him as an "especially kind and thoughtful child."
Despite claiming he has "fully admitted his role in the riot," McCaughey's memo only briefly touched upon his actual conduct that day. Hodges' name only appeared twice McCaughey's memo – both times in a footnote arguing his injuries couldn't be attributed to McCaughey. In a paragraph beginning on page 22 of 25, McCaughey said his actions were "limited to pushing officers with a riot shield" and were "only impactful due to the force of protestors who proceeded to push Mr. McCaughey into the line of officers."
Hodges himself spoke briefly Friday. He lamented the loss of the 50 police officers he said he understood had left his department citing Jan. 6, and described McCaughey as the "vanguard of the assault" on the Capitol.
"Of all the weapons utilized that day, the most offensive one was the mob," Hodges said.
McCaguehy also spoke — striking a different tone than his sentencing memo. In a quiet monotone, he told McFadden he'd acted like a "thug" on Jan. 6 and apologized to the "exhausted, beaten" officers he'd assaulted as part of an "unrelenting mob." He also apologized to his mother, who was in the courtroom to hear his sentence.
"I'm sorry mother for the anguish I've caused and the disappointment I've become," he said. "None of this is your fault."
McFadden agreed to recommend McCaughey be placed at the low-security prison in Danbury, Connecticut, near where his family is located.
We're tracking all of the arrests, charges and investigations into the January 6 assault on the Capitol. Sign up for our Capitol Breach Newsletter here so that you never miss an update.