WASHINGTON — A man is dead following an alleged drunken driver crashing into a bus stop early Sunday morning and a 29-year-old Northwest resident has been arrested and charged with his death, according to D.C. Police.
Gerald Lewis has been charged with murder two, driving under the influence and reckless driving.
The crash happened around 3 a.m. at 14th and P Street Northwest, when Lewis struck the victim, Antonio Felder, with their vehicle, according to police. The victim was subsequently pronounced dead.
Police said Lewis remained on the scene and was arrested and charged with a DUI.
According to court documents, witnesses told police that after the incident Lewis said, "Y'all not about to get me for a f***ing murder bro. Y'all not about to do that to me. Can't nobody do that to me?"
Police said Lewis then responded angrily to a nearby officer and said he was calling an ambulance before he was arrested.
A witness at the scene of the crash described to police how Felder was thrown to the ground near their feet by the impact, court docs stated. The witness described Lewis as "very calm after he got out of the car" and thought he looked sleepy and found his calmness unusual.
"It could have been me because I use this basically almost — Well, basically almost every day," Charles Daniel said.
Daniel knows the trauma of crashes all too well. He said he was injured in a workplace accident five years ago and now walks with a cane.
"Accidents can happen anytime," he said. "You know, there's no guarantee."
South Block Logan Circle General Manager Ra Wilson saw the aftermath on his way into work early Sunday. The juice bar sits right across the street from the bus stop on the heavily traveled street.
"I got here, probably about 7:30, or whatnot, and, you know, all of the intersections were blocked. And, of course, that affects my staff as they're trying to get in and everything is taped off," Wilson said. "We really had no idea what was going on ... We could see the police were there, like, heavy, heavy police presence … And then you hear that you know, there was a person that lost their life … it's heartbreaking."
This is the first reported traffic fatality in the District following its full reopening on Friday, June 11.
From Pride parades to full capacity nightclubs, Washingtonians are now venturing out in larger numbers and staying out longer.
"This is one of the things that lets you know that there's an adjustment period of people getting back out," Wilson said. "I just think that it is time for us to really be more mindful of, of human life, how fragile it is, and how interconnected it all is."
He urges people to make safe, mindful choices as city life picks back up.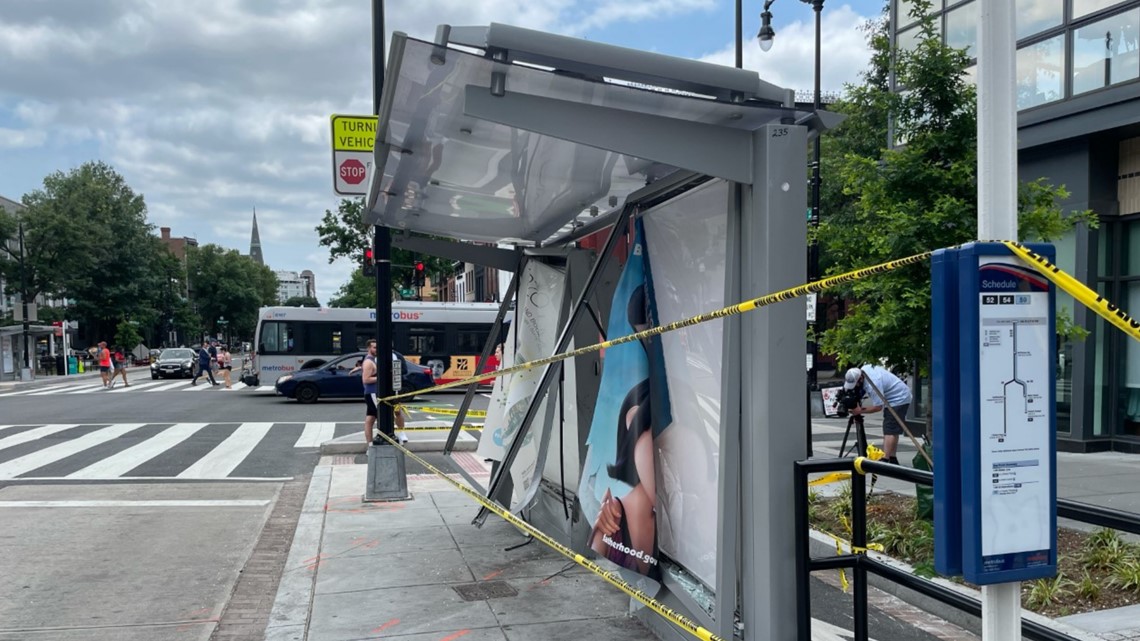 A separate drunken driving incident occurred in Maryland in April 2021, when Washington Teachers Union President Elizabeth Davis was legally drunk, speeding, and driving recklessly before causing a fatal crash.
Maryland State Police said Davis is responsible for the April crash that killed Annapolis musician and teacher John Starr Jr.
A police report says Davis drove "recklessly" and with "excessive speed." Lab tests showed her blood alcohol content at .13, which was above the .08 Maryland legal limit, according to the report.
The crash was late at night on April 4. Elizabeth Davis was driving her personal car when police reports say she rear-ended another vehicle waiting at a stoplight at the intersection of Crain Highway and Harbour Way in Prince George's County.
Inside the car Davis hit was 58-year-old John Starr, Jr. The impact, police say, pushed both cars more than 200 feet. Both drivers died.
Helen Brockmeyer lived with Starr for more than 20 years and now faces the shock of living life alone.
"He was really warm. I didn't realize how much he filled the space up until he was gone," Brockmeyer said. "I had to wrest away John's remains away from the state of Maryland because I wasn't his wife. And they weren't going to give me his ashes."