WASHINGTON — Two tornadoes touched down in the D.C. metro region Thursday evening, according to the National Weather Service. An EF0 tornado hit in D.C. while an EF1 touched down in Arlington. NWS says both tornadoes were reported at 8:59 p.m. and there were no injuries reported from either.
In Arlington, the tornado traveled 4.4 miles, starting in Cherrydale and ending near the intersection of 16th Street NW and Constitution Avenue, NW. Max winds reached 90 mph and the path width was 125 yards.
In Arlington, the storm caused approximately 5,000 power outages in homes, plus downed power lines and damage from trees. No County buildings or Arlington Public School sites were damaged, according to an Arlington County News press release.
Arlington County News went on to confirm that, just after 9 p.m., the county fire department responded to multiple calls for service, including the following:
16 fire alarms
15 wires down
16 outside fires or structure fires
1 vehicle crash and 1 technical rescue (resulting from a tree falling on a house)
In D.C., the tornado traveled .75 miles from the H Street NE corridor into Kingman Park. Winds reached 80 mph with a 75-yard path width.
While tornado warnings impacting the region surrounding D.C. occur more frequently, Thursday was only the sixth time in 17 years that a warning including the District proper was issued, according to records kept by Iowa State University. From 2005 - 2021, 436 tornado warnings were issued across the DMV, but only six included the District itself.
According to data from the National Weather Service Storm Prediction Center and the Midwestern Regional Climate Center, only three tornadoes above an F0 magnitude have touched down inside the boundaries of Washington, D.C., in the past 50 years – and two of them happened on the same day in 2001.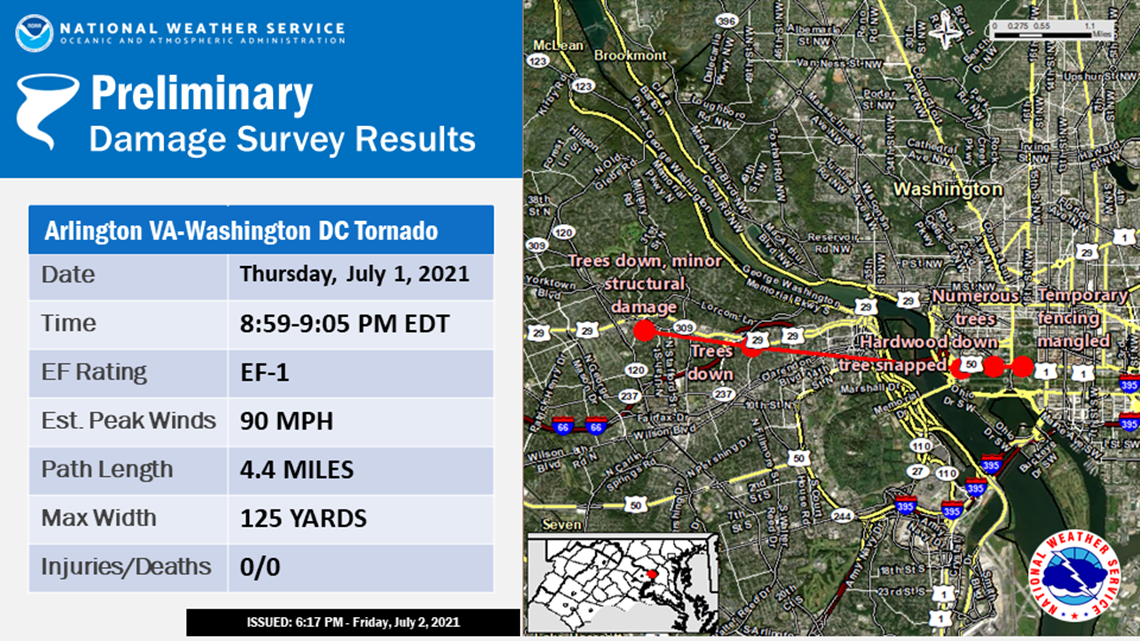 On Sept. 24, 2001, three tornadoes touched ground in D.C. – marking the single most active day of tornadic activity in at least half a century. On that day, an F0, F1 and an F3 tornado hit the District proper, resulting in 57 injuries and two deaths.
Nine tornadoes touched down in the DMV as a whole that day, including an F4 that traveled for 10 miles through Culpeper and Fauquier counties. The damage total of the entire outbreak was estimated at more than $100 million.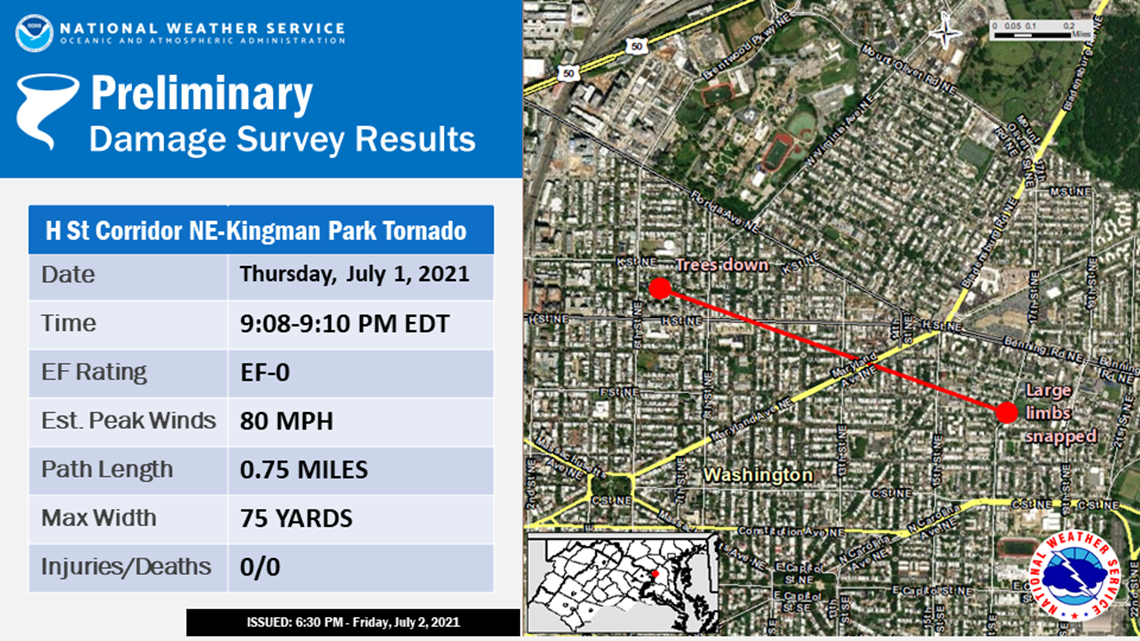 Arlington County reminded the public via press release that tornadoes can occur with little or no advance warning. "The general rule for tornado safety is 'go low and stay low,' which means go to the lowest level of the structure, away from windows and crouch in a low position with your head covered. A tornado watch means current weather conditions may result in a tornado. A tornado warning means a tornado has been sighted. If a tornado warning has been issued for your area, you should take cover immediately."
Explore the map below from the Midwestern Regional Climate Center to see tornado data from 1950-2017 for the entire country:
In addition to the September 2001 tornado outbreak, a handful of other weaker tornadoes have either touched down or entered the city in the past 50 years:
April 6, 2017 – Two F0 tornadoes were reported in D.C. One started in Arlington and crossed the Potomac River into the District. The other touched down near Joint Base Anacostia-Boling. One injury was reported as a result of both of tornadoes.
May 18, 1995 – An F1 tornado touched down on the banks of the Potomac River and traveled a half-mile northeast into the District. It eventually reached the National Arboretum, where it uprooted multiple trees and caused an estimated $50,000 in damages before dissipating.
The most significant tornado to ever hit Washington, D.C., came on August 25, 1814, as British troops were burning the city during the War of 1812.
While the city was burning, a massive storm – which may have included both a hurricane and a tornado – hit the city. During the storm, a tornado traveled down Constitution Avenue and reportedly threw multiple canons through the air. At least 30 people were killed in the storm, which caused serious damage to structures in D.C. – including some the British had not burned. The storm did, however, have the effect of helping to douse the fires set by British troops.