TYSONS, Va. — A tornado was spotted in Fairfax County Thursday evening, according to the National Weather Service. An EF0 hit in Tysons Corner around 8:41 p.m. No injuries have been reported but several buildings suffered structural damage.
The tornado traveled 200 yards, starting and ending in Tysons Corner. Max winds reached 85 mph and the path width was 50 yards. This tornado was an EF0 on the Enhanced Fujita Scale.
Several severe weather warnings were issued throughout the afternoon and evening Thursday, including tornado warnings in D.C., Montgomery, Arlington, Fairfax and Prince George's counties. Dominion Power reported several thousand power outages Thursday night following the strong winds, but as of Friday morning, the number is under 700 people still being impacted.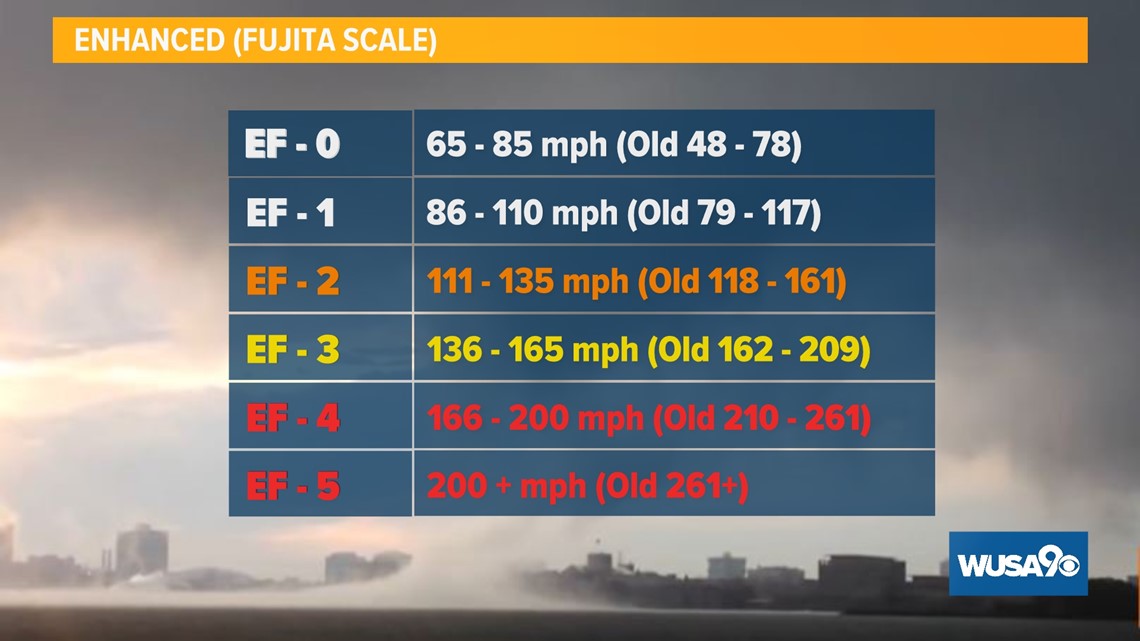 A Sunoco gas station on Chain Bridge Road took quite a big hit from the storm. In terms of structural damage, the roof was tilted down on top of the building. Workers hiding inside the building say they hid under the counter until it was safe to come out, describing the howling sounds of the wind outside.
"It pretty much came over these two gas stations and then headed towards the Metro station, clipped the corner of the garage there at Tysons Corner -- it all happened in about 20 seconds," Christopher Wood, the man who captured now-viral video of the tornado moving through Tysons, said. "Flashes of light, lot of noise, and I turned around and was like 'oh here it comes.' It was crazy."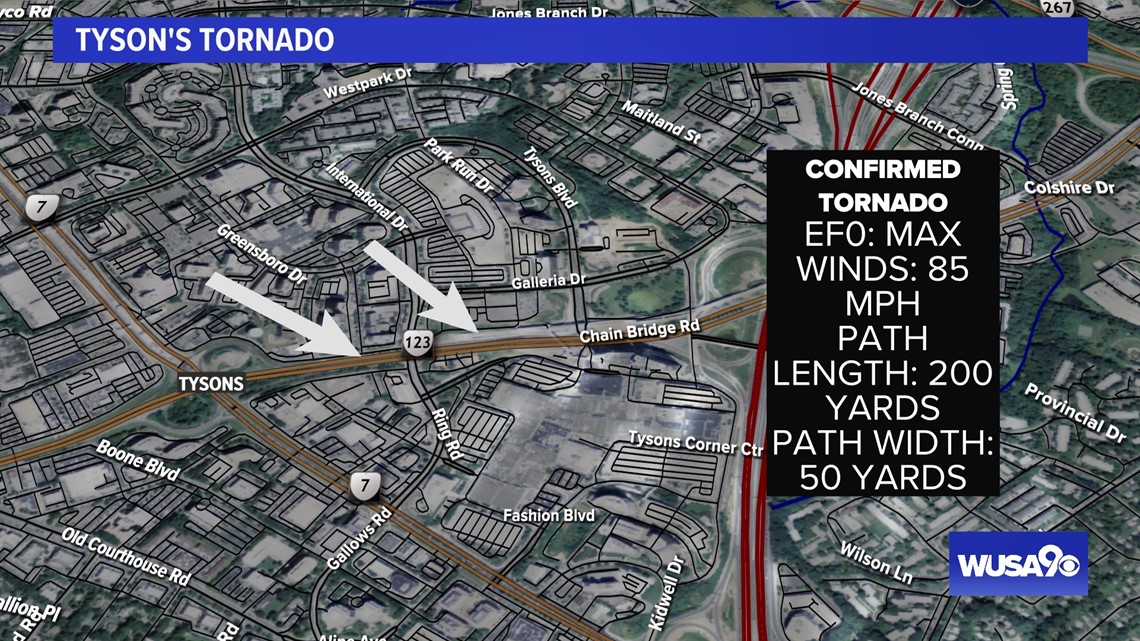 How Common Are Tornados in the DMV?
While tornados in the District itself and neighboring suburbs are rare, anecdotally it feels like we've been hearing more about tornado warnings as of late. In early July 2021, two tornadoes touched down in the D.C. metro region, according to the NWS. An EF0 tornado hit in D.C. while an EF1 touched down in Arlington. Max winds reached 80-90 mph, and thankfully no one was injured during either twister.
The July 1 tornado was only the sixth time in 17 years that a tornado warning including the District proper was issued, according to records kept by Iowa State University. From 2005 - 2021, 436 tornado warnings were issued across the DMV, but only six included the District itself.

According to data from the National Weather Service Storm Prediction Center and the Midwestern Regional Climate Center, only three tornadoes above an F0 magnitude have touched down inside the boundaries of Washington, D.C., in the past 50 years – and two of them happened on the same day in 2001.
On Sept. 24, 2001, three tornadoes touched ground in D.C. – marking the single most active day of tornadic activity in at least half a century. On that day, an F0, F1 and an F3 tornado hit the District proper, resulting in 57 injuries and two deaths.
Nine tornadoes touched down in the DMV as a whole that day, including an F4 that traveled for 10 miles through Culpeper and Fauquier counties. The damage total of the entire outbreak was estimated at more than $100 million.
The most significant tornado to ever hit Washington, D.C., came on August 25, 1814, as British troops were burning the city during the War of 1812.
While the city was burning, a massive storm – which may have included both a hurricane and a tornado – hit the city. During the storm, a tornado traveled down Constitution Avenue and reportedly threw multiple canons through the air. At least 30 people were killed in the storm, which caused serious damage to structures in D.C. – including some the British had not burned. The storm did, however, have the effect of helping to douse the fires set by British troops.
The 20th anniversary of the College Park tornado, on April 28, 2002,is later this month. The La Plata tornado was on the ground for a total of 68 miles, 24 of which were in Charles County. We interrupted Sixty Minutes and warned our viewers of the tornado about to hit La Plata and to take cover immediately.
The tornado was responsible for five fatalities and $100 million in damage. This tornado was an F4, packing winds between 207-260 mph. It was the second strongest tornado ever recorded on the East Coast-- the Worcester, MA tornado in 1953 was more powerful.
What Does NWS Look For To Determine a Tornado?
First, the funnel cloud must have contact with the ground for it to be officially declared a tornado. Trained professionals are also looking for debris to be flying around the bottom of the funnel cloud.
Tornadic winds also leave a pattern of damage, because it's a rotating column of air. As it moves through, it does not produce wind speeds or wind direction evenly as it rolls across a neighborhood. So instead of trees falling in the same direction, they fall in opposite directions. Thus, what's referred to as "circular damage" is a telltale sign of a tornado.
How to Prepare For a Tornado
Have a way to get weather information. Click here to download the WUSA9 App. Be sure you enable location and notification services so we can let you know if there is significant weather in your area. Bring in any outdoor decorations you have up, bring in or tie down your patio furniture, and secure your trash cans to prepare for the winds.
If a tornado warning has been issued for your area, you should take cover immediately. The general rule for tornado safety is go low and stay low, which means go to the lowest level of whatever building you are in, away from windows and crouch in a low position with your head covered.