FREDERICK, Md. — Drivers could be asked to pay $49.63 to go one way from Frederick to Shady Grove in the morning rush hour if toll lanes are built on I-270, according to projections published in a Maryland Department of Transportation Draft Environmental Impact Statement.
The supporting data is found on page 883 of Appendix C of the environmental report. It says the morning rush-hour toll from MD Route 85 in Frederick to I-370 in Shady Grove will be $2.26 per mile. Multiplying that by the 21.96-mile length of the trip gives a total of $49.63.
The numbers are based on projected traffic volume and tolls generated by a Metropolitan Washington Council of Governments model, according to Ben Ross of the Maryland Transit Opportunities Coalition, which opposes the project.
The data is contained in a memo from the MWCOG to Maryland Department of Transportation which was then included in MDOT's Environmental Impact Statement, Ross said.
Late Thursday afternoon, MDOT emailed WUSA9 calling the figures cited by the transit "hypothetical" and based on an "apples to oranges comparison." The department said an average rate might be more like 68 to 77 cents per mile, but said it could not specify what final rates will be because the public hearing process is not complete.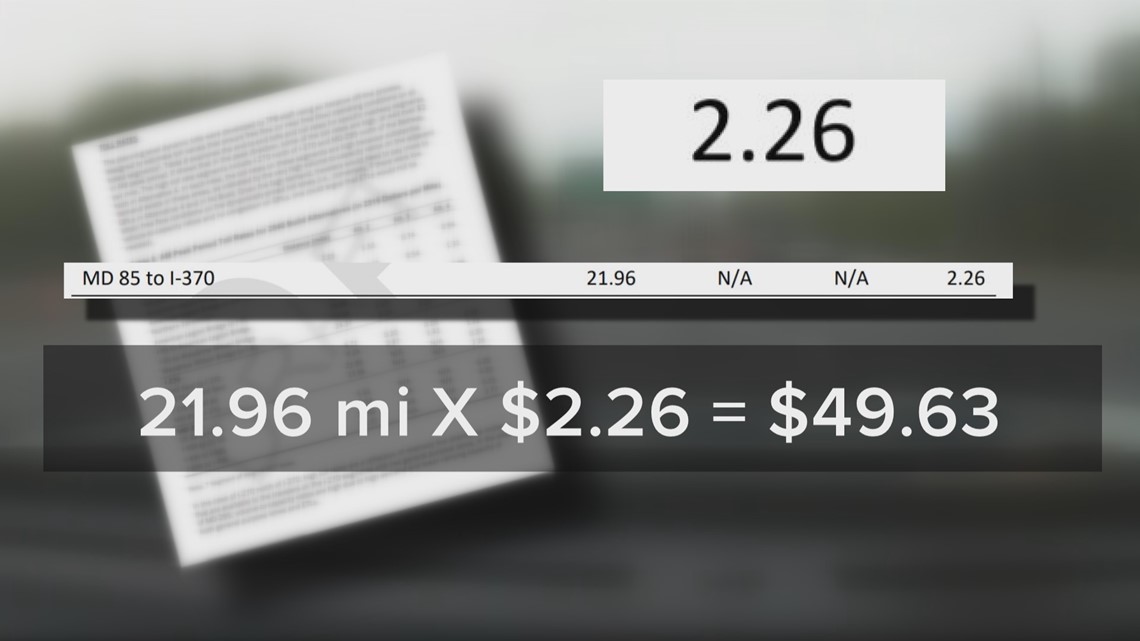 "The proposed toll roads are too expensive," Sen. Ron Young (D-Frederick) said in a written press release issued by The Maryland Transit Opportunities Coalition. "Widening I-270 would be a traffic nightmare for five years. The costs will fall back on Maryland taxpayers. We can't build our way out of traffic congestion. There are better alternatives."
According to the written report, which is marked "confidential and pre-decisional," the tolls are based on high demand.
"In the case of I-270 north of I-370, high toll rates are a reflection of relatively few alternative routes that are available to the travelers on the I-270 segments with two general purpose lanes," the report states.
The expansion of 270 and the Capital Beltway with toll lanes is proposed by Gov. Larry Hogan's administration as the best solution for alleviating congestion on the Maryland side of the DC beltway.
Hogan's plan calls for an $11 billion contract with a private developer to widen 270 and the Beltway with toll lanes. In exchange, the developer would keep much of the toll money to pay back the cost of the project. It's called a P3 project, for public-private-partnership.
Montgomery County, where homes and parkland may be condemned, has become a hotbed of resistance. Opponents have seized on the traffic-easing effects of telework during the pandemic as proof that future changes in telework or public transit could make big road widening projects obsolete.