WASHINGTON — Red Line services have been fully restored following rail disruptions that started over the weekend and impacted some morning commutes Monday morning.
Metro tweeted early Monday that rail service between Farragut North and Van Ness Station remained suspended at the start of service for the work week.
By 10 a.m., Metro said train service has been restored for all stations.
Washington Metropolitan Area Transit Authority (WMATA) says crews have completed work after an electrical issue that began Saturday.
WMATA said crews were working overnight to make repairs and restore service between Farragut North and Van Ness, but were unable to address the issue before the start of the Monday rush.
Red Line commuters headed toward Shady Grove Sunday were facing delays and station closures since service began to unravel Saturday night surrounding issues at the Dupont Metro Station.
Around 9:30 p.m. Saturday, a Metro information Twitter account posted that trains on the line were single-tracking between Dupont Circle and Farragut North due to a track problem at Dupont Circle; however, the situation eventually spiraled into train service being suspended between Van Ness and Farragut North, as well as investigations by the DC Fire Department.
Wait times on the Red Line were as high as 20 minutes around 1:30 p.m. Sunday. Hours later, they were down to 10 minutes, with bus service operating every seven to 10 minutes between the Farragut North and Van Ness.
WMATA has since posted a statement on Twitter detailing the situation and apologizing to those inconvenienced.
The statement shares that sparks and smoke activity were reported by a train operator and that investigations so far have indicated that there was a failure of a low-voltage electrical cable that led to an electrical fire that damaged adjacent cables.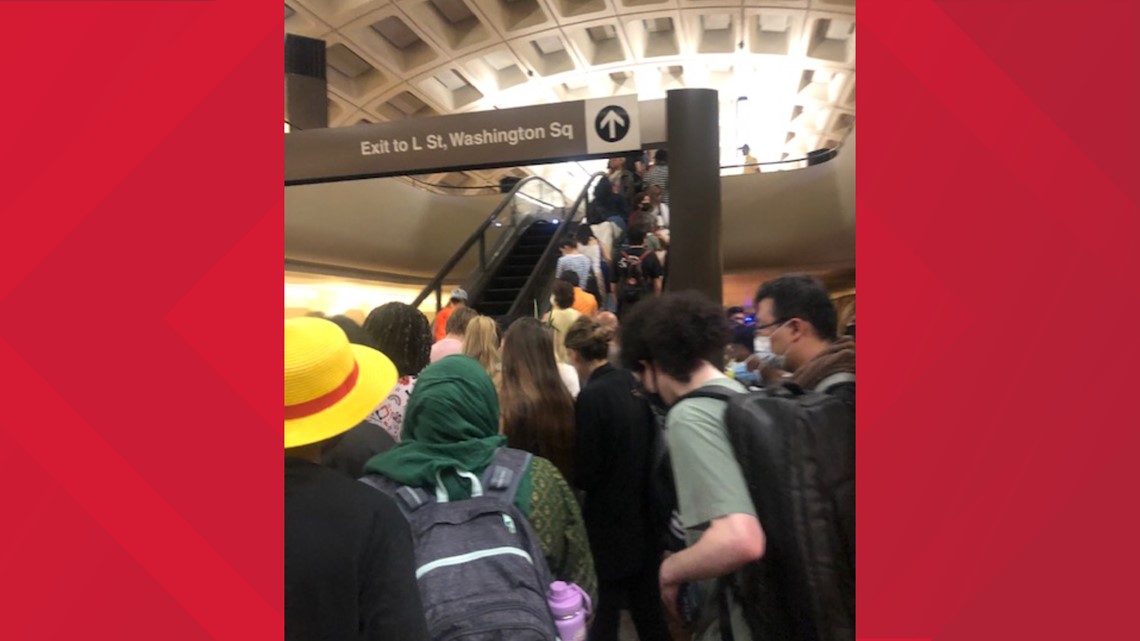 "The General Manager has directed rail management to undertake a systemwide inspection of low-voltage power cables (e.g., radio and signal system, starting with the underground portion of the system," the statement reads. It went on to say that the Chief Safety Officer and ROCC are now tasked with providing a full After Action Report, which will include emergency preparedness, response actions from staff, internal and customer communications and bus shuttle operations.
New Metro General Manager and CEO posted on Twitter that he was reviewing the damage and repair plan Sunday night. He apologized for the inconvenience and thanked customers for their patience.
There is still no timeline for when the repairs will be complete and full service will be restored.