WASHINGTON — A federal judge ruled Thursday it was an act of terrorism when Proud Boys leaders helped tear down a fence outside the U.S. Capitol on Jan. 6 — and one that warranted more than a decade in prison.
U.S. District Judge Timothy Kelly, a nominee of former President Donald Trump, found the federal terrorism guideline did apply to Proud Boys organizer Joe Biggs and Philadelphia chapter president Zachary Rehl. The guideline significantly increases both the offense level and criminal history scores of defendants and can result in a dramatically longer sentence.
Biggs, a U.S. Army veteran and Purple Heart recipient who previously worked for the conspiracy website InfoWars, was convicted alongside former Proud Boys chairman Enrique Tarrio and three other members of the group earlier this year of multiple offenses following a five-month trial. Those offenses included seditious conspiracy, obstruction of an official proceeding and, most importantly for the terrorism guideline, a felony count of destruction of government property for tearing down a black metal fence on the west side of the Capitol.
"I've reviewed the evidence of Mr. Biggs' calculation and deliberation in taking down that fence," Kelly said Thursday morning. "When that fence came down it facilitated the mob in overwhelming law enforcement, entering the Capitol and eventually halting the proceedings."
Biggs was represented at trial by attorney Norm Pattis, who also represents Biggs' former employer at InfoWars, Alex Jones. Pattis argued throughout the trial and again on Thursday that the government was attempting to criminalize political speech. He also argued the terrorism enhancement was inappropriate for destroying a fence.
"What happened here? A $32,000 fence was an obstacle to the Capitol," Pattis said. "No serious person here will argue destroying the fence was meant to influence government. It was a means to an end."
Kelly said Biggs faced a recommended sentencing guideline of 27-33 years in prison. Like other judges in Jan. 6 cases, however, he said he would be varying downward because he felt the terrorism guideline overstated Biggs' conduct.
Ultimately, Kelly sentenced Biggs to 17 years in prison — the second-longest sentence in a Jan. 6 case behind only Oath Keepers founder Stewart Rhodes. Later in the day he sentenced Rehl to 15 years in prison, saying he'd had less control over other Proud Boys than Biggs.
Biggs spoke briefly before he was sentenced, saying he wasn't a terrorist and didn't come to D.C. with a plan to hurt anyone on Jan. 6.
"The prosecution said my military training kicked in," Biggs said. "No it didn't. It failed me. Because my military training tells me to step back."
At trial, federal prosecutors argued Tarrio, Biggs and others recruited hundreds of Proud Boys to D.C. on Jan. 6 and marched them to the Capitol — where they used them and non-members in the crowd, who they referred to as "normies," as weapons to overwhelm police and obstruct the certification of the 2020 election.
"They hoped the 'normies' – that is, the civilians – would burn the city to ash," Assistant U.S. Attorney Jason McCullough told jurors at the trial's opening in January.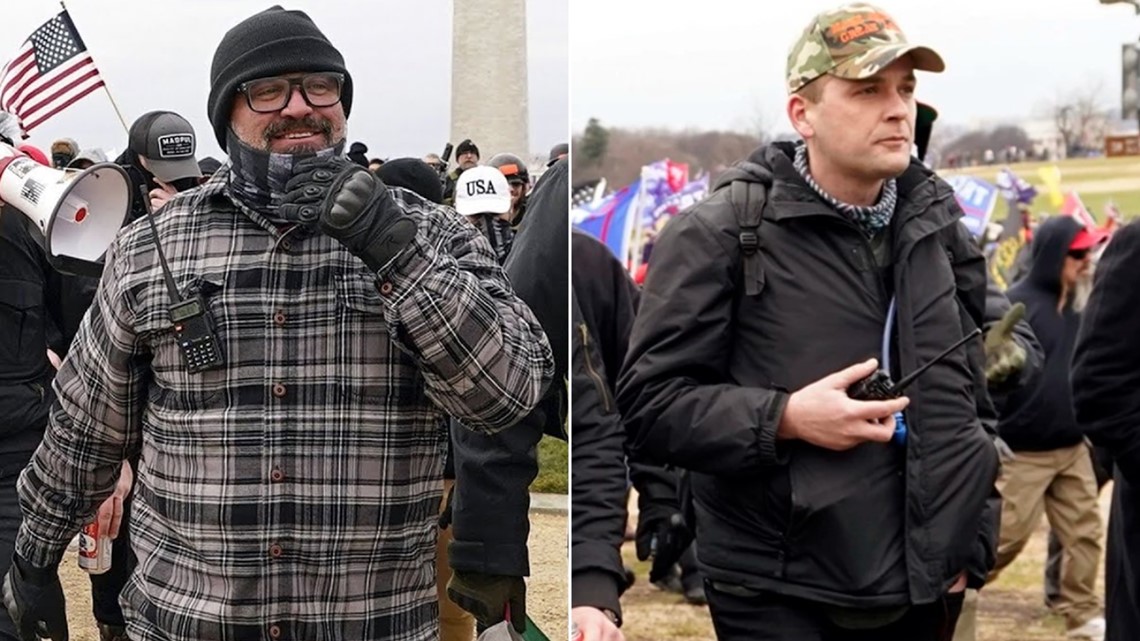 Prosecutors relied on hundreds of Telegram and Parler messages showing the Proud Boys' increasingly belligerent rhetoric in late 2020 after the group had received what it interpreted as a shoutout by Trump during a debate with President Joe Biden. Multiple Proud Boys testified the group was ecstatic after Trump told them to "stand back and stand by" and that applications for membership grew exponentially. When defendant Zachary Rehl, the former president of the Proud Boys' Philadelphia chapter, took the stand, prosecutors suggested he took advantage of that surge of interest to fast track potential members who were "prepared to commit violence."
"We got a new beast joining. He's getting fast tracked," Rehl said in a message shown to jurors. "He's like 6'5" and ready to crack skulls."
Proud Boys can be seen near the front of multiple breaches of police lines on Jan. 6, including the dismantling of the black metal fence on the west side of the Capitol for which all five defendants were convicted. Another Proud Boy, Dominic Pezzola, was acquitted of the most serious charge of seditious conspiracy but was convicted of multiple other felony charges, including a second count of destruction of government property for smashing the Senate Wing window that created the first breach of the building.
Rehl was represented at trial by Carmen Hernandez but at sentencing by Pattis. Like Biggs, he spoke briefly before his sentencing.
"January 6 was a despicable day," Rehl said. "I made my family suffer because of it."
Kelly is only the second judge to apply a terrorism enhancement in a Jan. 6 case, and is the first to apply the full guideline. U.S. District Judge Amit P. Mehta has applied various degrees of upward departures in multiple Oath Keepers sentencing hearings – applying the most significant one to the militia's founder, Rhodes, who he sentenced to 18 years in prison.
Federal prosecutors had asked Kelly to sentence Biggs to 33 years in prison and Rehl to 30, and have sought similarly significant sentences for their co-defendants. McCullough urged Kelly to not to overlook the seriousness of the day just because there was not mass loss of life.
"It doesn't take the act of amassing bombmaking equipment to bring the United States government and our society to the brink of a constitutional crisis," McCullough said.
Kelly, however, said he felt the terrorism guideline overstated the Proud Boys offenses. While delivering Rehl's sentence he noted how unusual it was for a judge to vary downward so significantly from the guideline range.
"It is 15 years below the guidelines and 15 years below what the government requested," Kelly said. "I wonder if I will ever sentence someone 15 years below the guidelines ever again in my entire career."
Kelly was scheduled to sentence two more co-defendants, Pezzola and Ethan Nordean, on Friday. Tarrio's sentencing was rescheduled for next week.