WASHINGTON — A Tennessee man who became one of the most recognizable images of the Capitol riot when he leaped over seats in the Senate Gallery while holding zip tie handcuffs will serve nearly five years in prison, and his mother, who was convicted alongside him, will serve roughly half that time.
Eric Gavelek Munchel, of Tennessee, earned the nickname "zip tie guy" after a photograph of him wearing tactical gear and carrying flex cuffs on Jan. 6 went viral. He and his mother, Lisa Eisenhart, of Georgia, were arrested just days after the riot and convicted in a stipulated bench trial in April of multiple felony counts each, including obstruction of an official proceeding and conspiracy. Munchel, who brought a stun gun into the U.S. Capitol and stashed at least one other weapon – a knife – before going inside, was convicted of additional felony counts.
On Friday, Judge Royce C. Lamberth sentenced Munchel to almost five years behind bars, while Eisenhart was given a lighter sentence at two-and-a-half years.
Munchel's and Eisenhart's attorneys argued for a sentence of not more than a year in prison, with credit for the roughly three months they already served in jail. Eisenhart's attorney, Gregory Smith, argued in his sentencing memo that she already faces the likely loss of her 30-year career as a nurse as a result of her conviction. Munchel's attorney described his client as a newly married man with a child on the way who wants to put this part of his life behind him.
"He was swept up in the political mania that infected the nation in 2020 and felt so strongly about his duty as a citizen to participate in the electoral process that he broke from his normal routine and traveled to Washington, D.C., to participate in a protect," Munchel's attorney, Joseph Allen, wrote. "His behavior and lack of judgment from this point can be seen to be a series of compounding external forces, not the innate character of Mr. Munchel."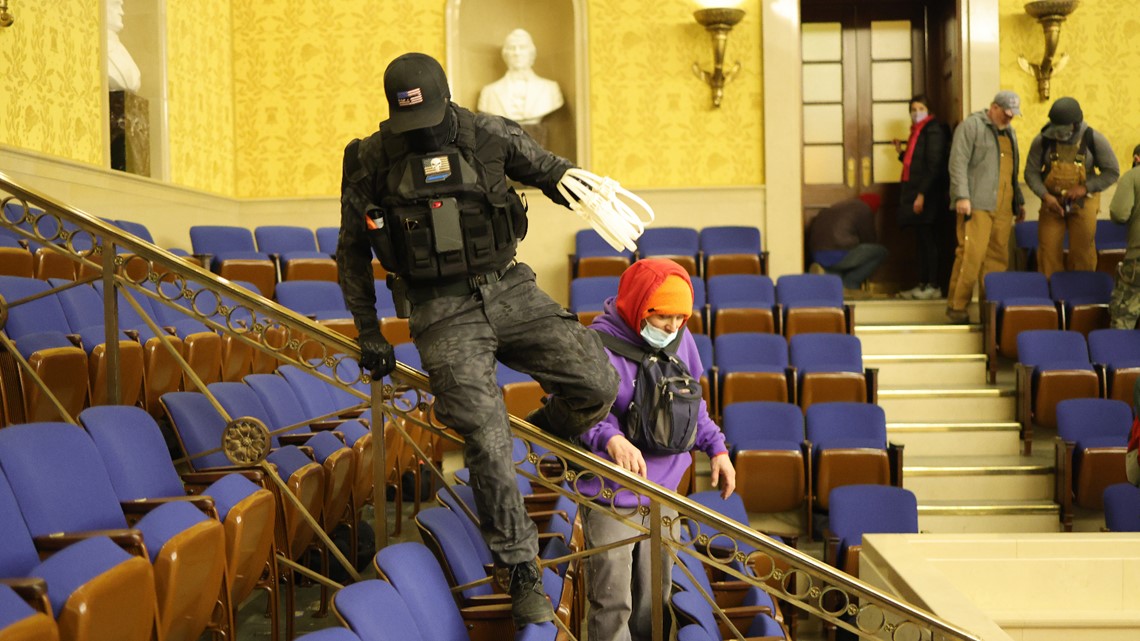 The DOJ described the mother-and-son duo in much different terms. In a memo seeking 57 months in prison for Munchel and 46 for Eisenhart, federal prosecutors said the two came to the Capitol on Jan. 6 prepared for violence, encouraged other rioters to fight police and penetrated all the way into the Senate Gallery. Prosecutors leaned heavily on Munchel's decision to pick up zip tie handcuffs and carry them into the gallery – as depicted in one of the most immediately recognizable images from the riot – to justify their sentence.
"The logical inference is that Munchel and Eisenhart wanted to use the zip tie handcuffs to capture their enemies: the members of Congress voting to certify the election," prosecutors wrote. "Supporting that inference, Munchel explicitly stated that his intent in storming and occupying the Capitol was as a show of force to threaten violence against those same members of Congress and thus intimidate them into doing what he wanted them to do."
A day after the riot, both Munchel and Eisenhart gave interviews to a reporter from the London Times. In the interview, Munchel said "we wanted to show that we're willing to rise up, band together and fight if necessary. Same as our forefathers, who established this country in 1776."
Eisenhart went even further, explicitly saying she was prepared for violence.
"I'd rather die as a 57-year-old woman than live under oppression," she said. "I'd rather die and would rather fight."
The mother and son were arrested three days later and held in custody until late March, when they were released to home confinement following a ruling by the D.C. Circuit Court.