WASHINGTON — A Virginia man was arrested Tuesday on felony charges for allegedly helping to restrain former DC Police Officer Mike Fanone while he was being assaulted at the U.S. Capitol on Jan. 6, 2021.
Lewis Wayne Snoots, 59, of Louisa, Virginia, made his initial appearance Tuesday in the Eastern District of Virginia. He faces felony charges of assaulting, resisting or impeding police and civil disorder as well as other misdemeanor counts.
According to charging documents unsealed this week, Snoots can be seen in footage joining the mob that tried to force its way past a line of police defending the Lower West Terrace Tunnel. The tunnel was the sight of some of the most intense and prolonged violence aimed at police on Jan. 6. Investigators say Snoots can be seen adding his body weight to the effort of another rioter, Federico Klein, who was pressing against officers with a U.S. Capitol Police riot shield. Klein was convicted in July of eight felony counts, including six counts of assaulting, resisting or impeding police.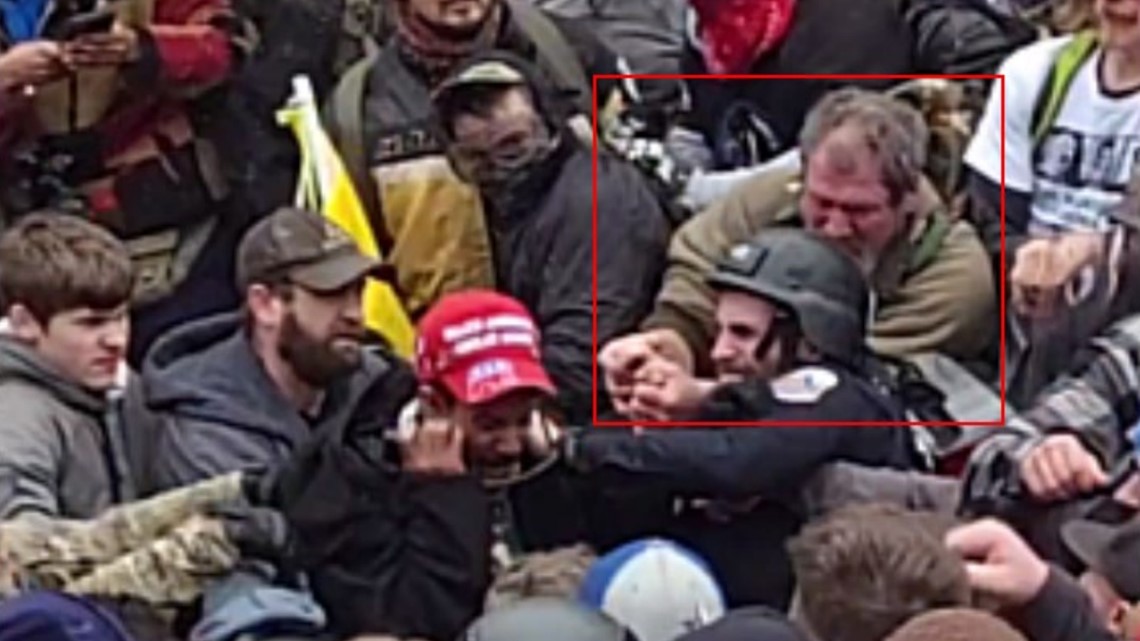 Federal investigators say after Snoots was forced out of the tunnel he can be seen moving toward where another rioter, Albuquerque Cosper Head, was grabbing Fanone in a head lock and dragging him into the crowd. According to charging documents, while Fanone was being assaulted by other officers – including having a stun gun repeatedly pressed into the back of his neck – Snoots continued to assist in restraining him.
"The video demonstrates that SNOOTS grabbed Officer Fanone's right hand and pulled his right arm away from his (Officer Fanone's) body, which appeared to significantly hinder and impair Officer Fanone's ability to defend himself against the continuous onslaught of assaults by other rioters," the charging documents read.
Fanone lost consciousness and suffered a heart attack as a result of the assault. Four people to date have been convicted and sentenced for taking part in his assault and robbery:
According to charging documents, Snoots participated in an interview sometime in the evening of Jan. 6 which was then posted on YouTube. During the interview, Snoots said police had "tear gassed our a** off of the Capitol steps, but it's not over.
"What they don't understand is it's just starting," Snoots reportedly said. "Every political a**hole up in that place is now going to have a target on their back everywhere they go."
Snoots was arrested Tuesday in Virginia. His case was assigned to Magistrate Judge G. Michael Harvey in D.C. District Court, although an initial appearance had not yet been set as of Wednesday afternoon.