ARLINGTON, Va. -- In Arlington, Virginia, the hotspot for middle school boys on a Friday night is a 600-square foot bike shop in Barcroft Park. When you walk inside, you'll find boys and their mentors fixing up dozens of bicycles.
RELATED: 'I wish I wasn't fat'| Young girls make dolls to remove negative self-image
"I've been a part of this program for a year and a half now," said Danny Cooper, a seventh grader. "It's really rewarding."
Instead of hanging out on the couch playing video games or going to the movies, Danny spends his evening retooling the bike he earned through Phoenix Bikes, a non-profit.
Phoenix Bikes is run by Executive Director Meg Rapelye. She spent six years in the Coast Guard before taking over the program which has now been around for 11 years.
"We're small but mighty," said Rapelye.
Phoenix Bikes promotes education, biking and community building for about 500 young people a year. It gives them a safe place to be after school and in the summer.
If you'd like to donate to this organization, click here. If you'd like to donate to other local non-profits, click here.
"This empowers them to have a lifelong form of affordable transportation good for the environment and their bodies," said Rapeyle.
The program also teaches the young men about hard work. Each participant must earn their bike by putting in hours learning how to refurbish a bicycle for someone in need.
"I think it's really, really cool to see the person walk away really satisfied with their bike," said 14-year-old Darius Tucker.
PHOTOS: Phoenix Bikes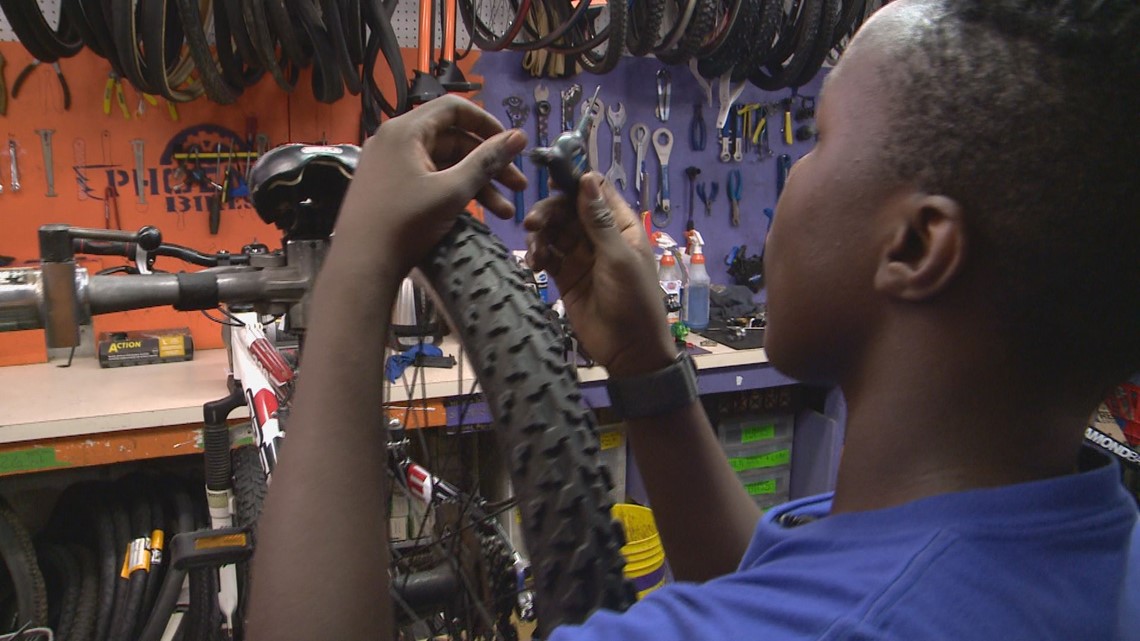 Some of those bikes go to the Offender Aid and Restoration program of Arlington, Alexandria and Falls Church. Ex-offenders get those bikes so they have a reliable way to get to their new jobs as they transition out of incarceration.
"Having a bike from Phoenix Bikes allows them to keep their job…we often hear stories from our participants particularly about how that bike has changed their lives," said OAR Executive Director Elizabeth Jones Valderrama.
RELATED: Man hasn't slept on bed in nearly 10 years; won't until everyone has one
All of the programs at Phoenix Bikes are free, but that takes the generosity of the community.
"A donation goes a long way," said Rapeyle. "It will go toward a lock to be able to give to a graduate of our program. It will go toward a helmet for a kid in our program and keep all of our programs and services free to our participants."
If you'd like to make a difference for families in our area and contribute to Impact: Give Back, join WUSA9 and the United Way of the National Capital Area by donating here.
First, type the organization's name in the "Find Your Cause" search bar. When your organization appears in the results, click on their profile and donate on their page.
Your donation is scheduled to be processed on May 17, during our 24 hours of giving. You will receive an emailed gift receipt when your credit card is actually charged.
What is Impact?
We report on problems all the time, but we've heard from you, that's not enough.  That's why our WUSA9 Impact team is committed to bringing you solutions.  
From May 1 until May 18, we'll be bringing you the stories of the local non-profits in the District, Maryland and Virginia who work nonstop to make our community a better place to live.
"Impact: Give Back" is a partnership with the United Way of the National Capital Area to help raise money, so these groups can keep doing their good work.