DISTRICT HEIGHTS, MD. (WUSA9) — In an apartment complex common room in District Heights, Maryland a group of pre-teen girls sits down at tables full of glue, glitter and sparkling bits of cloth. They're about to learn how to make dolls, but also, a very important lesson about life.
RELATED: Dance group brings young people with disabilities together
The founder of the RagBaby Exchange, Sherri Lumpkin, uses doll making as a lesson in self-esteem.
"A doll represents beauty and sweetness and kindness and I think all of us have that in us. So, if you create the doll of yourself you can see for yourself how beautiful you are," Lumpkin said.
As a long-time doll maker, Lumpkin said she founded her non-profit when she realized girls were struggling with their self-image at a very young age.
If you'd like to donate to this organization, click here. If you'd like to donate to other local non-profits, click here.
"When I started so many kids were trying to make dolls that looked like something on TV with blonde hair and blue eyes when theirs was brown and black. So, I just said, 'Why don't I make this doll look like you? We want to think about how beautiful your skin color is.' And I would do the hair like theirs and add some close similar to theirs and I thought, 'Wow! That could be a way to really help people see their own beauty and believe in themselves,'" Lumpkin said.
RELATED: Man hasn't slept on bed in nearly 10 years; won't until everyone has one
She starts by asking the girls to write down a negative message they need to release. It could be something that someone said to them, or something they feel about themselves.
As she walks around the room, she sees notes that read things like:
"I wish I wasn't fat."

"I wish I was smart."

"Why am I so dark-skinned?"
For Lumpkin and others watching the class, the realization that girls who aren't yet teenagers are carrying these heavy messages is like a gut-punch.
"We work from the inside out releasing negative self-thought and replacing it with positive affirmations," Lumpkin tells the girls.
She has the girls rip up their negative messages and write down a new, positive thought about themselves. That message will get tucked inside their doll.
PHOTOS: Ragbaby Exchange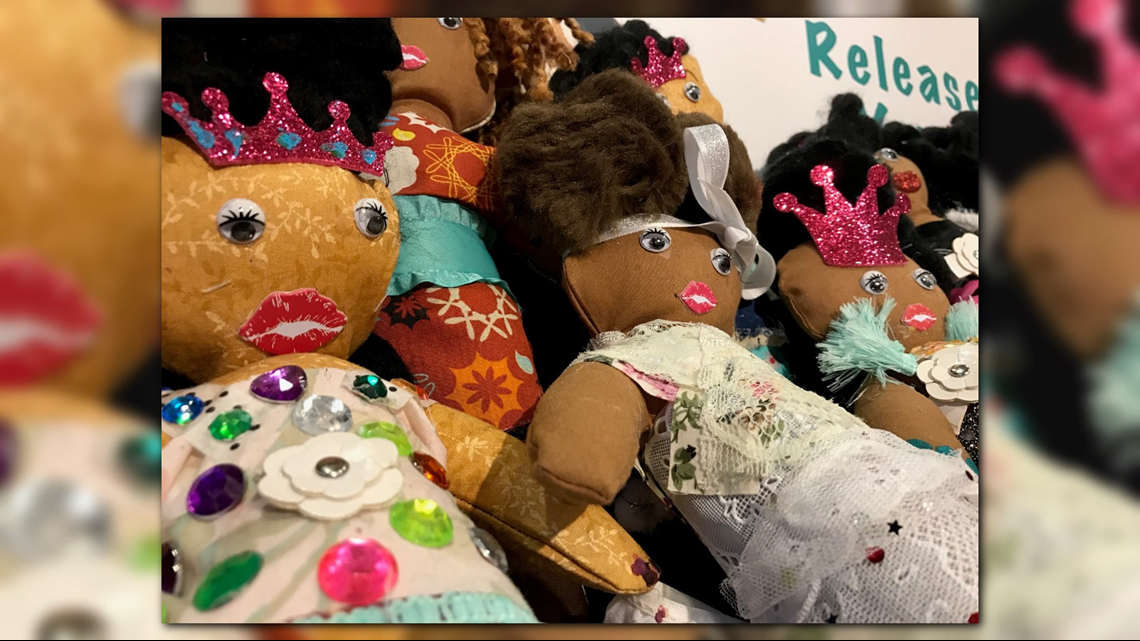 "When you put that inside the doll it's holding this energy of love. It makes an impact because if you love yourself you can love the world," Lumpkin said.
She uses donations to rent rooms to hold her workshops and purchase all of the material to create these custom dolls. She also uses funds to work with incarcerated juveniles to work on their self-image and self-esteem, as well as to ship some of her creations overseas to children who don't have access to dolls.
RELATED: Veteran provides thousands of meals to hungry students
If you'd like to make a difference for families in our area and contribute to Impact: Give Back, join WUSA9 and the United Way of the National Capital Area by donating here.
First, type the organization's name in the "Find Your Cause" search bar. When your organization appears in the results, click on their profile and donate on their page.
Your donation is scheduled to be processed on May 17, during our 24 hours of giving. You will receive an emailed gift receipt when your credit card is actually charged.
What is Impact?
We report on problems all the time, but we've heard from you, that's not enough.  That's why our WUSA9 Impact team is committed to bringing you solutions.  
From May 1 until May 18, we'll be bringing you the stories of the local non-profits in the District, Maryland and Virginia who work nonstop to make our community a better place to live.
"Impact: Give Back" is a partnership with the United Way of the National Capital Area to help raise money, so these groups can keep doing their good work.