WASHINGTON -- Forget growing up on the wrong side of the tracks: In D.C., it's the Anacostia River – and which side you live on may literally add a decade or more to your life.
WUSA9 took life expectancy numbers derived from census data and mapped them out for the entire D.C.-Maryland-Virginia region. The result is a map that highlights the significant disparities between how long residents of the region live.
The data is the same that researchers used to create the U.S. Small-area Life Expectancy Estimates Project (USALEEP), a partnership between the National Center for Health Statistics, Robert Wood Johnson Foundation and the National Association for Public Health Statistics and Information Systems.
For most of the DMV, the news is great. Pick almost anywhere in the D.C. metropolitan area and you can expect to live at least roughly as long as the national average (78.6 years). And in many places -- like Montgomery County, Maryland, and Loudon County, Va. -- a baby born today can expect to outlive the rest of the country into his or her late 80s and even into their 90s.
In fact, D.C.'s suburbs to the immediate north and west have some of the highest life expectancies in the country.
The trend extends into the District itself, with Ward 3 boasting neighborhoods with life expectancies into the 90s, and Wards 2 and 4 with multiple areas where you can expect to live into your mid-80s.
Unlike the rest of the DMV, however, USALEEP estimates residents of Wards 7 and 8 will live shorter lives than the rest of the country – in some cases, more than a decade less than even other D.C. residents living just across the river.
Children born in the Anacostia neighborhood, for example, are projected to have a life expectancy of 63.2 years – 15 years less than the national average and more than a decade less than children born just across the river in National Harbor. In fact, WUSA9's analysis of the USALEEP numbers found only one census tract in all of Ward 8 that didn't fall into our bottom two life expectancy brackets, and no census tracts in either Ward 7 or 8 with a life expectancy of at least the national average.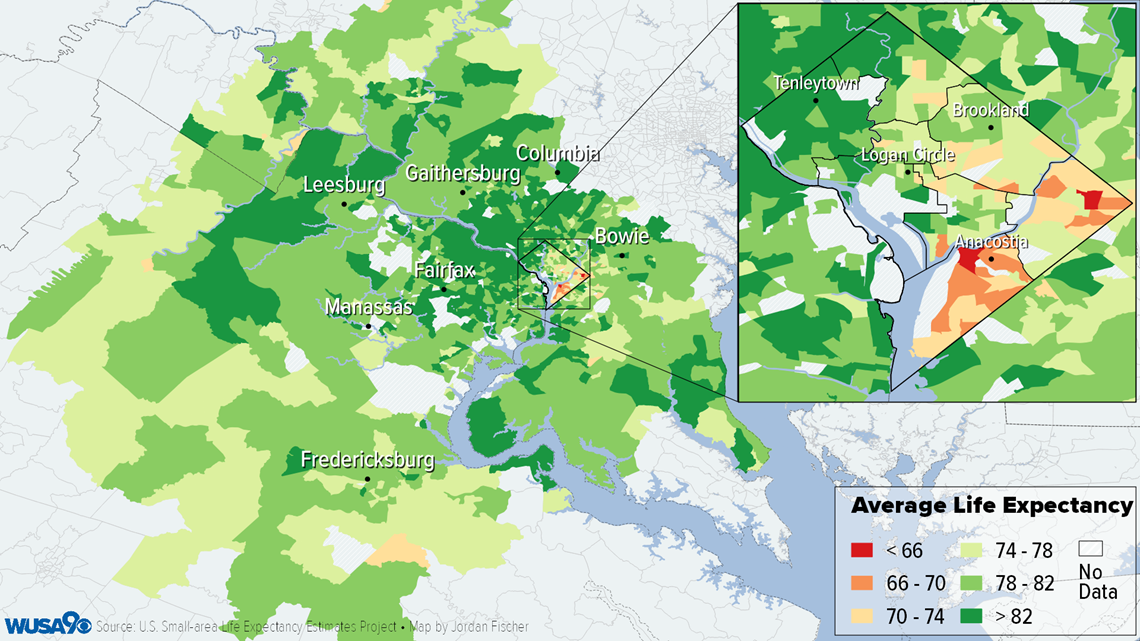 So what drives the difference in how long you might live?
The reasons are numerous and systemic.
WUSA9's own reporting revealed that there are only three grocery stores for more than 148,000 D.C. residents east of the Anacostia. By comparison, there are nine grocery stores for nearly 80,000 residents in the more affluent Ward 3.
Councilman Vince Gray told WUSA9 it isn't a black-white issue. It's dollars and cents.
"I know there are a number of people who think this may be racial," Gray said. "But, I think it's different in this instance. I think this is a situation where the economics haven't enticed some of these folks to be able to locate on the East End."
Residents east of the river also don't necessarily have the same access to healthcare as the rest of D.C., either – particularly when it comes to maternal care.
As of 2017, there are now zero hospitals with dedicated maternity wards east of the river – despite Wards 7 and 8 often making up a third of the city's births every year. WUSA9 looked at the issue in detail in our Mothers Matter series.
On top of all that, even if you manage to have access to quality food and education and healthcare, simply living in an area where most of your neighbors don't will still drag down your life expectancy from the sheer stress of the environment, according Elizabeth Arias, director of the U.S. Life Table Program at the National Center for Health Statistics in Hyattsville, Md.
"You're more likely to be stressed about income, resources, lack of resources," Arias said. "Safety, poverty. So, your life is much more insecure."
Eric Flack and Jordan Fischer are investigative reporters with WUSA9's Special Assignment Unit. Follow them on Twitter at @EricFlackTV and @JordanOnRecord.