A new report by the D.C. Policy Center indicates that communities east of the Anacostia River are far more likely to live in a "food desert," than their counterparts on the west side.
The report found that approximately 11 percent of the city is what's considered a "food desert," although the overwhelming majority of these communities are in Wards 7 and 8, on the east side of the river.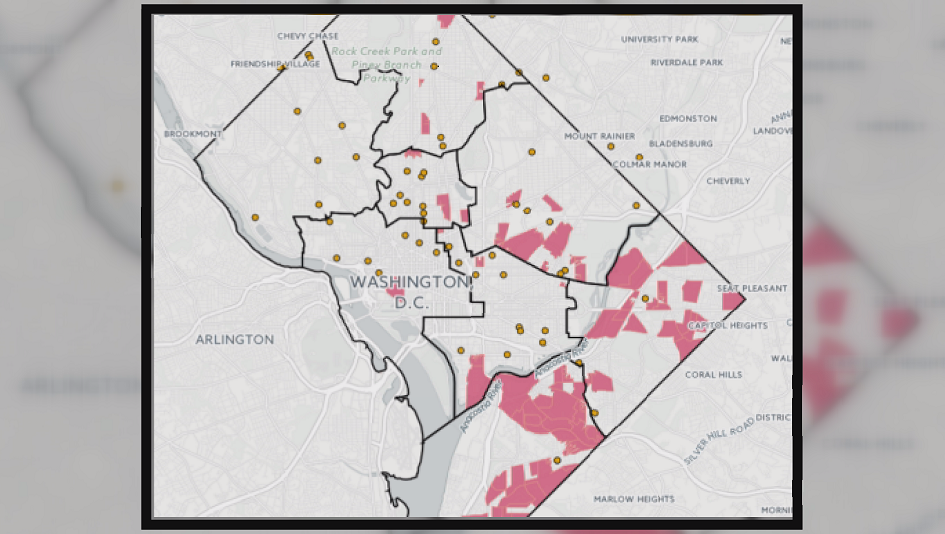 "We've seen shifts toward the east of the river once again," said Yesim Taylor, the executive director for the center.
The study defined a food desert as a place that fit three main criteria:
The walking distance to a supermarket or grocery store is more than 0.5 miles.
Over 40 percent of households have no vehicle available.
The median household income is less than 185 percent of the federal poverty level for a family of four.
The data found that over two-thirds of the food deserts were located east of the river. The center found that 51 percent of the food deserts were in ward 8, and 31 percent were in Ward 7. According to the center, there are only three grocery stores in the entire east side of the river.
"Really this is a socioeconomic challenge," said Taylor. "That requires solutions beyond just the Band-Aid."
The topic is nothing new for lawmakers, although there is a renewed effort to find solutions. Councilman Vincent Gray from Ward 7 told WUSA9 that he is introducing three new bills on Tuesday to try and address the issue.
"Food deserts and food insecurity on the East End of the District exacts an incredible toll on families," Gray said in a statement. "Which is why I have committed to introducing legislation that will eliminate this tremendous inequity."
WUSA9 also reached out to Ward 8 Councilman Trayon White, but his staff said he was not available for comment on the issue.