WASHINGTON — Some D.C. students will be allowed to do in-person learning as early as this week throughout October to receive additional support during their virtual learning, D.C. Schools officials said during a news conference Monday.
The in-person learning opportunity is also known as the Student Support Center and Career and Technical Education (CTE) program will not replace virtual learning, school officials said.
The program will provide tutoring, social-emotional support, physical education and outdoor learning experiences.
Starting this week, Ballou STAY High School will be open to students seeking additional help through the program and the school will welcome back students for its cosmetology and barbering program.
The following schools below will open in the coming days throughout October to house students for the DCPS program:
Bancroft Elementary
Cardozo EC
Eastern High School
Kimball Elementary
Kramer Middle School
Ludlow-Taylor Elementary
Mann Elementary
Noyes Elementary
Tyler Elementary
Phelps ACE High School
Roosevelt High School
Roosevelt STAY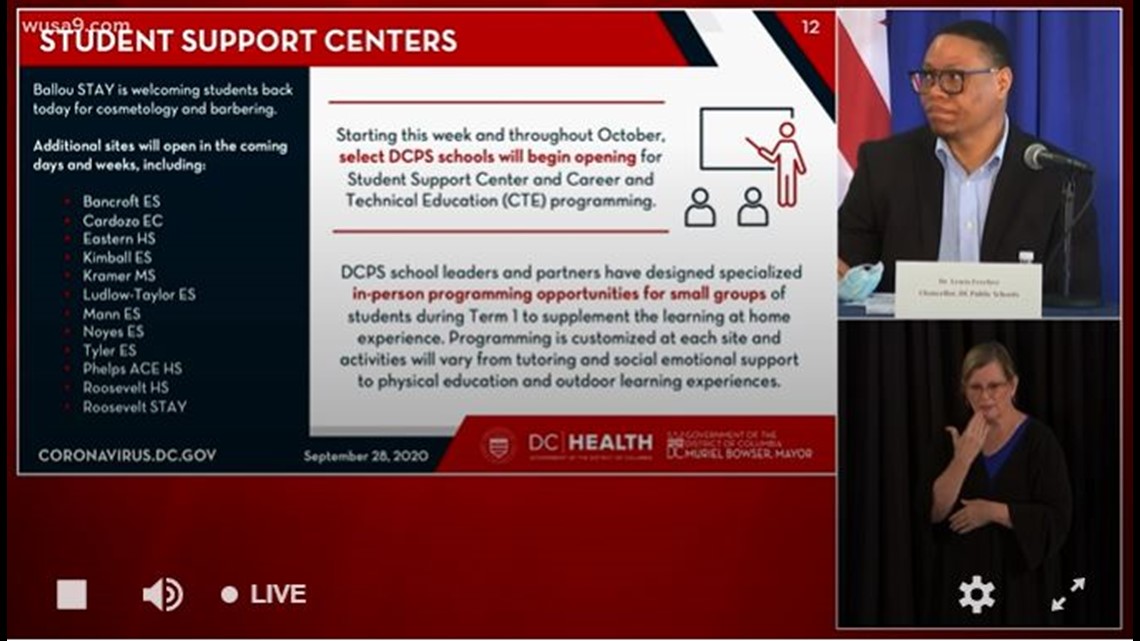 But WUSA9 obtained pictures taken last Wednesday (9/23) from Cardozo Education Campus showing no signage in hallways, no partitions or touchless soap dispensers in the bathrooms. The high school is set to welcome students back for the learning pods on October 5. While the Washington Teachers' Union said no work has been performed at the school since the photos were taken. According to DCPS, crews are working with the administration to get Cardozo ready for students saying in a statement: No more than 75 students will be in the building at any given time, which is less than 10% of the building's overall capacity.
"The plan is not solid and the schools are on not ready," said Tiffany Brown, DCPS teacher, mom and ANC7B commissioner. "I think generally it is a good idea, because some students sometimes need extra support. But I'm afraid that these spaces won't be maintained."
Commissioner Brown echoed the sentiments of many parents and teachers on social media following the news. "I don't feel confident in the Mayor or the Chancellor at all. We often run out of soap and paper towels. So how do we trust that they're going to give us the supplies we need?," she asked, "The police don't do GoFundMe's that they can buy a bulletproof vest. But teachers, we have to do GoFundMe's so that we can get the necessary things we need."
Mayor Muriel Bowser announced during a Monday news conference that the District will make an additional announcement on schools next week.
The District has seen an average of zero deaths for the past two weeks. And the city is now averaging 40 cases of the coronavirus a day — that is a decrease from weeks before.
Other school districts in the region, such as Fairfax County Public Schools, are also allowing in-person learning for students who have special needs or need assistance during virtual learning.