TAKOMA PARK, Md. — Hundreds of people were seen lined up outside several lMegamart grocery stores in the DMV for a grocery giveaway the chain was hosting.
Dozens of people were seen wrapped around a strip mall in Takoma Park. Dozens more in a circle around the Rockville location. Traffic was affected by the lines outside the Arlington store.
While many people were seen wearing masks, the sheer number of attendees made social distancing guidelines impossible to follow.
The giveaway involved vouchers to be exchanged for groceries. The store's manager told WUSA9 that once the vouchers ran out, they were still going to issue coupons to patrons.
The manager said they were holding the giveaway because they saw a need in the community for it.

Food banks in the region have dealt with huge increases in the number of people needing help. According to the Capital Area Food Bank, the amount of people coming in for food at their nonprofit partners has soared 30%-400% during the spread of the virus. Calls to its Hunger Lifeline, which people can call to receive free food, have tripled over the last few weeks.
A spokesman added that retail food donations, which normally can be responsible for millions of dollars in help, have dropped 75% during the spread of coronavirus. As a result, the food bank had to purchase 45 truckloads of food in April. The amount represents more than the group normally needs to purchase in a year.
Huge Lines form outside Mega Mart, breaking social distancing guidelines
Alicia Horton, executive director of Thrive DC -- a nonprofit working to end homelessness, -- said that the long lines were not a shock.
"It demonstrates how desperate people are right now," Horton said. "I think people are fearful. They don't know how long this is going to last."
Moving forward, she said the need for assistance could grow with the spread of coronavirus still facing an uncertain end.
"As people lose their jobs, their incomes or savings begin to dwindle," Horton said. "I think they're looking for opportunities to help themselves and their families."
Police officers could be seen outside the Takoma Park, Rockville and Arlington stores trying to control the crowds and enforce social distancing guidelines.
It was unclear if the size of the crowds were anticipated.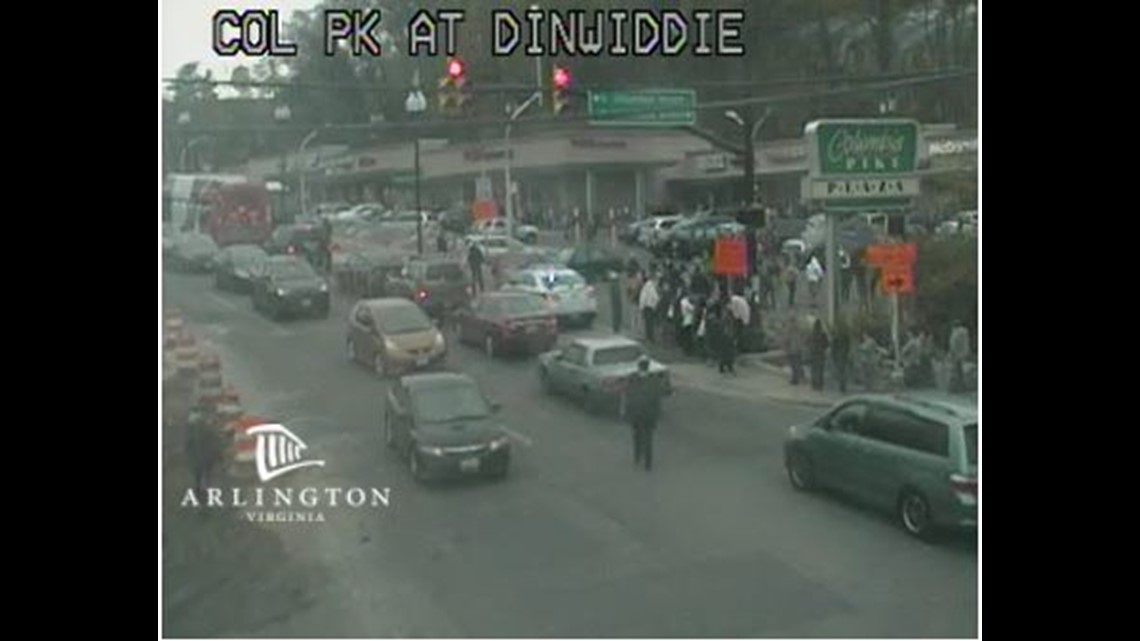 Megamart is a Latino grocery store with locations in Arlington, Alexandria, Gaithersburg, Rockville, Takoma Park, Riverdale and Avondale.
The situation was reminiscent of what happened at D.C.'s Wharf neighborhood. The Fish Markets there were overcrowded, leading to a shut down for several days while the city worked with the neighborhood to enforce social distancing policies better.
What precautions should you take?
Avoid close contact with people who are sick.
Avoid touching your eyes, nose, and mouth with unwashed hands.
Wear a mask if you have to make an essential trip outside
Wash your hands often with soap and warm water for at least 20 seconds.
Use an alcohol-based hand sanitizer that contains at least 60 percent alcohol if soap and water are unavailable.
Cover your cough or sneeze with a tissue, then throw the tissue in the trash.
Reasons to leave your home under stay-at-home order:
Grocery store trips
Medical visits or trips to the pharmacy
Travel to your essential job
Exercise such as walks, hikes or bike rides
Commonly reported symptoms of COVID-19 infection include:
Fever
Cough
Shortness of breath
Pneumonia
If you are sick or suspect you are infected, the Centers for Disease Control and Prevention recommends taking the followings steps:
Stay home except to get medical care
Avoid public areas, including work or school
Avoid public transportation
Separate yourself from other people and animals in your home
Contact your doctor via telemedicine for more guidance