WASHINGTON — D.C. Mayor Muriel Bowser has ordered D.C. police and members of D.C. National Guard to limit people's access to the National Mall's Tidal Basin cherry blossom trees until further notice.
"We love our cherry blossoms," Bowser said during a news conference March 23, urging folks to enjoy them online. "We will again enjoy them next year."
There is also an increased monitoring and enforcement of public parks, which are all are closed and locked up, Bowser said. She said they continue to see people to doing group exercise, like basketball, etc. and are not practicing social distancing.
Restricted access went into effect March 22 for the Tidal Basin and several street closures to ensure social distancing and prevent further community transmission of COVID-19, Bowser said in a news release.
Pedestrian and bicycle traffic are also be restricted in the area of the National Mall. People will no longer be able to enter the Jefferson Memorial or the National Mall in the area bounded by 14th Street to 23rd Street and Constitution Avenue to Independence Avenue, SW.
The National Park Service and D.C. police closed streets from 7 a.m. to 8 p.m.
Here are the street closures:
The Memorial Bridge
Lincoln Memorial Circle
Potomac River Freeway (all exits to Ohio Drive and Independence Avenue)
Rock Creek Parkway/Potomac Parkway Drive between Virginia Avenue and Independence Avenue, SW (to include Ohio Drive, SW)
Independence Avenue between Ohio Drive and 14th Street, SW
23rd Street between Constitution Avenue and Lincoln Memorial Circle
Henry Bacon Drive between Constitution Avenue and Lincoln Memorial Circle
17th Street between Constitution Avenue, NW and Independence Avenue, SW
15th Street between Constitution Avenue, NW and Independence Avenue, SW
Maine Avenue between Independence and 12th Street, SW
All vehicular exits to East Potomac Park and West Potomac Park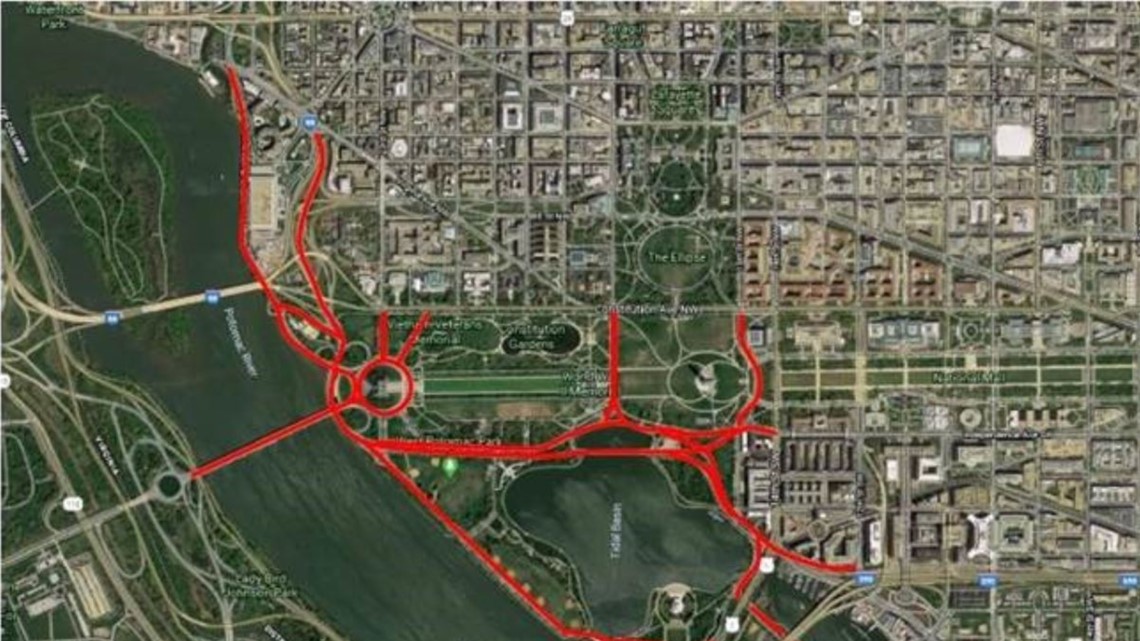 Metro officials have closed two nearby stations, Smithsonian and Arlington Cemetery, to discourage people from heading down.
The National Arboretum is also open. It has many varieties of cherry trees, magnolias and wide-open spaces perfect for social distancing, not to mention parking spots.