WASHINGTON — An anti-abortion activist already facing criminal charges in connection with a 2020 clinic blockade planned for others to enter two Maryland clinics under false pretenses last month, prosecutors told a federal judge Tuesday.
Lauren Handy, 29, who works as the director of activism for Progressive Anti-Abortion Uprising, appeared before U.S. District Judge Colleen Kollar-Kotelly Tuesday to determine whether she'd violated the conditions of her pretrial release. Handy was one of 10 anti-abortion activists indicted last year on federal charges for allegedly using chains and rope to block the entrance to the Washington Surgi-Clinic in October 2020. Handy pleaded not guilty to those charges and was scheduled for a jury trial in August. Last month she also filed a motion asking for the case to be dismissed in light of the U.S. Supreme Court's decision overturning Roe v. Wade.
In March, Kollar-Kotelly released Handy on the condition that she stay away from the Washington Surgi-Clinic and its employees and not enter any reproductive health services clinic except for a personal medical appointment. On Tuesday, the judge said Handy appeared to have "skirted" those conditions last month when she directed other anti-abortion activists to attempt to enter two Maryland abortion clinics.
"She's basically sending others to do what she cannot do," Kollar-Kotelly said. "She's smart enough – give her credit – to make sure she's not going herself."
Assistant U.S. Attorney Elizabeth Aloi said the government had obtained a recording of Handy directing other activists to perform an "opportunity rescue" at the clinics. In the recording, which was played in court Tuesday, Handy can be heard saying the group had obtained appointments at the clinics. The other activists were told they would be broken into two teams that would enter and hand out leaflets and roses to patients in the waiting rooms and then leave before police arrived.
"A successful rescue is crossing the property line and delegitimizing the abortion industry," Handy can be heard saying in the recording.
Handy's lawyers – Martin A. Cannon, an attorney with the anti-abortion law firm The Thomas More Society, and Dennis E. Boyle, a criminal defense and civil rights attorney with the law firm of Boyle & Jasari – didn't dispute that it was Handy's voice on the recording. Cannon argued, however, that the recording showed his client was in fact trying to abide by all the terms of her release.
"There was no plan for her to participate herself," he said.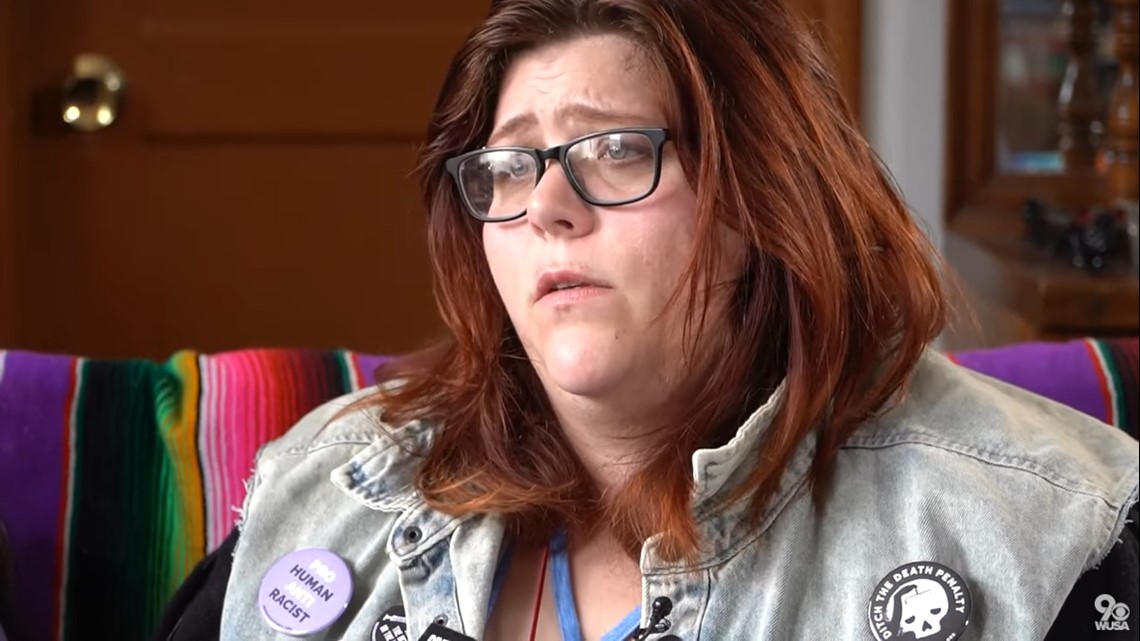 Prosecutors said the other activists, which included unnamed co-defendants in Handy's D.C. case, did manage to enter the clinics before being removed by law enforcement at the businesses' request. They asked for the judge to impose GPS monitoring and a no-contact order with the other defendants in Handy's case.
"Our position is she was conspiring with others to commit additional FACE Act violations," Aloi said. "She is sending other people in to commit the same crimes she was charged with in this case."
Prosecutors did not dispute that Handy herself didn't enter either of the clinics and to date no one has been charged in connection with entering either business.
Handy has a history of legal issues related to anti-abortion protests. In July, Handy and another activist were sentenced to jail time for trespassing at an Alexandria women's clinic in 2021. In November, she was sentenced to 45 days in jail alongside three other members of her group for obstructing a Michigan clinic in 2019. Handy reported having the remains of as many as 115 fetuses at a Capitol Hill home where she was staying in early 2022 – although no crime has ever been alleged in connection with those remains.
Kollar-Kotelly denied the government's request for GPS monitoring but said she would impose new restrictions to make it clear Handy could not direct others to enter reproductive services clinics.
"She cannot send agents to do what she cannot do," Kollar-Kotelly said.
Handy's attorneys did not oppose the new language, but said they wanted to ensure it was narrowly tailored enough not to infringe upon their client's First Amendment rights to protest outside of abortion clinics — which is her full-time occupation.
On Tuesday afternoon, Kollar-Kotelly issued an order that Handy must not "conspire, plan, instruct, assist, abet, direct, or otherwise aid in any way others from entering reproductive services clinics for any reason other than for the receipt of such services."
Handy was scheduled to be in court again March 3 for a status conference.