WASHINGTON —
Although the Nationals won the World Series last night, many fans could not help but think about one ex-superstar from the team.
Early this year, Bryce Harper announced that he would leave the Washington Nationals and join division rival, the Philadelphia Phillies. During the Nationals postseason, Harper's introductory press conference with the Phillies has resurfaced where Harper stated: "We want to bring a title back to D.C."
Well, he was not wrong. While Harper was believed to be the Nationals key component to a World Series visit when he was signed #1 overall in 2010, it turns out that was not the case.
However, one clothing company has taken advantage to always remind Bryce Harper about the wish he granted for Nationals fans.
Smack Apparel, a family-owned unlicensed sports apparel company has unveiled what they call the "Bryce-less" t-shirt. The shirt features the now infamous quote from Harper on the front. The back features a quote stating 'There are some things money can't buy but for everything else, there's WINNING IT ALL" taking a nod to his $330 million 13-year contract with the Phillies.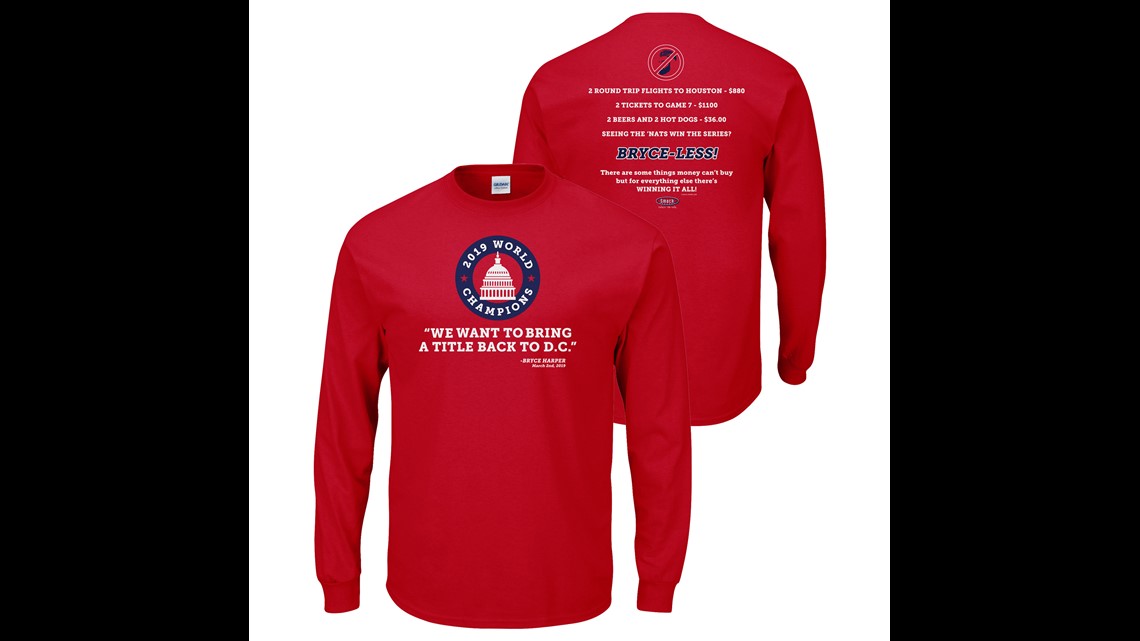 Smack Apparel is unlike other sporting apparel companies, as they focus on creating clothing focused on rivalries. Owner Wayne Curtiss explained why he felt this t-shirt creation was significant to DC fans.
"We live for opportunities like this. Unlike licensed-apparel companies, we have the flexibility to lean into the voice of the fan – and 'Nats fans aren't just happy about winning the World Series, they are relishing in the fact that they did it without Bryce Harper," said Curtiss.
You can purchase your own "Bryce-less" t-shirt from Smack Apparel starting at $19.99.