WASHINGTON — The 2019-2020 winter has finished as the seventh warmest on record in the nation's capital. In addition, it was D.C.'s third-least snowy winter on record, with only 0.6" of snow.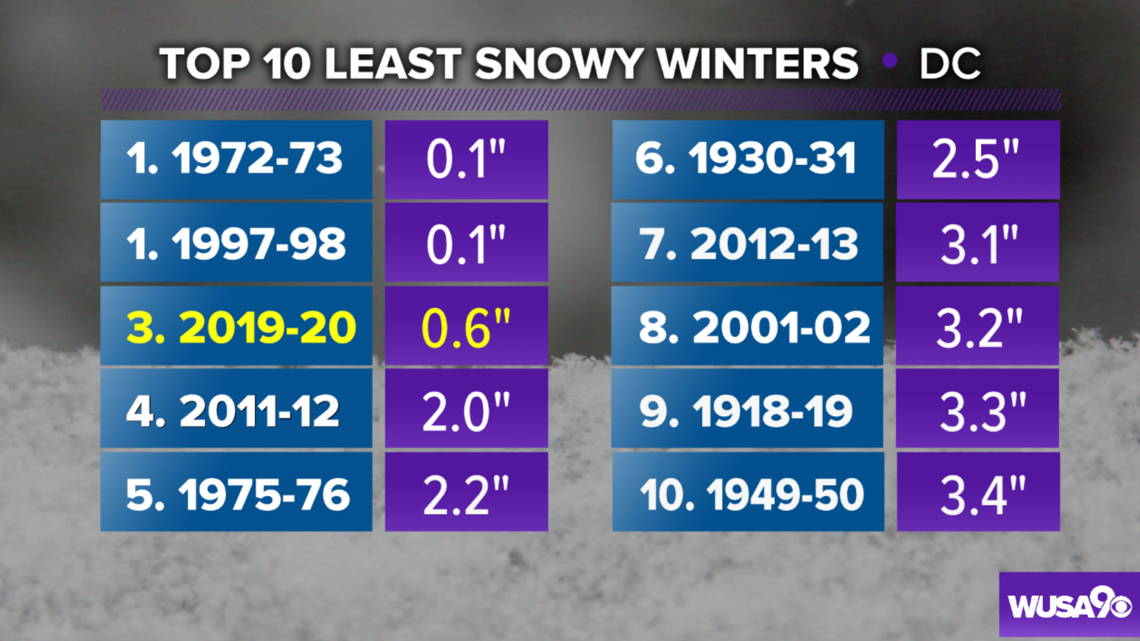 December 2019 was a warmer than average month in Washington, D.C. with an average temperature of 42.2°, or 2.4° above average. That's the eighth time in the last nine years December has been warmer than average. The month also finished with slightly above average rainfall and below-average snowfall. There was only 0.4" of snow, well below D.C.'s December average of 2.3".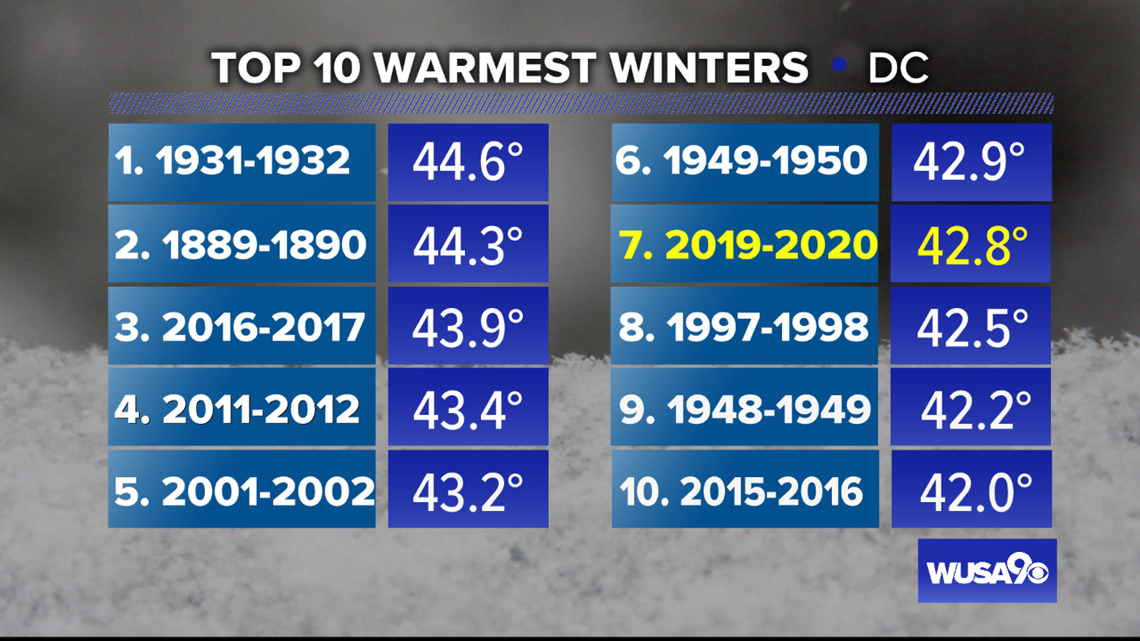 Only seven of this January's 31 days were colder than average, which helped make it D.C.'s twelfth warmest on record. D.C. had high temperatures in the 70s on January 11 and 12, for the first time on consecutive January days since 1997. That contributed to a monthly average temperature of 42.4° or 6.4° above average. While January is traditionally D.C.'s coldest month, January 2020 was warmer than December. D.C. residents had only 0.2" of snow during the entire month of January, compared to the average of 5.6".
February 2020 continued this winter's trend of above-average temperatures and below-average snowfall in the Nation's Capital. In fact, while February had above-average rainfall, no measurable snowfall occurred. That's unusual since February is normally D.C.'s snowiest month of the year, according to National Weather Service data. February 2020 was also a warmer than average month, with above-average temperatures on 22 days last month. That led to an average February temperature of 43° in Washington, D.C., or 4.8° above average.
Although there have been a few cold days sporadically this winter, the overall weather pattern has not been conducive for sustained periods of colder than average weather. The DMV has consistently been on the east side of storms – where the warmer air is located. That's meant rain and not snow in the Nation's Capital time and again.
D.C.'s largest winter storms occur when an area of low pressure develops off the southeast coast of the United States and tracks northeastward, producing a "Nor'Easter." That's not been the case this winter. Although the Nation's Capital averages 1.3" of snow in March, no amount of March snow will change how mild this meteorological winter has been.
Meteorologists refer to the three-month period from December to February as "meteorological winter." Weather records in the Nation's Capital are kept by the National Weather Service and date back to the 1870s.