WASHINGTON — Across the DMV, it will be a warmer than average winter and how much snow you'll see will depend on whether you live inside or outside the Beltway.
We've done a deep dive into the data to bring you our winter weather predictions.
Here's How Much Snow To Expect
We are calling for below-average snowfall inside the Beltway and east of I-95 but above average snowfall in the northern and western suburbs.
In southern Maryland, we think snowfall will be a bit below average except for the city of Waldorf and much of Charles County. Waldorf may end up with around 14 inches of snow.
In the D.C. metro, expect a little below average snowfall. Downtown we'll end up around 14 inches, Silver Spring to Fairfax will be 18 to 23 inches.

Northwest of the metro will be our big winners. Frederick and Leesburg will end up with 25 to 30 inches of snow. And our bulls-eye will be Hagerstown, Winchester, and points northwest, where 30 to 40 inches of snow are possible.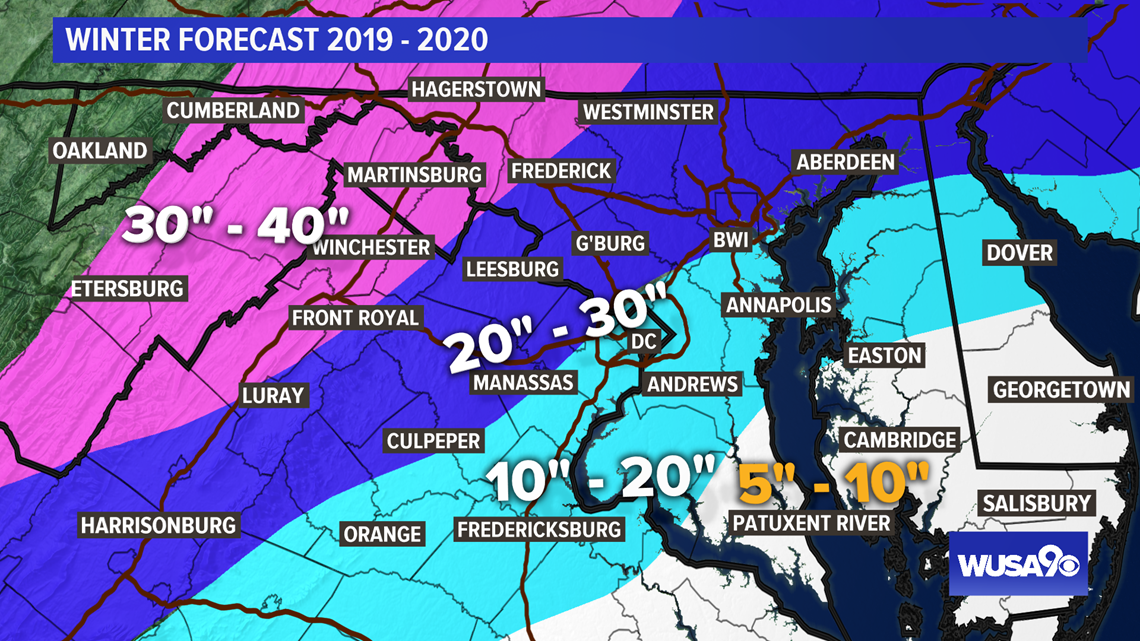 Zone-By-Zone Snow Forecast
Below you'll find a list of airports and cities with around how much snow to expect, followed by how much that location averages based on the last 30 winters.
Reagan National - 14" (Average - 17")
Dulles - 26" (Average - 23")
Waldorf - 14" (Average - 16")
Rockville - 20" (Average - 21")
Silver Spring - 18" (Average - 20")
Fairfax - 23" (Average - 21")
Leesburg - 30" (Average - 22")
Hagerstown - 40" (Average - 33")
Winchester - 30" (Average - 18")
Snow Forecast: Winter 2019 - 2020

Winter 2019 - 2020 Highlights
More Arctic Outbreaks - We'll have numerous shots of very cold air that will last for two to four days.
More Clippers - These are small, fast-moving, and moisture-starved storms that drop down from Canada following the northern jet stream. They produce light rain or snow, depending on the temperatures. Clippers do produce more snow from I-81 westward into the mountains. Although none of them will bring immense amounts of snow, they'll add up.
Southern Jet Stream Further South - The southern jet stream will be positioned south of our area, which means we'll miss many of the big snow storms and they'll pass to our south.
1 - 3 Nor'easters - When the southern jet stream is closer to us, it can bring big snows up the coast. But because of the suppressed jet stream to our south, we'll have fewer nor'easters and more storms that are unable to move up the coast. We think we'll end up with 1 to 3 nor'easters through the winter of 2019 - 2020.
1 Ice Storm - It's no fun when the DMV turns into an ice rink! But we are predicting one ice storm with freezing rain and sleet. It only takes a tenth of an inch of ice to create some slick roads. When we get ice storms with over 1/2 inch of ice like in 1999, there can be widespread tree damage.

Winter 2019 - 2020 Temperatures

This winter, we'll have a mild to warm start to winter with overall temps around average.
We'll have our warm periods and of course our cold periods, but can we get the cold air to come at the "right" time to produce those big snowstorms? Or will we be slipping and sliding from a dreaded ice storm?
Overall, we expect the temps to be above average in December, around average in January and February. For the entire winter we expect temps to end up above average.
Here's How Winter 2019 - 2020 Compares To Average
On average, DC averages about 17 inches of snow per season at Reagan National. As you head further northwest into Montgomery County and western Fairfax County, the snow averages increase closer to 2 feet per winter (24 inches). Our southern and eastern suburbs usually see anywhere from five to 18 inches.
Last year was an unremarkable El Nino winter. We received almost 17 inches of snow (16.9") which is almost spot on average.

What Drives This Forecast: 'La Nada'
When we don't have an El Niño or an La Niña, we're in the neutral phase of the El Niño Southern Oscillation, an atmospheric weather cycle that drives our jet stream patterns.

Although this neutral phase doesn't have an official name, it's commonly referred to as 'La Nada', which translates to 'the nothing' in English from Spanish. During La Nada, ocean temperatures in the equatorial Pacific region are near average or normal.

This winter, we are expecting a more active polar jet stream that keeps an active storm track from the Great Lakes down to the Northeast and Mid-Atlantic. This storm track can mean more Clipper systems for us, which are quick-moving but moisture starved. With a La Nada winter, the subtropical jet is often positioned a little further south. This can mean less coastal storms and nor'easters for us in the D.C. area.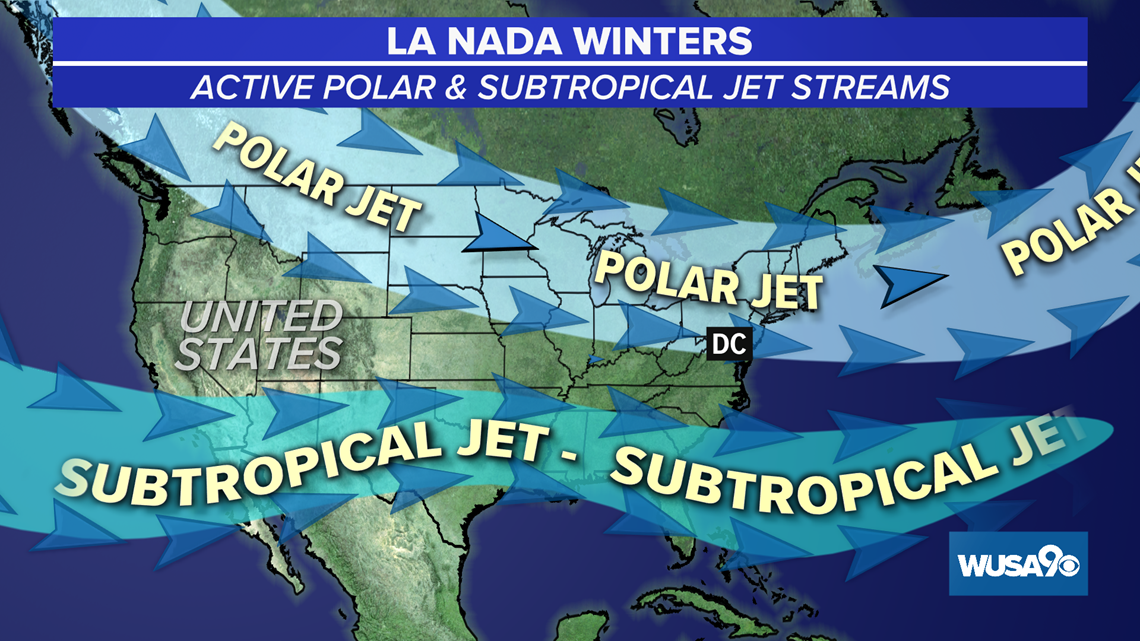 La Nada winters can be feast or famine. We need cold air for snow.

The winter of 2012 - 2013 was a La Nada and we received only 3.1 inches of snow. On the flip side however, La Nada continued through the following winter and 32 inches of snow dumped on the Metro. The average snowfall downtown for all of our La Nada winters is 15 inches, which is a bit below DC's average snowfall of 17 inches.
What Does This Mean For Ski Resorts
This should be a good season for ski resorts because we are expecting more clipper systems. Although these don't bring a ton of snow with them, they'll add up and bring in some reinforcing cold air.
When Can We Expect The Most Snow?
Predicting exactly WHEN our first nor'easter or big snow of the season will fall is too difficult this far out. Check back with this story for more as the winter gets closer.