WASHINGTON — Winter storms can bring snow, sleet and freezing rain. Although snow is what many get the most excited and fixated upon, freezing rain is a much more significant danger. It can lead to extremely dangerous driving conditions and power outages.
What is Freezing Rain And Why Is It A Problem
Freezing rain falls as liquid but freezes on contact and becomes a solid. This becomes a layer of ice that coats any object below freezing, including trees, power lines, bridges and overpasses.
The ice adds weight to tree limbs and power lines. It causes them to sag and weaken. And if enough ice is on tree limbs and power lines they can break or snap from the shear weight and stress of the ice.
How Much Freezing Rain Does It Take To Cause Problems?
A tenth of an inch of freezing rain becomes a nuisance. It's not enough for power outages, but it can cause sidewalks and overpasses/bridges to turn slick.
A quarter of an inch of freezing rain starts to cause tree limbs to sag or break. Some power outages begin occurring, but it is not widespread
A half an inch of ice damages trees. Widespread power outages become more likely.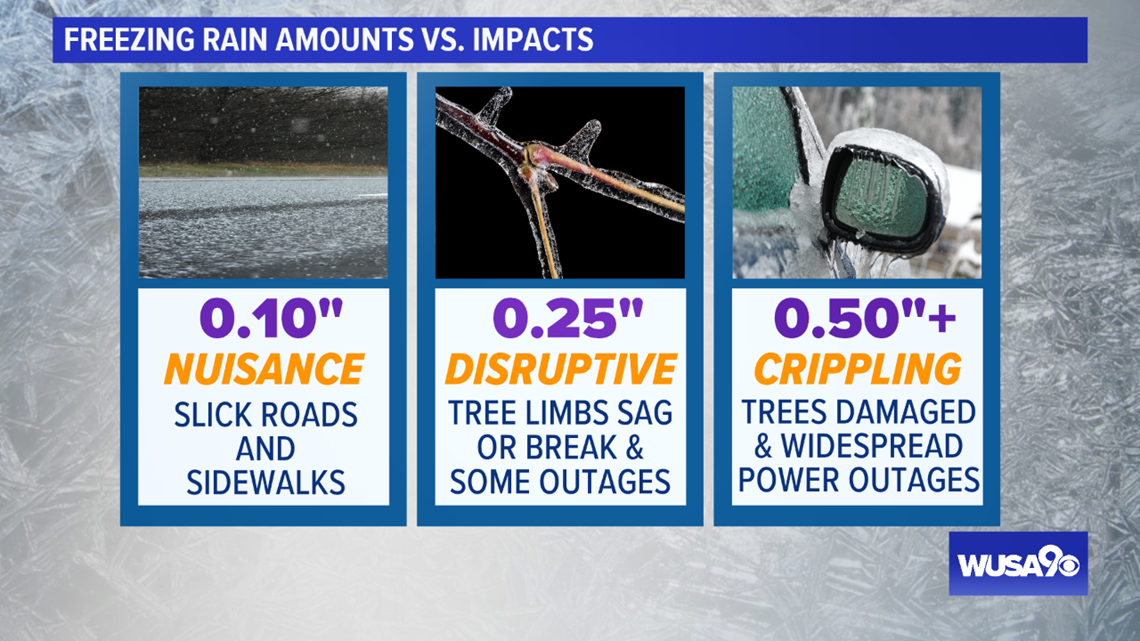 Here's How Much Freezing Rain May Fall Wednesday
A light glazing of ice is possible in the northwest DC metro suburbs. Ice accretion amounts over a tenth (1/10) of an inch will be possible through upper Montgomery county, part of Loudoun county and points northwest. Along I-81, some ice totals will range from a tenth of an inch to a quarter of an inch of ice. Higher amounts are possible through western Maryland and down into parts of West Virginia.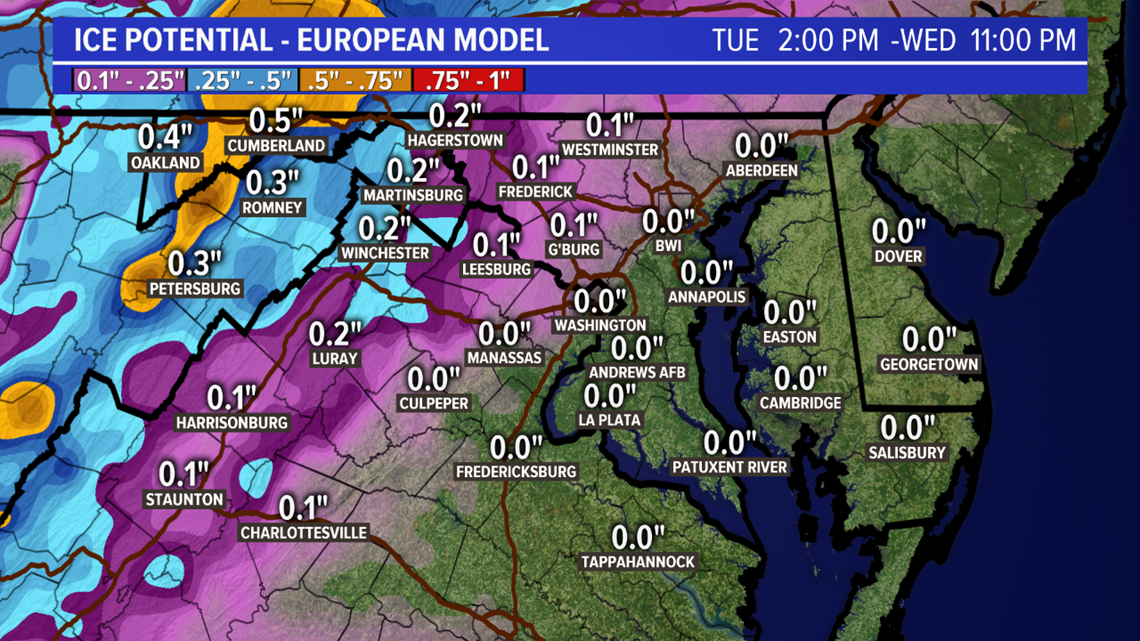 Power Outage Possibilities
We think that some isolated power outages are possible from Leesburg to Frederick and along I-81. Scattered power outages are possible in western Maryland from Cumberland down through Petersburg, West Virginia.