WASHINGTON —
It's that time of year again... your WUSA9 Weather Watch Team has put together the 2022-2023 Winter Weather Outlook.
Before we get into the forecast, let's take a look back at last year's totals.
The 2021 – 2022 season wasn't terrible for snow lovers, but it wasn't a blockbuster either. In D.C. we shoveled away 13.2 inches of snow. That's just a bit more than our prediction of 10 inches. At Dulles, we forecasted 20 inches and ended up with just 15.8 inches.
Last year's totals were pretty close to average. When we look at 30-year averages National measures in at 13.7 inches, Dulles at 20.21 inches, and BWI sees 18.99 inches. If we look at all the available snowfall data dating back to 1887 the average for downtown D.C. is 15 inches.
La Nina is when the eastern Pacific Ocean near the coast of Ecuador sees unusually cold temperatures for several months in a row. This sets off a chain reaction in the atmosphere that impacts weather across the globe.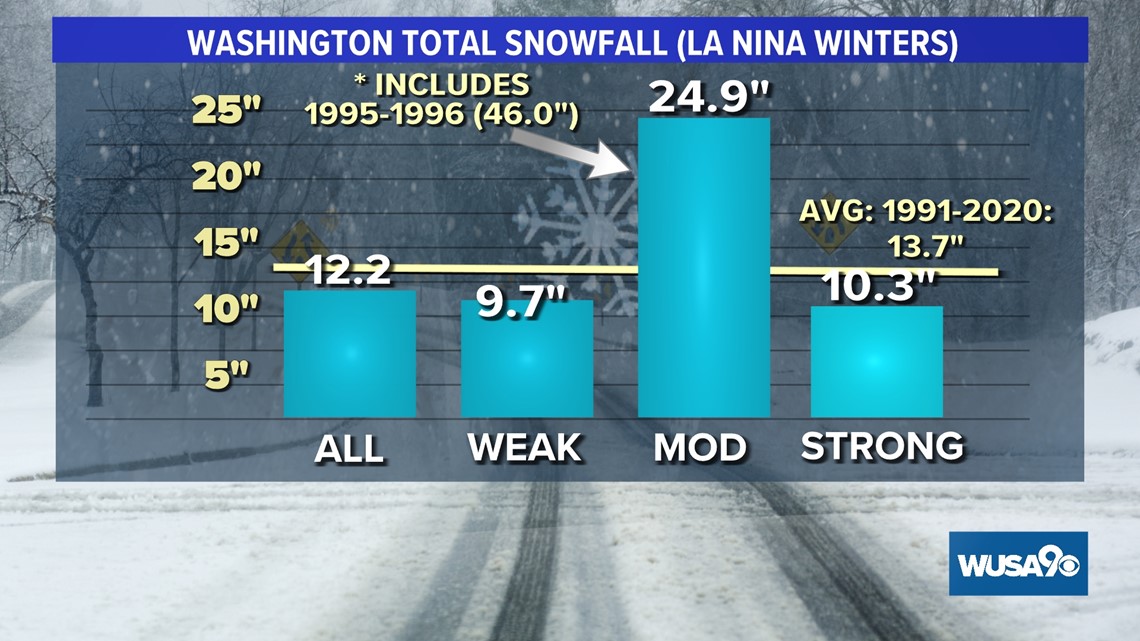 In a La Nina winter, the jet stream is sent far north into Canada. That means here in the DMV, we tend to see dry and mild weather during the winter. Snow can still happen in La Nina winters, just like last year. However, most La Nina winters are bad news for snow lovers, as we tend to see below-average snow and warmer temperatures from December through February.
La Nina isn't the only thing to blame for our warmer winters. Climate change and urbanization play a role as well. Over the past five decades, our region has seen average winter temperatures increase between three and five degrees. The University of Maryland Center for Environmental Science is projecting that winter months could warm an additional four to ten degrees by 2080 if we can't curb greenhouse gas emissions.
Six of D.C's 10 warmest winters have occurred during the past 25 years.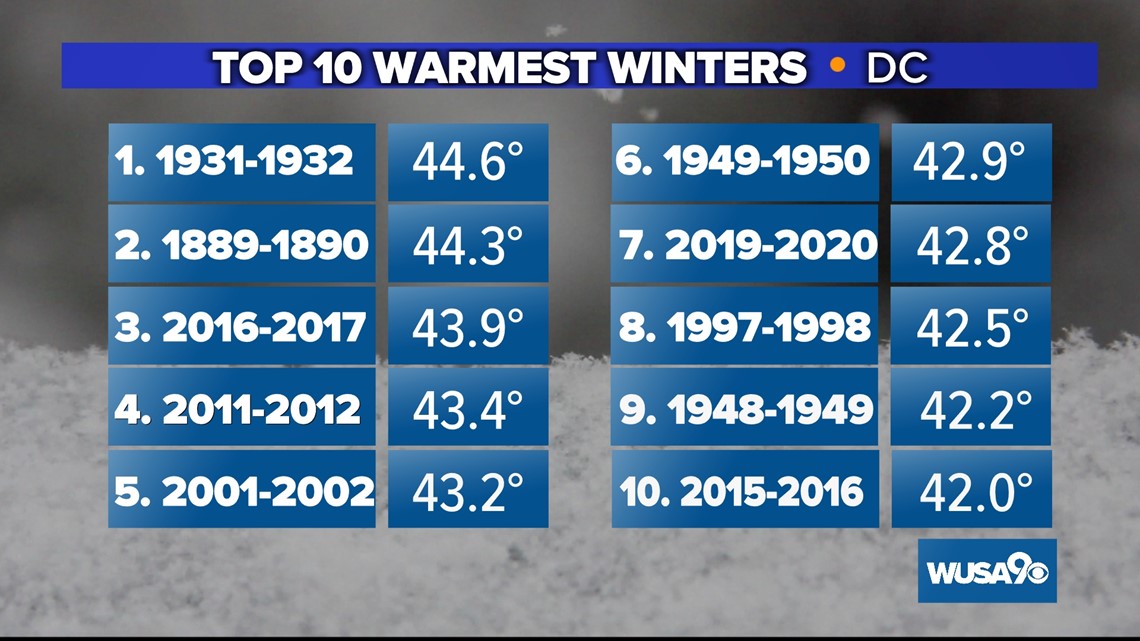 Of course, there can still be cold winters in our changing climate. We still normally have a few stretches of extreme cold during the winter months when polar air sinks south. However, the likelihood of extremely cold conditions in a warming world is decreasing. But rest assured we'll still have days with record cold temperatures—data shows it just won't be as cold or for as long as in the past.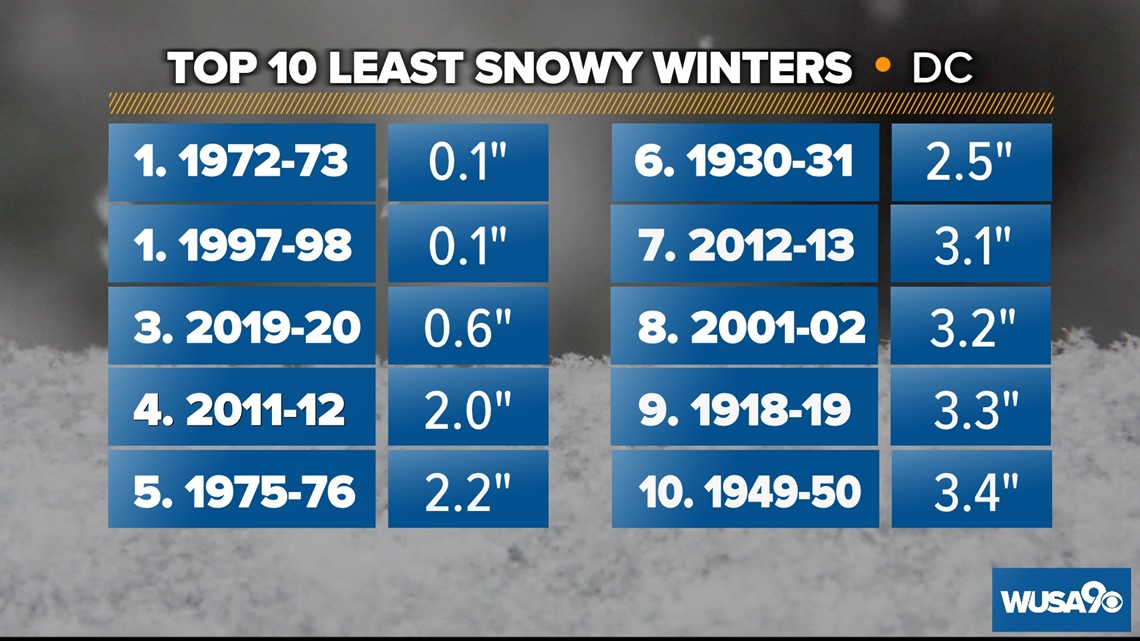 Snow lovers need not worry -- we'll still have big winter storms like the January 2016 storm. Between Jan. 22-23 2016, D.C. picked up nearly 18 inches of snow. But, the very same winter we had that epic two-day snow event also ended up being our 10th warmest winter on record.
If you were around during the winter of 2009 - 2010 you probably remember it as being a blockbuster winter. We saw over 56 inches of snow and below-average temperatures. While there was no shortage of winter wonderland scenes, the season came to an abrupt and early halt with the final freeze on Feb. 27. That's the earliest final freeze on record.

So what are we in for this Winter? Let's get into the forecast.
The WUSA9 Weather Watch Team is going a bit rogue this winter, although not without some precedent. The average snowfall for weak La Nina is only 9.7 inches.
However, we did have two winters during a weak La Nina that gave us above-average snowfall. National recorded 18.3 inches of snow during the winter of 2014 - 2015 and the winter of 2018-2019 we had 16.9 inches. In fact, that winter produced a double-digit snowfall at National of 10.3 inches. January 2019 is the last time National recorded 10 inches or more of snow from a single snowstorm.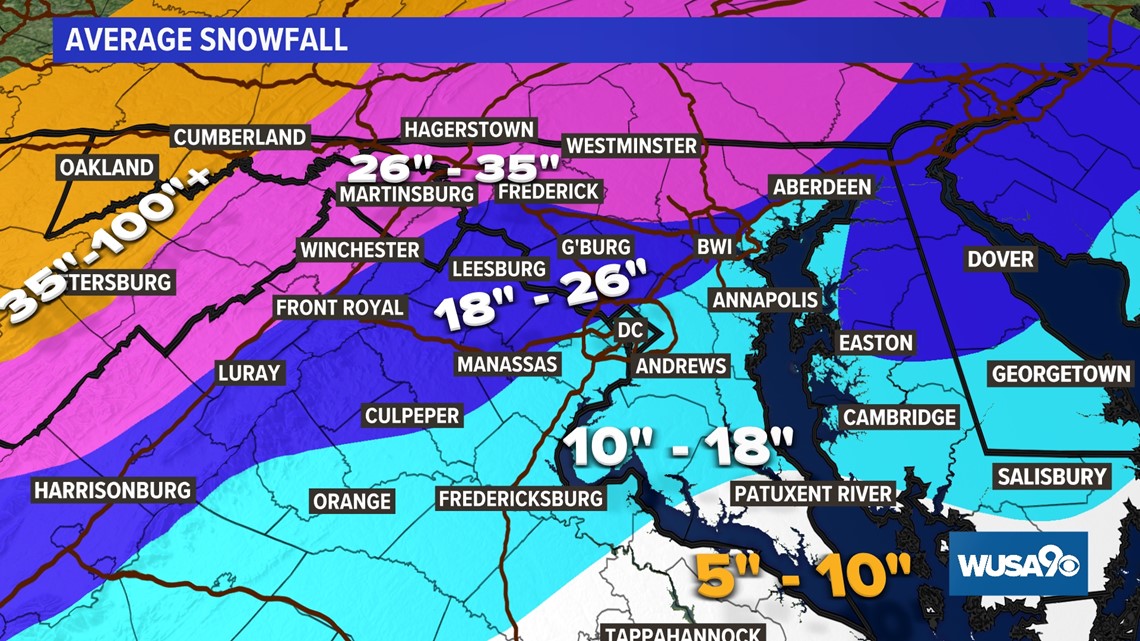 This year we are banking on two small to moderate snows and one big snow to bring our snowfall totals to near average or a bit above in some locations.
Generally, we are predicting near-average to a bit above-average snowfall in the DMV. Here's the breakdown.
5 – 10 inches in southern Maryland

10 – 20 inches along the I-95 corridor

20 - 30 inches in our northern and western suburbs.

30 - 40 inches Hagerstown west to Cumberland

Well over 40 inches west of the Divide.
Waldorf averages 16 inches, and we are predicting 14 inches.
At National, we are predicting 17 inches, which is a bit above the average of 15 inches.
The same story goes for Fairfax with an average of 21 inches and a forecast of 22 inches.
Dulles averages almost 23 inches and this winter's snowfall will just exceed that with two feet of snow.
Leesburg will be a few inches above its average at 25 inches.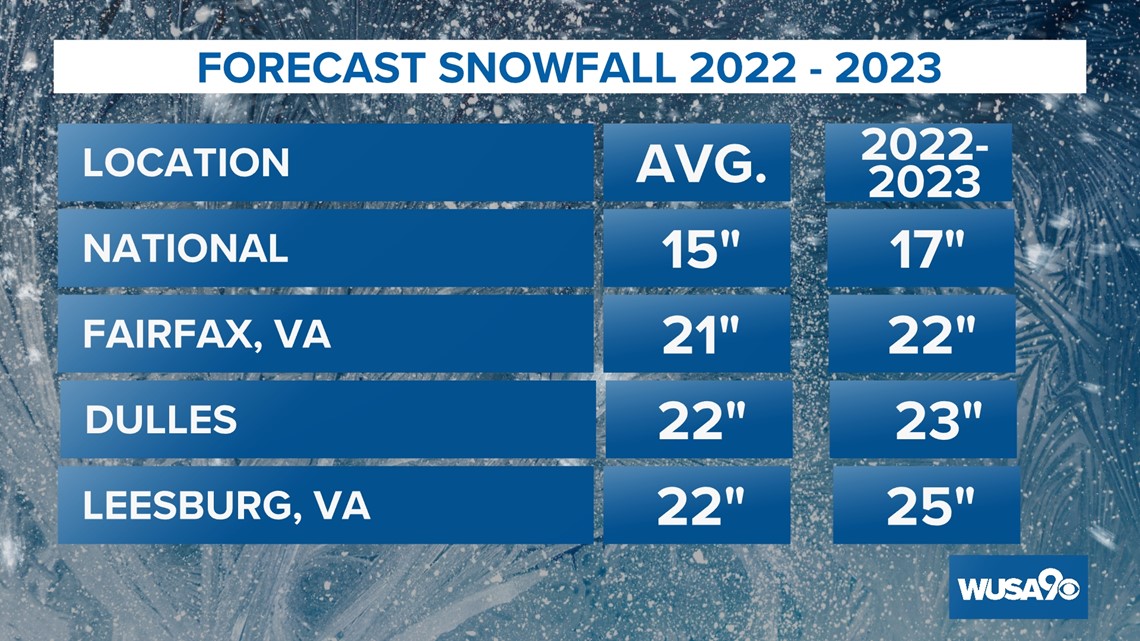 Bowie's snowfall will be on the money with 15 inches and in Rockville, our forecast of 22 inches is just a bit above the average of 21 inches. Winchester will have the most snow compared to average with 25 inches and Hagerstown essentially breaks even with 34 inches.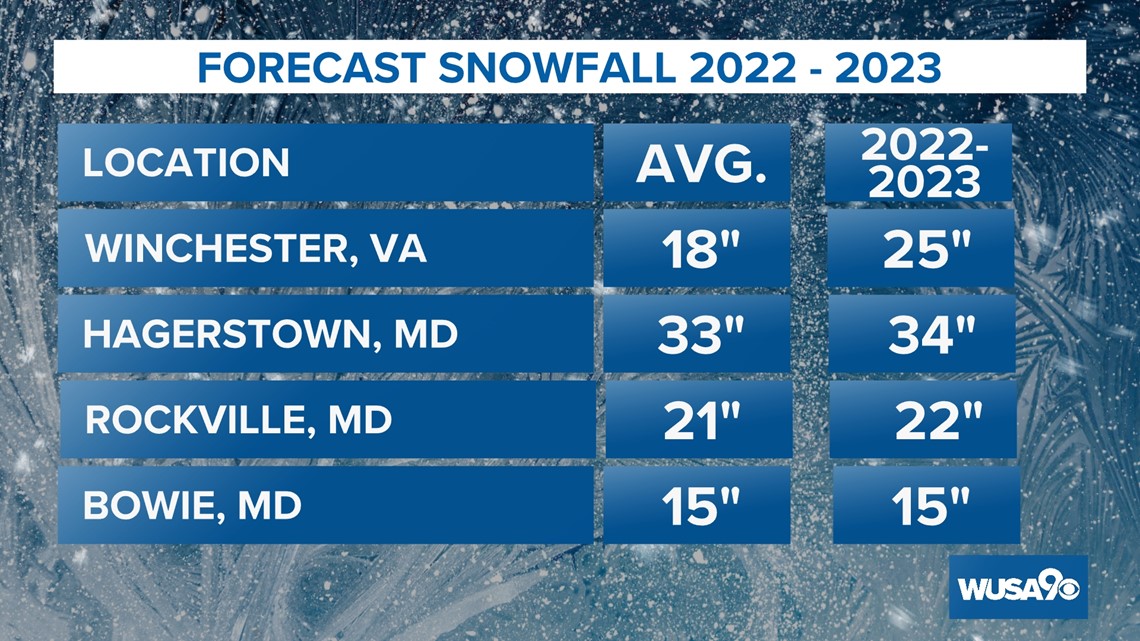 As far as ice goes, we are forecasting only one ice event due to an unfavorable storm track more frequently to our west.
Of the last nine weak La Nina winters, we have had four with above-average temperatures and five with below-average temperatures. Overall, weak La Nina winters are warmer than average. However, we are predicting that this winter will be average or a tad below in terms of temperatures with at least two arctic outbreaks.
So when can we expect the first flakes to fly??
Chief Meteorologist Topper Shutt is predicting the first snowflakes by the end of Thanksgiving weekend with our first measurable snowfall on December 18th.
WATCH: Catch up on WUSA9's Winter Weather Outlooks of years past with the 2021, 2020 and 2019 forecasts below.