LEESBURG, Va. — The National Weather Service confirmed an EF-0 tornado touched down in Leesburg, Virginia Friday morning, around 7:20 a.m., after strong storms tore through the DMV.
The tornado had a path length of 3.3 miles, a path width of 250 yards, and max winds reaching 85 MPH (86 MPH would have made it a low-end EF-1). There were no fatalities or injuries from the tornado, but reports of downed trees were numerous. The tornado moved northeast at 60 MPH.
In the Greenway Farm and Linden Hill subdivision in SW Leesburg, large tree limbs littered roadways and several trees were uprooted entirely. The damage was concentrated between Lawford Drive and Nickels Drive and along Governors Drive and Country Club Drive.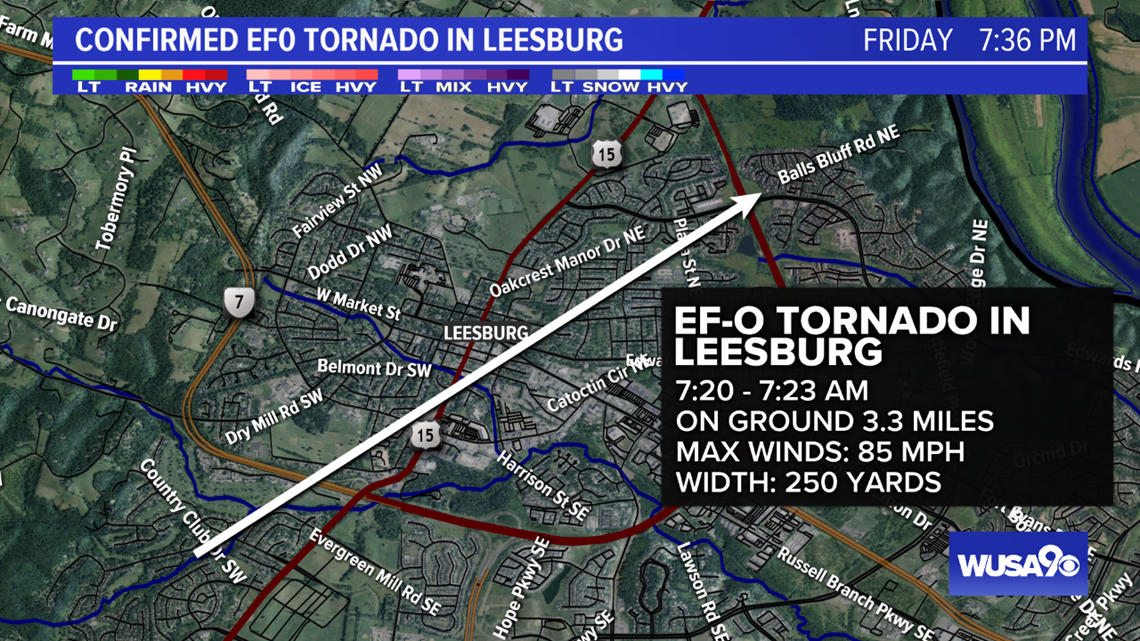 NWS also confirmed that three tornadoes touched down in Maryland Friday morning, with two in Montgomery County, and a third in Frederick County.
An EF-1 tornado touched down in Dickerson and an EF-0 touched down in Boyds, both at 7:28 a.m. In Frederick County, an EF-1 tornado touched down in Monrovia at 7:44 a.m.
Dickerson's tornado had a path length of 1 mile, a path width of 150 yards, and maximum wind speeds of 95 MPH. The tornado in Boyds had a path length of 2.3 miles, a path width of 75 yards and maximum wind speeds of 80 MPH; 86 MPH marks the low-end of an EF-1 rating.
In Frederick County, Monrovia's tornado had a path length of 6 miles, a path width of 150 yards and maximum wind speeds of 105 MPH.
A wind advisory was in effect into the early evening hours, with peak wind gusts reaching 54 MPH in Gaithersburg, MD. With saturated grounds, the gusts were enough to cause trees and power lines to fall in some spots.
Roads across the area were blocked off while crews worked to remove downed utility lines and trees, resulting in thousands in the area being without power.
Below is some of the worst damage we've seen:
Local police, along with utility companies that serve the area, are still assessing the damage around Leesburg and Loudoun County.
Here are resources for Leesburg residents who are in need of resources after the storm:
Dominion Energy: 1-866-DOM-HELP to report outages and downed wires. You can also report and check outages at www.dom.com.
Northern Virginia Electric Cooperative: 888-335-0500, or 703-335-0500. Report outages at www.novec.com.
Washington Gas: 844-WASHGAS (927-4427); Select option 1.
Leesburg Police non-emergency line: 703-771-4500.
There were also reports of downed wires and significant debris in the roadway on Darnestown Road in Beallsville, Md.
Downed trees and power lines were also reported in Frederick County. A power line fell on a vehicle causing a rollover crash in the area of Mt. Airy.
Other parts of Maryland, Virginia and D.C. saw significant impact from the weather on Friday, with powerlines down and rain pouring across the DMV. Damage reports are still rolling in following the storm.