WASHINGTON — Much of the D.C. Metro region is under a Severe Thunderstorm Watch through 9 p.m., with some scattered Severe Thunderstorm Warnings already issued.
What to know:
Severe storms are possible in the D.C. Metro area Monday, mainly east and south of I 95
Key timing now - 6 p.m.
Threats: heavy rain, damaging wind, small hail, and an isolated tornado
Impacts: power outages, downed trees, reduced visibility, localized flooding
For the latest forecast information, click here.
More details:
Threats include damaging wind, hail, and a possible isolated tornado. Damaging wind is the primary risk during Monday's storms. Storms may produce gusts of PTO 58 miles per hour or stronger.
The key timing for severe weather is now until 6 p.m. It will not storm that entire time in your neighborhood, but rather it is the window for the most active weather.
The morning commute will likely not see a lot of active weather. There could be a few light showers, but no severe weather at that time. The stronger storms will be moving through during the hours of the evening commute and be mainly east of I 95.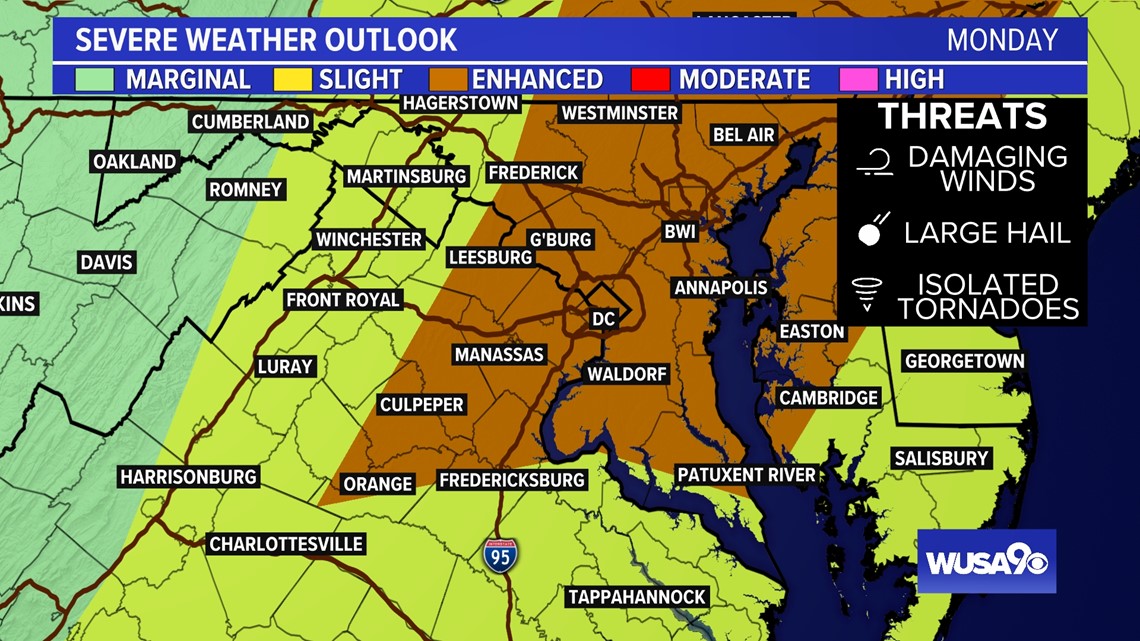 A cold front will approach the area and tap into some warm air, which will help set the stage for severe storms.
Impacts include downed trees, power outages, objects blown around, reduced visibility, wet roads, and slick driving conditions. With heavy rain, there could also be some localized flooding.
Timeline:
Now. - 6 p.m. - Strong to severe storms possible. Heavy rain likely in these storms. Storms may pack strong winds, hail and a tornado is possible.
After 6 p.m. - Showers and storms move east. Storms gradually end.
How to stay safe during a storm:
Do not stand under a tree during a storm. Trees attract lightning. You are safer inside your house or a building. If you get a tornado warning in your area, you should take action. Get to the most interior part of your home, away from windows.