WASHINGTON — Hurricane season is still months away, but already the list of names for the 2023 season is circulating.
This is the same list of names used in 2017, however this year's list features four new names: Harold, Idalia, Margot and Nigel.
Four storm names from 2017 are not on the 2023 list because the names were retired due to the storms being extremely destructive or deadly, the names Harvey, Irma, Maria and Nate from the 2017 list will be removed.
Officials claim it is common practice to retire the names of particularly violent storms.
Here are the names for the Atlantic Basin:
Arlene
Bret
Cindy
Don
Emily
Franklin
Gert
Harold
Idalia
Jose
Katia
Lee
Margot
Nigel
Ophelia
Philippe
Rina
Sean
Tammy
Vince
Whitney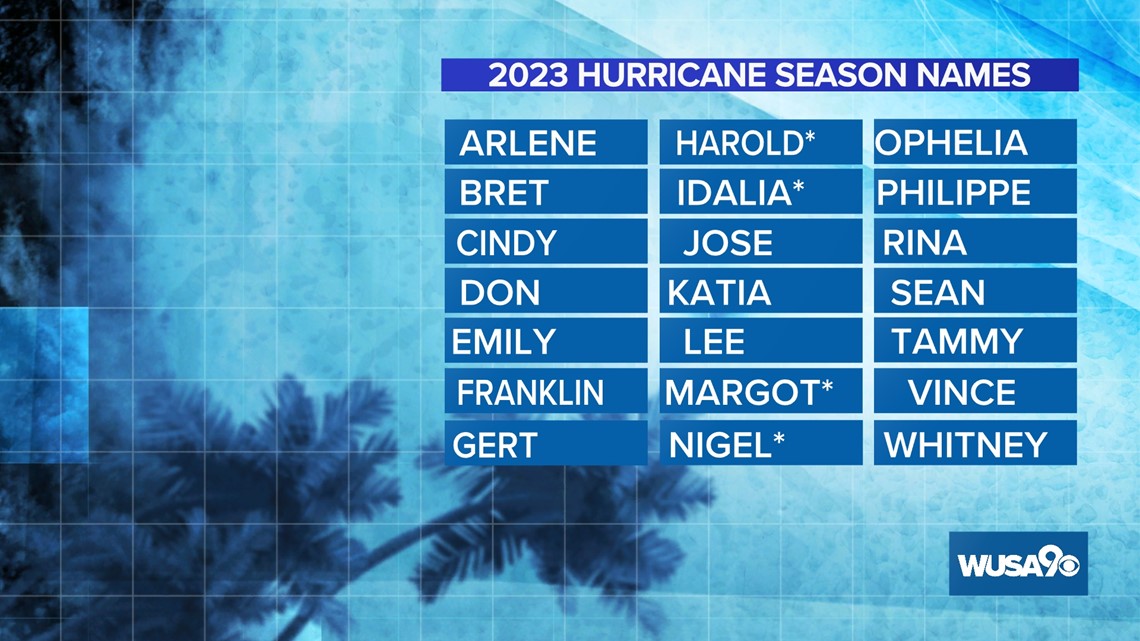 The list of names is reused every six years. For example, this year's list will be used again in 2029.
Occasionally, hurricane names will be retired, but only if a storm is especially deadly or costly.
Some of the retired names include Katrina, Betsy, Dorian, Laura, Ida, Agnes (1972) and Sandy (2012).
As of April 2023, 94 names have been retired from the hurricane list in the Atlantic Basin.
Sometimes hurricane seasons are so busy that the list runs out of names. If this happens, then a supplemental list of names will be used.
The original name lists featured only women's names, according to the WMO. In 1979, men's names were introduced and now they alternate with the women's names.
When Is Hurricane Season?
Hurricane season starts June 1st and goes until November 30th.
The busiest part of the season for the Atlantic Basin is August, September and October.
September is the busiest month and statistically, September 10th is the peak of hurricane season, according the National Hurricane Center.