WASHINGTON — WUSA9 wants to make sure you are always safe during any severe weather, so if a Tornado Warning is ever issued in your area, first seek shelter immediately and follow these steps.
How to Prepare For a Tornado
Have a way to get weather information. Click here to download the WUSA9 App. Be sure you enable location and notification services so we can let you know if there is significant weather in your area. Bring in any outdoor decorations you have up, bring in or tie down your patio furniture, and secure your trash cans to prepare for the winds.
If a tornado warning has been issued for your area, you should take cover immediately. The general rule for tornado safety is go low and stay low, which means go to the lowest level of whatever building you are in, away from windows and crouch in a low position with your head covered.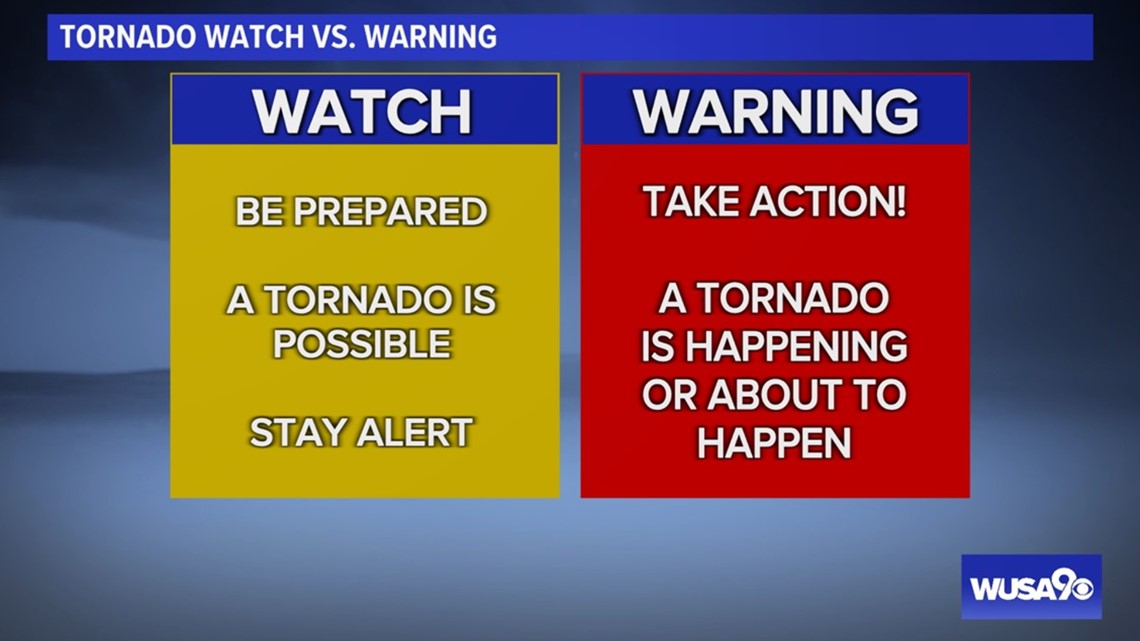 How Common Are Tornados in the DMV?
While tornados in the District itself and neighboring suburbs are rare, anecdotally it feels like we've been hearing more about tornado warnings as of late. In early July 2021, two tornadoes touched down in the D.C. metro region, according to the NWS. An EF0 tornado hit in D.C. while an EF1 touched down in Arlington. Max winds reached 80-90 mph, and thankfully no one was injured during either twister.
The July 1 tornado was only the sixth time in 17 years that a tornado warning including the District proper was issued, according to records kept by Iowa State University. From 2005 - 2021, 436 tornado warnings were issued across the DMV, but only six included the District itself.
According to data from the National Weather Service Storm Prediction Center and the Midwestern Regional Climate Center, only three tornadoes above an F0 magnitude have touched down inside the boundaries of Washington, D.C., in the past 50 years – and two of them happened on the same day in 2001.
What Does NWS Look For To Determine a Tornado?
First, the funnel cloud must have contact with the ground for it to be officially declared a tornado. Trained professionals are also looking for debris to be flying around the bottom of the funnel cloud.
Tornadic winds also leave a pattern of damage, because it's a rotating column of air. As it moves through, it does not produce wind speeds or wind direction evenly as it rolls across a neighborhood. So instead of trees falling in the same direction, they fall in opposite directions. Thus, what's referred to as "circular damage" is a telltale sign of a tornado.
What if you get caught outside in a storm?
Staying outside in a storm is simply not safe. Here's what The National Weather Service says you should do if you are caught outside in a thunderstorm:
Keep moving towards a safe shelter. If you are caught out in the open, do not stop.

Stay away from isolated trees or other tall objects. You do not want to be the tallest object! If you are in a forest, stay within a lower group of trees.

Avoid open fields, hills, boulder fields, rocky outcrops, and ridge tops. Do not lie flat on the ground.

Avoid bodies of water and metal objects, which can conduct electricity.

Distance yourself from others in your group. Spread out so that, at most, only one person is likely to be hurt by lightning and the others can apply first aid.
The National Weather Service also recommends avoiding bleachers, dugouts and grandstands or standing near tall light poles.
If the hair starts standing up on the back of your neck, watch out - lightning is likely about to strike.