WASHINGTON — Area police are stepping up traffic enforcement throughout the region, hoping to bring down the number of people killed or hurt while out walking and biking on local roads.
In the month of November, there have been at least nine people killed in the region.
Helen Harris of Arlington, was hit by a dump truck while crossing the street in 2018. Today, she works Street Smart campaign which partners with law enforcement around the region to improve pedestrian and bicycle safety.
"I was able to push my stroller out of the way so my baby was unharmed," she explained of the accident that made her an amputee. "To this day I haven't crossed that particular street."
For many families in the region, however, it's become all too common to lose a loved one in these accidents.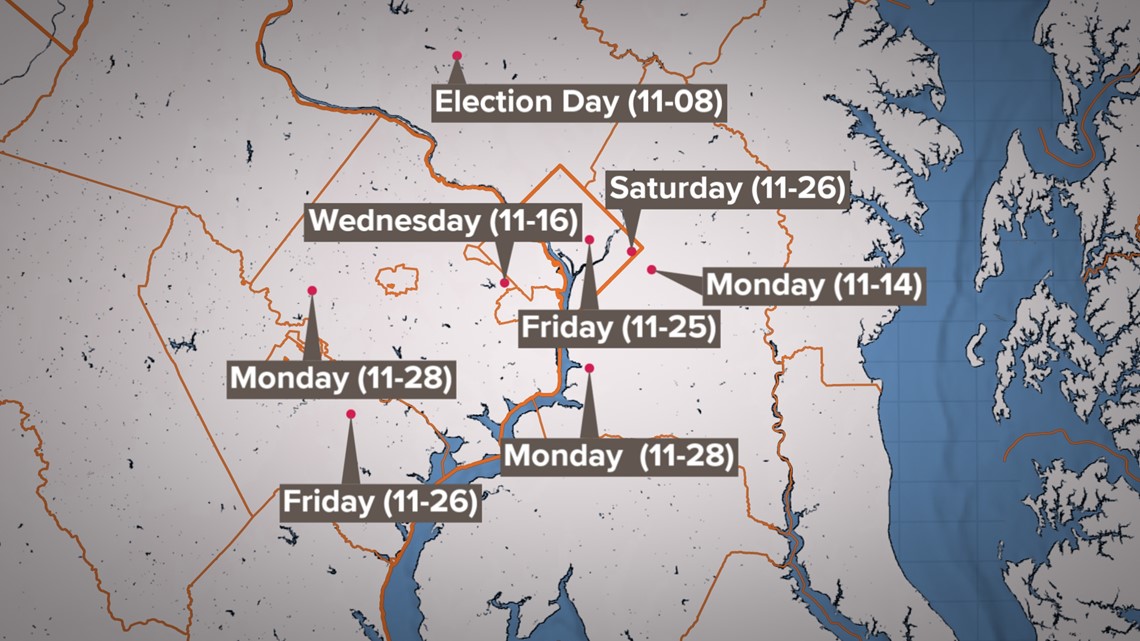 "Most of the roads, particularly in Fairfax, were designed for moving traffic as quickly as possible," said Mike Doyle, Founder of the Northern Virginia Families for Safe Streets. "The needs for the infrastructure to adapt to the changes to accommodate multiple road users, the pedestrians, the cyclists, the scooter rider, the person, the wheelchair, is becoming very prominent and obvious."
Fixing the problem, Doyle said, takes time and money.
"Nevertheless, we try to do that we also try to do advocacy at our state legislature, to reduce speeds allow other jurisdictions to reduce speeds to allow the jurisdictions to implement technology such as speed cameras. Drivers will slow down when they see speed cameras. They don't want the ticket, which is great. That's the whole idea: Slow down."
The DMV region is hardly alone in this trend within the U.S., but globally it seems the nation is falling behind.
This recent analysis by the New York Times found it to be a uniquely American problem, as many of the nation is also part of the "Vision Zero" strategy to eliminate all traffic fatalities and injuries.
D.C. launched a brand new website for their effort late last month.
In a statement, The District Department of Transportation said it is, "deeply saddened by the serious and fatal crashes that we saw over the Thanksgiving weekend."
DDOT that their goal is "to focus on improving the safety of all roadway users. DDOT will continue our relentless pursuit of the Vision Zero goal - to reach zero fatalities and serious injuries to travelers of our transportation system through more effective use of data, education, enforcement, and engineering. DDOT is dedicated to protecting our residents and visitors when they walk, bike or drive in DC."
Areas across the region are working on plans to make the roads even safer for those not in cars. Haines Point, which is expected to wrap up its study by the end of the year. Arlington Boulevard Trail just released plans to improve pedestrian safety.
"Behind those statistics are real human beings and their families," Doyle added. "If they would just take a moment and understand the consequence of these avoidable tragedies. They would slow down."
Slowing down is key. Research shows if a person is hit by a car going 40 mph, the chance of survival is 1 in 10.
During winter months, as gets darker earlier, the DDOT offered the following tips for drivers and pedestrians:
Always stop for pedestrians in crosswalks.
When you're making a turn, check your blind spots and watch for pedestrians and bicyclists coming from both directions. People walking and biking have the right of way.
Avoid distracted driving/walking. This includes distractions like cell phones, infotainment systems or anything that will take your eyes off the road or crosswalks.
If walking after dark, wear bright colors and be sure to make yourself visible to ongoing traffic.
And, if you're walking, use crosswalks and wait for the walk signal.