Paige Coleman isn't going to tell you what to do.
"That's my thing. I meet people where they're at," Paige said.
But if you're looking for advice, she'd rather tell you a story about her brother, Hunter.
Tall, handsome, athletic, smart, goofy and funny. That's how she would describe Hunter. She laughs describing the long-winded way he would describe his day to their family, usually involving a story about hockey practice.
It's taken time for Coleman to speak about her brother this way, with love.
"I spent a lot of time being angry with him," Paige said. "I was like, 'How could you do this to us?'"
Hunter died by suicide, intentionally overdosing on heroin in July 2017. He was 23.
Hunter
Hunter was 9 when the Coleman family moved from Florida to Chicago. Immersing himself in "cold weather culture," Hunter began playing hockey. His natural skill for the sport was immediately apparent.
With a five-year age gap, Paige admits the two weren't close growing up, something that greatly saddens her. A bonding point for the siblings was Hunter's skyrocketing hockey career.
"We were constantly going to Canada and that was really exciting watching him be successful and be this athlete that my parents were so proud of," Paige said.
As Hunter approached his high school graduation, he was given an opportunity that also made for a difficult choice. He was invited to attend a prestigious hockey program. According to Paige, many program attendees have gone on to compete at a professional level. Do you have the name of this program?
The opportunity was full time, forcing Hunter to forego attending college.
"I think at that time he really wanted to be a 'part of' and to have fun which I understand," Paige said.
Hunter decided to attend college in Arizona rather than pursue a hockey career. It was a decision Paige believes her brother later regretted as he watched former teammates go on to compete professionally.
Paige said it was difficult for her and her family to understand when Hunter was struggling. She believed he was depressed. But on the outside, he exuded confidence and a put-together lifestyle, even when he dropped out of college in Arizona and moved to Richmond to live with their mother.
He began school at a local community college, made friends and got an apartment of his own downtown. He even made a trip down to Florida to visit Paige. But beneath the surface, Hunter was in pain.
"There's a photo of him from five months before he passed away holding my son," Paige said. "What was really going on translated in the photo because you look at him and see somebody who's sick, unwell and using some kind of substance. But in person, I didn't see it."
Paige now regards the photograph as one of her most treasured possessions.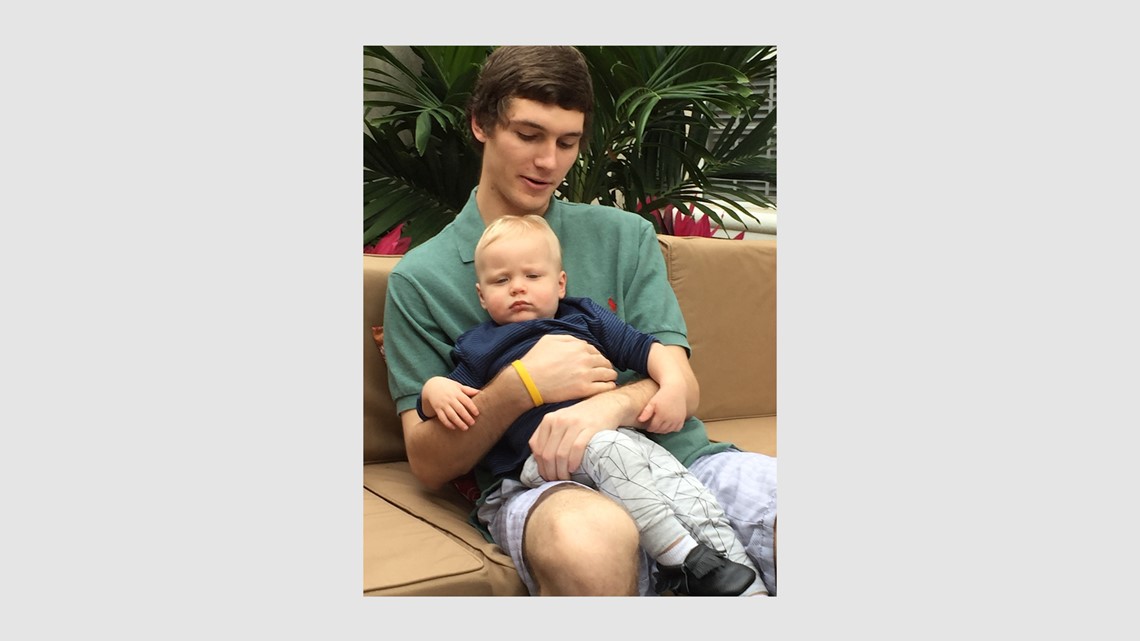 A shocking tragedy
Five months after Hunter visited Paige, she received a text from her dad.
"No one has heard from Hunter for a few days. We're trying to call the building and do a wellness check," the text said.
As the day continued with no updates, Paige grew anxious. She decided to call Richmond officials herself.
"[The officer] put me on a long hold and came back on the phone and was like, 'I'm going to need to speak with your parents,'" Paige recalled. "That was kind of the moment I knew something was not right."
Paige and her family would soon learn Hunter had died by suicide. It was a complete shock, particularly when Paige and her mother went to clean his apartment.
Paige's mother had visited Hunter a few weeks prior and described his apartment as "spotless." This time, Hunter's battle with drugs was obvious.
"What we saw I mean it was… I don't know how he could've been living like that. It was such a shock like, how did this happen?" Paige said.
It took time for Paige to fully grasp the pain of losing her brother. She said it changed her… a lot.
The loss of Hunter forced Paige to reflect and analyze.
She realized how she and her family might have acted differently if they were more educated on depression and mental illness. The dark time also forced her to look honestly at her own life.
"It was important for me to get into a role where I can use this pain and use the experience not only to help other people but to help myself," said Paige.
Paige decided to pursue a career serving others dealing with difficult circumstances like Hunter and her family. She got a job as a Family Support Specialist at Banyan Treatment Center. From the moment she began work she knew this was where she was supposed to be.
She hopes that in sharing her and Hunter's story, it will help break the stigma associated with mental health, substance abuse and suicide.