HYATTSVILLE, Md. — "True basketball coaches are great teachers and you do not humiliate, you do not physically go after, you do not push or shove, you do not berate, if you are a true coach. If you humiliate or curse them, that won't do it. Coaches like that are not coaches." -- Morgan Wootten
To understand who Coach Wootten was and what he did, you need context. You need to go back to the mid-80s, when there were no five-star camps featuring Kobe Bryant or LeBron James; when there was no endless tournament schedule for the New York Gauchos or the NJ Playaz Basketball Club; and when, really, there was no greater honor in boys prep basketball than winning a championship for your -- wait for it -- high school.
Grant Hill, the NBA Hall-of-Famer and now part owner of the Atlanta Hawks, once bemoaned that the modern deluge of year-long tournaments put on by the Amateur Athletic Union and sneaker companies was killing the influence and importance of an elite player's high school experience.
"Remember, when your coach might be the most important person in your life after your parents?" Hill told me as we spoke before an NBA All-Star Game."Now it's all about cattle calls for talent, where you have to standout to get a scholarship instead of learn the game and about giving yourself to the group -- the things your coach taught you."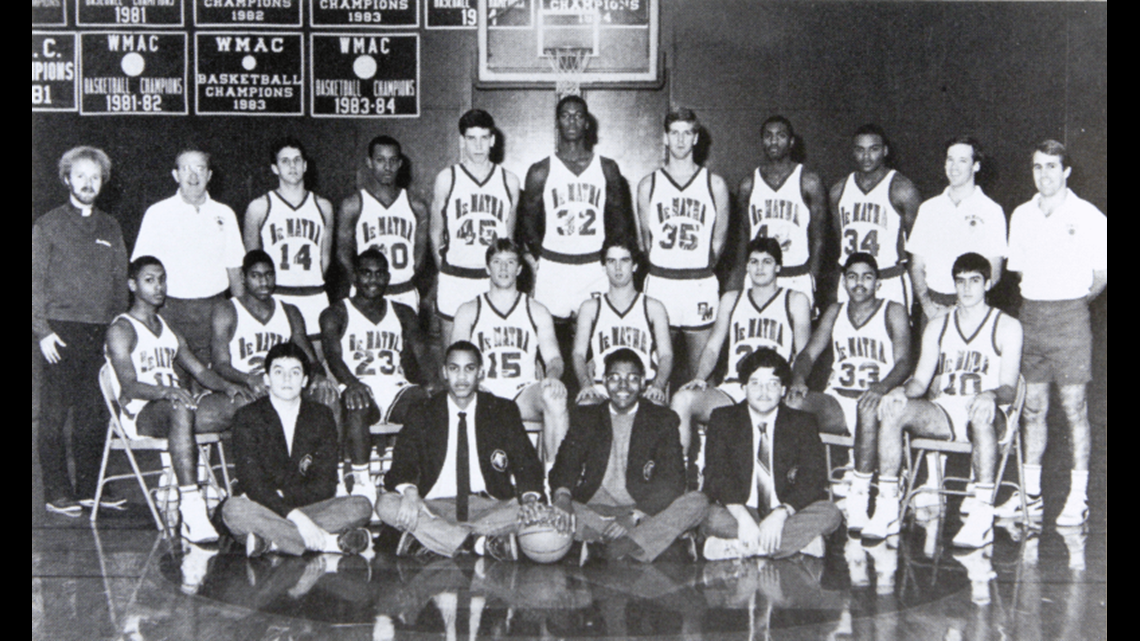 Danny Ferry remembers. He was part of them in the early 1980s in Hyattsville, Maryland, when DeMatha Catholic High School was more prominent than some transfer-only hoop factory in Oak Hill, Va., where his high school coach taught every freshmen history and his players how to beat a 1-3-1 zone defense.
"You can't begin to know all the things he did for the game and for the kids who played for him," Ferry said as we spoke by Skype yesterday from his home in Atlanta. "The biggest thing that keeps coming up is love, how much we all loved coach and what he meant to our lives. It's a great, sad day."
Ferry and others close to "Coach Mo" knew this day was coming. He had been hospitalized for about a month before going into hospice care this past weekend. The last person to speak to Wootten, Ferry said, was his father, Bob Ferry, the general manager of Washington's last NBA champion in 1978.
"They had a great conversation," Danny said, his voice trailing off.
After Hall-of-Famer Adrian Dantley, Ferry was the most famous player Wootten coached. Two-time Parade Magazine High School Player of the Year, National Player of the Year at Duke and an NBA champion late in his career with the San Antonio Spurs, Ferry's DeMatha era was one of the last before adolescents were identified by college recruiters before they hit 13.
Nowadays, it's facetiously said some of the most ruthless and desperate programs begin recruiting off of sonograms.
"But back then," Ferry continued, "the city title game and winning your conference championship was bigger than anything" -- even winning an AAU summer-league tournament in Las Vegas, usually filled with prep mercenaries from anywhere and everywhere. "The biggest thing then was the DeMatha on your jersey."
No, if you beat Springarn High on a Friday night in March or Gonzaga for all the the Washington Catholic Athletic Conference marbles, that was nirvana. Nothing could beat it.
That was Wootten's world -- a place he not only won more than anyone, but also ushered in a culture of class that embodied his program.
Imagine, 20 years before Ferry's senior year, a cherubic basketball lifer, who never swore or screamed at his players, walked into the Cole Field House with his unbeaten Stags. That night in 1965, DeMatha faced the indomitable 7-foot-2 Lew Alcindor (later Kareem Abdul-Jabbar) and his Power Memorial Academy from New York City -- a perennial juggernaut that had set a national record, winning 71 straight games.
And Coach Wootten figured out a way to beat them, double- and triple-teaming Alcindor, playing deliberate, smart basketball that resulted in a low-scoring, 46-43 victory.
A year before Texas Western's all-black starting five shocked all-white, Adolph Rupp-coached Kentucky in the NCAA title game at Cole, the DeMatha-Power Memorial game was actually the building's first sellout.
There are three high school coaches in the Naismith Memorial Basketball Hall of Fame in Springfield, Mass; Morgan Wootten is one of them. He won 1,274 games and lost 192, for a winning percentage of .869. He won 33 league titles.
And the players he taught the game and life to...oh, Lord...
Dantley. Ferry. Kenny Carr. Adrian Branch, the former Maryland All-American. Sidney Lowe, who was one half of N.C. State's backcourt in 1983 when the Wolfpack stunned Akeem Olajuwon-and-Clyde Drexler-led Houston in the NCAA championship game. James Brown, who went on to play at Harvard and became a fairly decent sportscaster.

"My brother went to Harvard and I went to Duke and we both say he was the greatest teacher we ever had anywhere," Ferry said. "He cared. He could motivate you by being direct or sarcastic. But he never embarrassed you."
In a way, Wootten helped create the monster that is now nationally-televised youth basketball. DeMatha was named the mythical national champion five times while he coached there, and that win over Power Memorial began to trigger an interest and coverage for high school games that had never happened before.
Wootten was the first coach to recruit in high school -- a fact that enabled many African American kids to eventually attend prestigious Catholic schools at a time when most coaches didn't dare challenged the segregated, status quo.
"People forget about how important he was for diversity," Ferry said. "That was not a popular thing to do when he began the process."
Wootten also ushered in the era of the summer camp, using actual campers from DeMatha as coaches for the younger kids. Now, every college coach of any renown has a summer camp.
When the legendary John Wooden, who won 10 national titles at UCLA and is widely regarded as one the game's greatest coaches of all time, was told that Wootton was the standard for high school coaches, the Wizard of Westwood bristled.
"I know of no finer coach at any level — high school, college or pro," Wooden, who died at 99 years old in 2010, said. "I stand in awe of him."
He was comfortable in any social situation, often rubbing elbows with the Boston Celtics iconic coach and team president Red Auerbach. And yet, he still managed the same homespun charm a kid born in Durham, N.C., was brought up with.
Wootten also was instrumental in the creation of the McDonald's High School All-American Game -- an annual all-star showcase featuring the nation's best players that began in 1977. This did not go unnoticed to Ray Kroc, the McDonald's patriarch/billionaire.
"A friend of mine helped Coach Wootten with his money," Ferry began, "and they were organizing his estate and whatnot. Coach told him, 'I have some McDonald's stock.' So he went over to some drawer and pulled out actual McDonald's stock certificates.
"My friend goes, 'Where'd you get that from?' Coach said, 'Ray Kroc gave it to me."
Wootten: "Yeah, he handed it to me."
Ferry laughs at the anecdote. "I mean, I met President Reagan with coach next to me when I won National High School Player of the Year. Any circle, any social situation. He had a very eclectic group of friends. It didn't matter what you did or who you were as much as it did what kind of person you were."
Wootten once summed up his larger contributions to society: "You are the real teachers," Wootten once said. "You have these children when they are at their emotional peaks and lows. That's when they are the most pliable. It doesn't take any intelligence to send a kid home with his head hanging between his knees. But to send him home with his head up every night might show a little coaching."
There are still great coaches down the halls and corridors of grade schools and high schools everywhere in this nation, women and men who impart not just the tenets of the game on their kids but also the larger truths and lessons that mold character and conscience, that mold girls and boys into young women and men.
But there is no Morgan Wootten anymore. And because we live in a different time -- in a world where teenagers are commodities before they even learn to go to their left -- there never will be another Morgan Wootten.