WASHINGTON — A Florida Proud Boy convicted of assaulting police on Jan. 6 went missing this week days before his sentencing hearing, according to a judge's order unsealing a bench warrant for his arrest.
Christopher Worrell, of Naples, Florida, was found guilty in May of assaulting police with a dangerous weapon and other felony charges for his role in the Capitol riot. On Jan. 6, Worrell and other Florida Proud Boys in the group's "Hurricane Coast" zone marched to the U.S. Capitol, where he assaulted police with pepper gel and then joined other Proud Boys in charging police lines. A key witness for the government at Worrell's trial was Lev Radin, a freelance photographer who testified he noticed Worrell because he looked "prepared" for violence.
"He caught my attention because he was pointing spray toward the police line," Radin said. "He was wearing a tactical vest. Obviously a supporter of Trump. And he came to do some violence. He was prepared."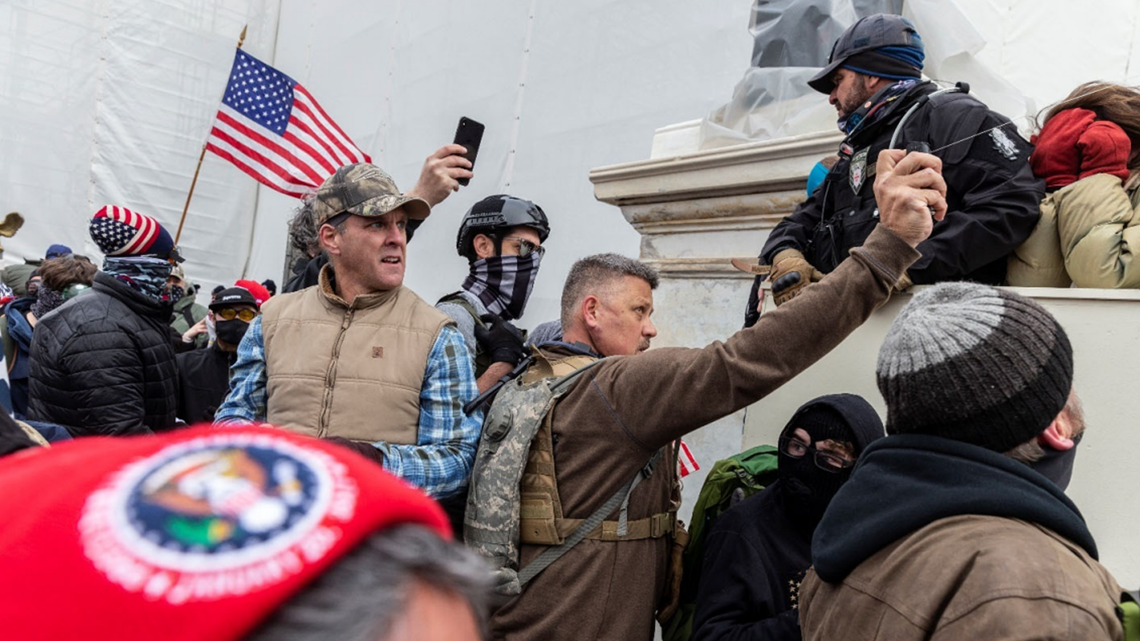 Worrell was scheduled to be sentenced Friday by U.S. District Judge Royce C. Lamberth, but went missing earlier in the week according to an order unsealing a bench warrant for his arrest. Worrell has been on home detention since November 2021, when Lamberth released him over concerns he wasn't getting proper medical treatment for his non-Hodgkin's lymphoma. Lamberth held two D.C. Department of Corrections officials in contempt for failing to produce notes about Worrell's treatment at the D.C. Jail.
According to court filings, Worrell's conditions of release included GPS monitoring. It was not immediately clear Friday how he managed to evade detection.
Worrell's disappearance could potentially lengthen his eventual sentence. In a memo Sunday, prosecutors asked Lamberth to order Worrell to serve 168 months, or 14 years, behind bars – a sentence that would put Worrell at nearly the top of the list among Jan. 6 defendants serving prison time. Peter Schwartz, a Pennsylvania man with a lengthy criminal history, was sentenced in May to 14 years in prison for assaulting multiple officers. Only one defendant, Oath Keepers founder Stewart Rhodes, has received more prison time. Rhodes was sentenced to 18 years in prison in May after being convicted of seditious conspiracy.
In their memo, prosecutors argued Worrell's statements at his trial warranted a lengthy sentence just as much as his conduct on Jan. 6, saying he "showed no remorse.
"Instead, though under oath, he spun falsehood after incredible falsehood in an effort to deflect responsibility and cast himself as a hero intervening to protect the police," prosecutors wrote.
Worrell's attorney, William Shipley, asked Lamberth to impose a sentence of five years of probation with 30 months, or two-and-a-half years, of home detention. Shipley argued Worrell's chronic health conditions warranted a sentence that would keep him out of prison.
"Mr. Worrell has unresolved issues regarding his current health condition, and is less than confident – based on his first-hand experience – that he will receive the level of care in a Bureau of Prisons facility that he will receive if he continues to be treated by the physicians who have been responsible for his care for years," Shipley wrote.
Lamberth vacated Worrell's sentencing hearing set for Friday and indicated in an order this week he would schedule a new date once Worrell was located.