WASHINGTON — A federal judge ordered a Kentucky man who assaulted multiple police officers to serve 14 years in prison Friday in the longest sentence handed down yet in a Capitol riot case.
Peter Schwartz, who was living in Pennsylvania at the time of his arrest, appeared Friday afternoon before U.S. District Judge Amit P. Mehta. Schwartz was convicted by a jury in December on 13 counts, including four counts for attacking police with dangerous weapons and three other weapon-related felonies. In a sentencing memo filed last month, prosecutors described the career welder as one of the "most violent and aggressive participants" in the Capitol riot and asked for him to be sentenced to 294 months, or 24.5 years, in prison and a $71,541 fine.
"This sentence is at the midpoint of Schwartz's Sentencing Guidelines range and takes account of his repeated violence against police on January 6th, his substantial violent criminal history, his utter lack of remorse, and his efforts to profit from his crime," prosecutors wrote.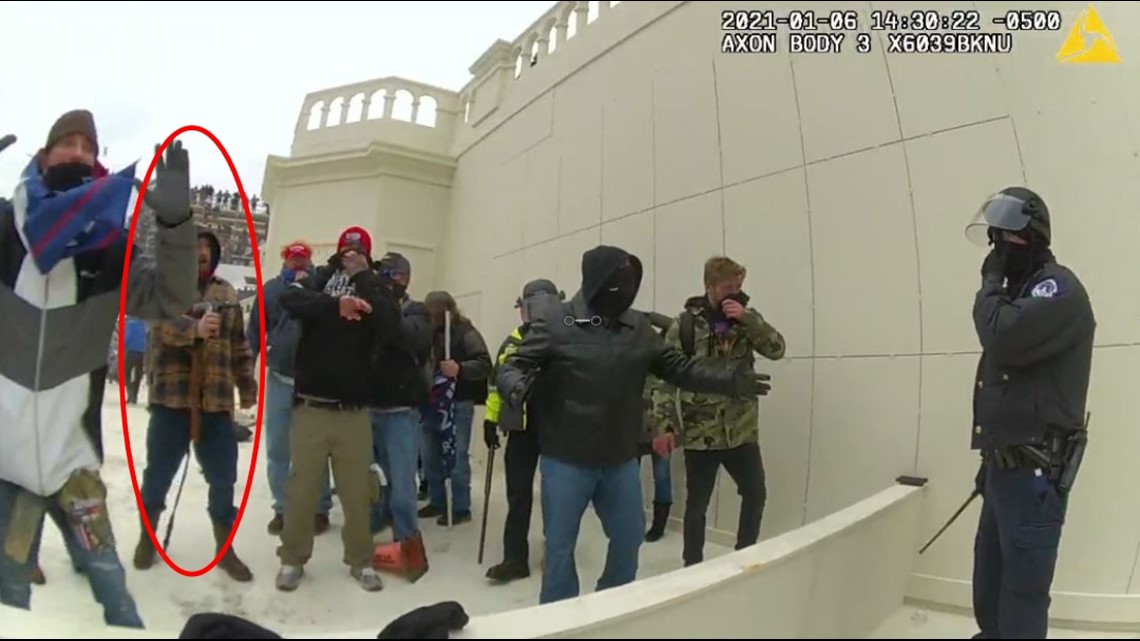 Schwartz and his then-wife, Shelly Stallings, traveled to D.C. "intent on violence" prosecutors wrote. They made their way to the front lines near the Lower West Terrace, where Schwartz would later brag he threw the first chair at police that helped create an opening other rioters used to flood through.
"[Schwartz] then stole chemical munitions, including pepper spray, that had been left behind by the fleeing officers and used that pepper spray as a weapon to attack those same officers as they desperately tried to escape the growing and increasingly violent mob," prosecutors wrote. After initially assaulting police with pepper spray, he then entered the Lower West Terrace Tunnel and worked with other rioters to again spray officers.
Stallings pleaded guilty in August to all counts in her indictment, including five felonies, and was sentenced last month by Mehta to two years in prison.
In addition to his actions on Jan. 6, Schwartz has what prosecutors described as a "jaw-dropping" criminal history of 38 prior convictions dating back to 1991. Those convictions were for offenses ranging from battery to assault with a deadly weapon to being a felony in possession of a handgun and terroristic threatening. In 2019, Schwartz was convicted in Kentucky for at least the second time of being a felon in possession of a firearm and for threatening to kill his girlfriend. A year later he was convicted of domestic battery in Ohio for assaulting his wife. On Jan. 6, Schwartz was still on probation from a conviction for assaultive conduct and illegal firearm possession.
Schwartz's attorney, Dennis E. Boyle, argued in his own sentencing memo that his client should receive a much lighter term of four-and-a-half years in prison. Boyle acknowledged Schwartz's conduct was serious, but said his actions on Jan. 6 were "not motivated by any desire for personal financial gain or any other benefit," but instead by a "misunderstanding as to the facts surrounding the 2020 election."
Boyle described Schwartz as a "pillar" in his family and noted his father Ronald had submitted a letter to the court describing how he "never fails to send cards in recognition of family events or holidays."
According to Boyle, the probation office determined Schwartz's advisory guideline sentencing range should be 14-17.7 years in prison.
Schwartz spoke briefly at the hearing, telling Mehta, "I just want to say that I do sincerely regret the damage Jan. 6 has caused to so many people and their lives."
Before delivering his verdict, Mehta said he appreciated Schwartz's statement — but didn't believe it.
"You were on a warfront," Mehta said. "You were a soldier against democracy."
Mehta also shot down claims Schwartz has made on podcasts and elsewhere that he has been wrongfully prosecuted.
"You are not a political prisoner, Mr. Schwartz. You're not somebody who's standing up against injustice or fighting against an autocratic regime," Mehta said. "No, that's not you. You're someone who took the day into your own hands. You raised your hands against others, much as you have your entire life."
Despite describing Schwartz as one of the most serious and violent rioters that day, Mehta agreed the sentencing guidelines were unnecessarily punitive and said he would, as he has in other cases, grant a downward variance. But he said Schwartz did not deserve as significant variance as other defendants due to his extensive criminal history and lack of remorse.
Ultimately, Mehta sentenced Schwartz to 170 months, or fourteen years and two months, in prison and $2,000 in restitution. He will also have to serve three years of supervised release. Mehta granted a request by Schwartz's attorney to request placement at the low-security federal facility at Fort Dix in New Jersey, near where he has family.
Previously, the longest sentence handed down to date was 10 years for former NYPD officer Thomas Webster. Webster was convicted at trial of one count of assaulting police with a dangerous weapon alongside other felonies. He was also sentenced by Mehta.
We're tracking all of the arrests, charges and investigations into the January 6 assault on the Capitol. Sign up for our Capitol Breach Newsletter here so that you never miss an update.