WASHINGTON — Prosecutors want a federal judge to limit what an Oath Keeper can tell jurors about his autism diagnosis at the impending third trial of members of the militia charged in the Capitol riot.
Isaacs, a firefighting student from Kissimmee, Florida, was indicted in May 2021 as one of more than a dozen members of the Oath Keepers militia charged with conspiracy to obstruct an official proceeding, conspiracy to impede members of Congress, obstruction of an official proceeding, destruction of government property and civil disorder, among other counts.
In the indictment, prosecutors allege Isaacs marched to the Capitol with other Oath Keepers and entered the building through the Columbus Doors as part of what the Justice Department has dubbed "Stack 1." Five other members of Stack 1 have been convicted at trial of multiple felony counts, including the group's leader, Kelly Meggs – also of Florida – who was found guilty last year of seditious conspiracy alongside Oath Keepers founder Stewart Rhodes.
Isaacs is accused of joining the crowd in forcibly pushing against the doors leading into the Rotunda and, once inside, waving other rioters down the hallway toward the Senate Chamber while yelling, "The fight's not over!" Isaacs and other members of Stack 1 left the building after police began deploying chemical spray.
According to filings by both the government and Isaacs' attorney Charles Greene, at trial he wants to call Dr. Laurie Sperry, a board certified behavior analyst and founding member of Yale University's Autism Forensics Team, to testify that Isaacs' autism lead him to be overwhelmed and "hyper-fixated" on his role as a "security aid" to former President Donald Trump.
"William would have been following the orders of the President and would have been focused on that order," Sperry wrote in a report submitted to the court and excerpted in a filing this month by prosecutors. "In this situation, where the President himself urged William to do something, it would have been difficult if not impossible for him or anyone else with ASD to discern that a crime was being committed. In William's world, where following the rules and the orders of those in authority is mandatory, it would be impossible for him to even imagine that the President would urge him to commit a crime."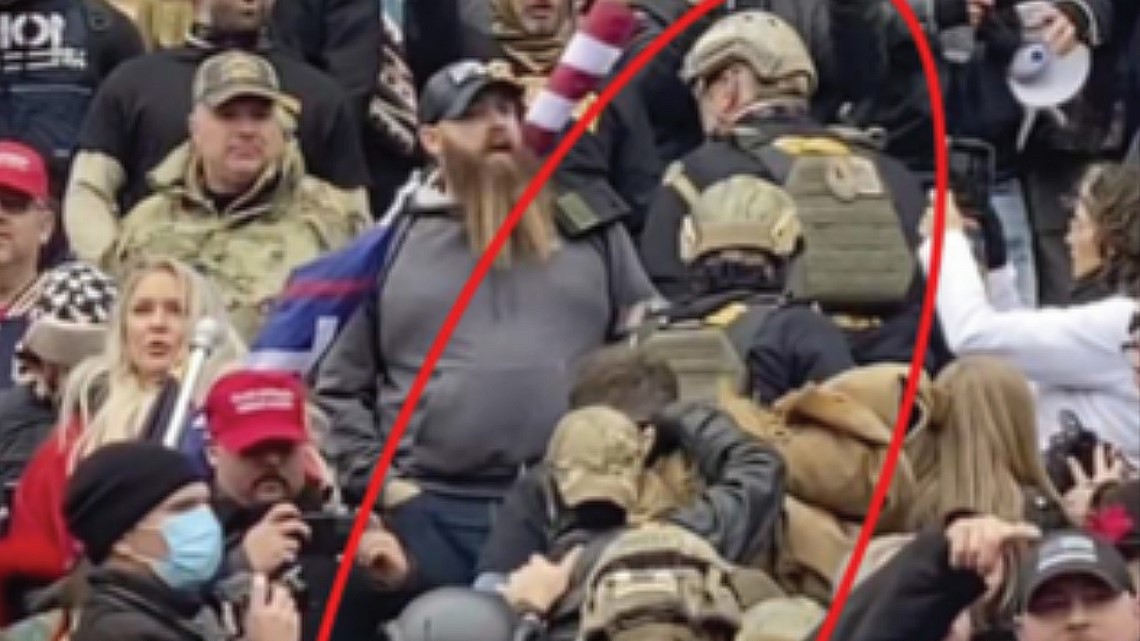 Sperry said even if the other members of the Oath Keepers had intended to disrupt the joint session of Congress – which they uniformly deny – he would have had "difficulty reading their intent, especially if the events were not preplanned by him and required him to make split second assessments and decisions."
"William does not have the capacity to make split second decisions in chaotic situations. Rather, to find solid ground, to survive emotionally, it is more likely that he would mimic the behavior and words of those around him, trying to fit in," Sperry wrote.
Prosecutors, however, say Isaacs' team wants to call Sperry not to give expert testimony but to feed jurors the conclusion that he isn't guilty. In a filing last week, they asked for an evidentiary hearing to determine whether she is admissible as a witness – noting they could not find a prior instance in federal court in which expert testimony about ASD and criminal intent had been admitted. The government also retained its own expert, Dr. Galit Askenazi, a board certified neuropsychologist, to examine Isaacs.
"Contrary to what Dr. Sperry reported, Dr. Askenazi reported that Defendant Isaacs 'described having acted independently and in a purposeful and knowing manner, not under the direction of others,'" Askenazi found, according to prosecutors.
Citing a 2017 issue of the Journal of Threat Assessment and Management, prosecutors said psychologist Stephen G. White argued against generalizing ASD tendencies in criminal cases, writing that "people are individuals, not a diagnosis, and there are many reasons why they may do the things they do, for good, or otherwise."
Prosecutors also argue Sperry's testimony would amount to a public authority defense – that is to say, blaming Trump – which has already been rejected by U.S. District Judge Amit P. Mehta, who is presiding over the case.
Finally, prosecutors said, Sperry's testimony would mount to "excuse or justification" testimony that is inadmissible under D.C. Circuit precedent. They cited a 1995 decision by the circuit court stemming from the trials of members of the drug trafficking ring led by Rayful Edmond III holding that "evidence of general mental capacity [must] not be used to persuade a jury that a defendant in not responsible for his deliberate and purposeful activity."
On Wednesday, Judge Mehta agreed to set an evidentiary hearing Friday afternoon to determine whether Sperry could be qualified as an expert witness and, if so, what part of her proposed testimony would be admissible.
Isaacs and five other Oath Keepers were set to begin trial at the conclusion of jury selection. His co-defendants in the case include Connie Meggs, who entered the Capitol behind her husband Kelly, and Michael "Whip" Greene, the Oath Keepers' operations leader in D.C. on Jan. 6. Unlike the first two trials, none of the defendants in the third Oath Keepers group face the rarely used charge of seditious conspiracy.
We're tracking all of the arrests, charges and investigations into the January 6 assault on the Capitol. Sign up for our Capitol Breach Newsletter here so that you never miss an update.