Michael Gareth Adams, of Springfield, Virginia, was first arrested in April 2021 on four misdemeanor counts. According to charging documents, the FBI received tips from at least four witnesses about Adams, including one saying he'd bragged he was "one of the first persons that entered the Capitol building" on Jan. 6.
Investigators subsequently identified Adams in images and video from the riot appearing to show him entering the building with a Trump flag in one hand and a longboard in the other. According to court documents, the video showed Adams entering the parliamentarian's office near the northwest door of the building and, hours later, captured on D.C. Police bodyworn camera video still on the premises of the building.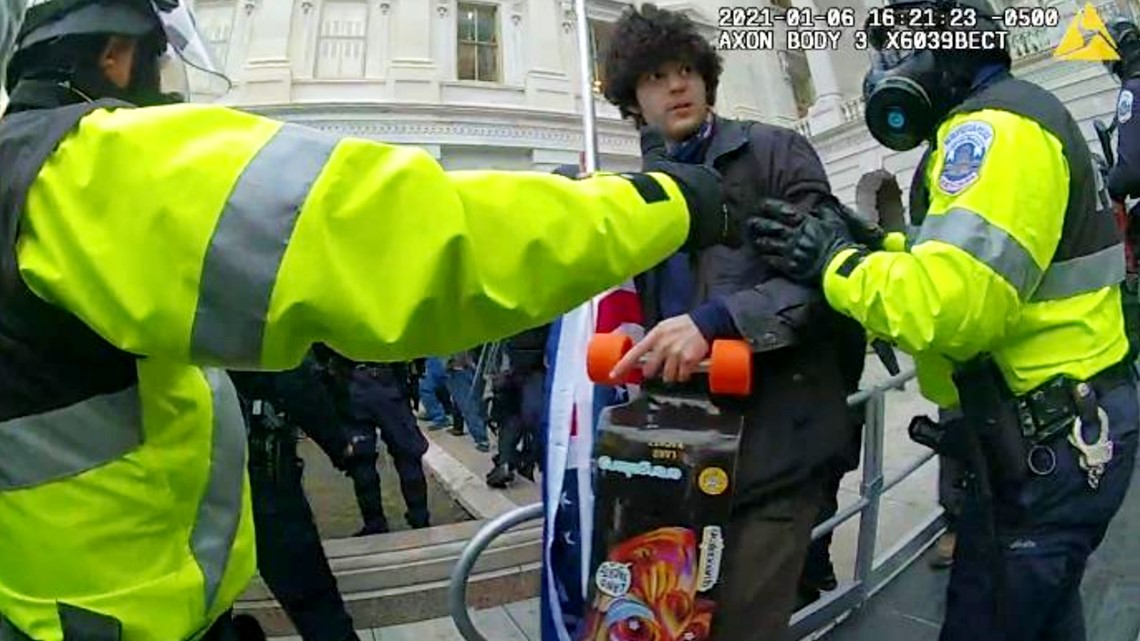 Adams was released on his own recognizance following his arrest but failed to appear for multiple subsequent hearings as well as hearings in an unrelated case in Fairfax County, Virginia. He was found guilty in absentia of driving without a license and failure to appear on May 18, 2021, in Fairfax County General Court and a bench warrant was issued for his arrest. A second bench warrant was issued for his arrest on July 16, 2021, by U.S. District Judge Timothy Kelly. His case was reassigned to the federal court's Calendar Committee in June 2022 after nearly a year without any further action.
On Jan. 5, Adams self-surrendered to federal authorities. He was placed on home detention with GPS monitoring and two family members were designated as court-appointed custodians.
Earlier this month, attorneys in the case notified Kelly they'd reached a plea deal and a hearing was set for Thursday at 10 a.m. Prosecutors filed a statement of facts to the case's public docket last week – apparently in error – supporting a guilty plea to a charge of parading, demonstrating or picketing in a Capitol building. The charge is a class "B" misdemeanor carrying a maximum sentence of up to six months in prison. To date, Adams has not been charged with being a fugitive from justice – a felony offense that carries up to five years in prison under federal statute.