DUMFRIES, Virginia — Fast-rising waters from Thursday's heavy rains trapped several families and employees in their cars as they left a restaurant in Dumfries, Virginia.
Restaurant server Hannah Anderson said the rainwater rushed down from nearby hills and blocked the only road to Tim's Rivershore.
Two co-workers barely escaped out of their car windows, as they came upon the flooding. One of the employees had to wait on her roof for hours in order to rescued by boat.
"We did have a coworker, her car was completely submerged, and she was sitting on top of her roof," Anderson said.
Anderson said a second coworker's car was swept into a ditch and water filled his truck within six inches of the roof. The 19-year-old man got out through his back window, and pulled himself to safety with a wire.
Tim Bauckman, owner of Tim's Rivershore, said the waters rose up around 10:30 p.m., just as diners and staff were leaving for the night. He said two cars full of customers were also nearly swept away, including a family with young kids.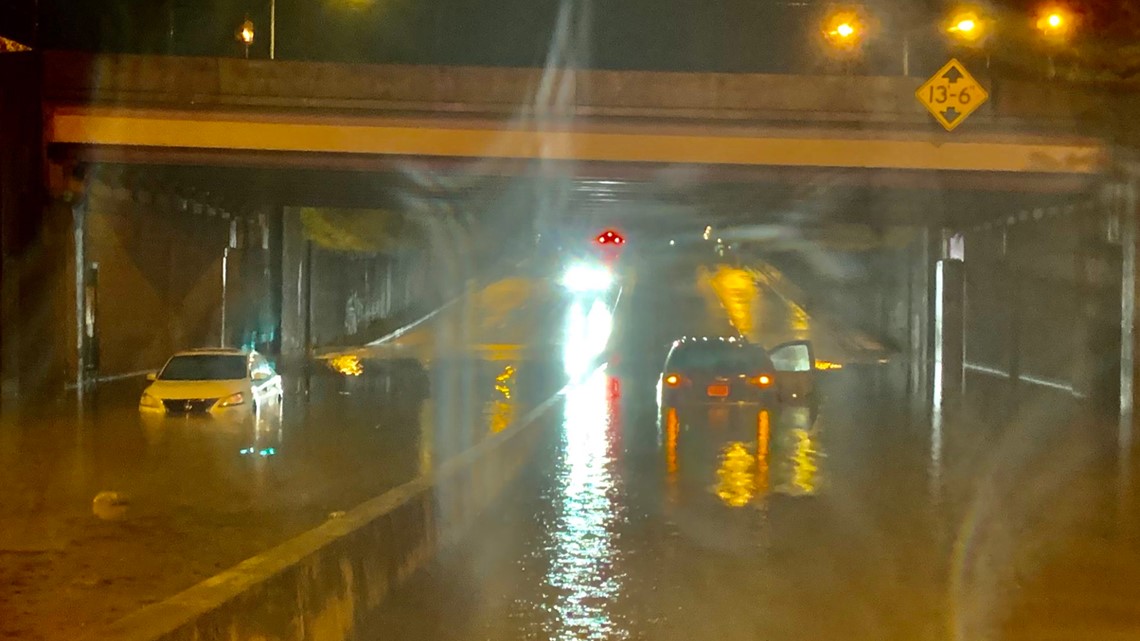 "With the tracks, you really couldn't see the water sitting there," Bauckman said. "Ut just looks dark so they drove into the water, and immediately their cars were submerged."
No one was injured, and people stayed in the restaurant until they could cross safely. Anderson said eight cars were flooded, including her own, and a section of train track was also blown out from underneath.
"It was so fast, it was ripping the rocks up from under the railroad," Anderson said. "It was making holes about four, five feet deep."
Crews have fully resurfaced the road leading to Tim's Rivershore, and Bauckman said the restaurant was not affected by the flooding.
Messina Cumberland's property was flooded with water and mud, which she said came from hills in a nearby development.
"The water was not from the river, it was not from the storm," Cumberland said. "It was from the culverts and it pushed mud and all that gravel down into our property."
She said she's worried about the environmental impact of so much mud in the water, since her family depends on the river for fishing.
As of this morning, the CSX train track -- an important line for passenger and freight -- was fully repaired and operational.
County Supervisor Andrea Bailey said she's currently investigating the cause of the flooding.