FAIRFAX COUNTY, Va. — The Fairfax County Board of Supervisors voted Tuesday to consider whether to give board members a significant salary increase.
According to a release from Fairfax County officials, the board voted 8 to 2 to consider the raises, with Supervisor Herrity (Springfield) and Supervisor Alcorn (Hunter Mill) opposed.
The pay raise would increase a board member's salary from $95,000 to as high as $130,000. There would also be an additional raise for the Chairman's salary from $100,000 to between $140,000 and $145,000.
The board says the raise is needed, citing inflation.
Supervisor John Foust proposed the raise during the March 7 meeting. He shared that the compensation for the Board of Supervisors hasn't changed since 2015.
He shared data, highlighting how Fairfax County compares to other Northern Virginia board salaries, as well as in D.C., Prince William and Montgomery Counties.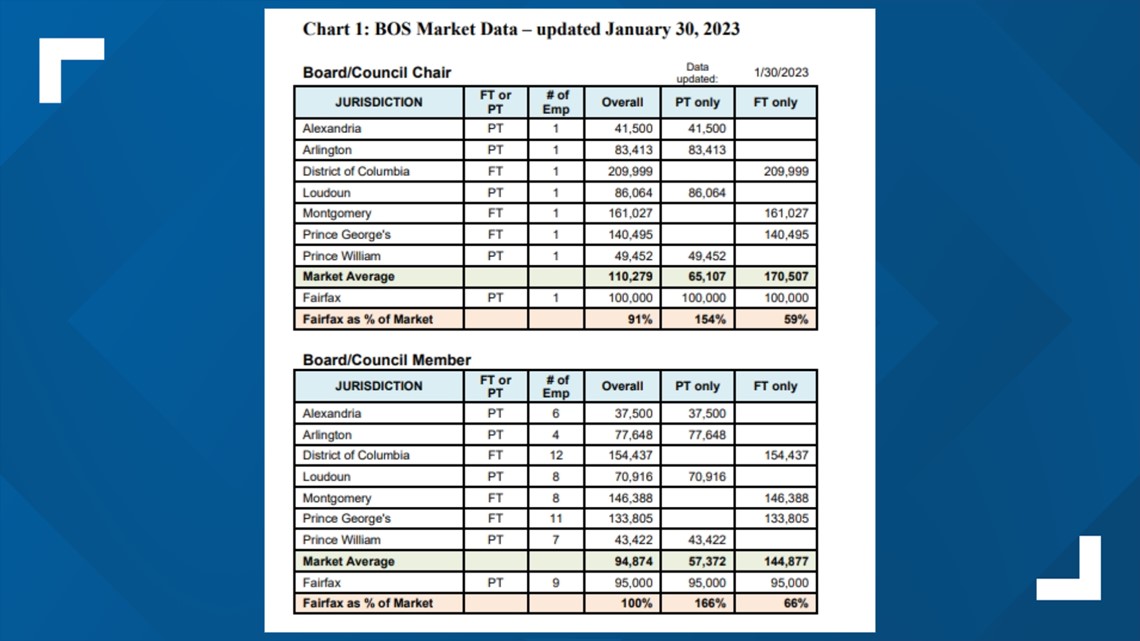 "It is unbelievable that this Board would propose a 37% raise for themselves when our residents are struggling with high inflation, a 50% increase in homeowner taxes over the last decade, and in a budget that does not address the staffing crisis in public safety and other critical county positions," said Supervisor Herrity.
The raises come as the board prepares to adopt the FY 2024 budget on May 9. That budget currently includes an approximately 7% increase in the tax bill for the average resident.
"It's a slap in the face to our community, certainly to our police officers who are amongst the lowest paid starting salaries we have a public safety staffing crisis. It's a slap in the face to more than just the community. It's the community, our county employees, our teachers, our police officers," said Herrity.
The proposal also includes that any supervisor who votes against the raise, would have to return their share of it to the county.
The Fairfax Workers Coalition also expressed concerns. They sent WUSA9 the following statement:
We're concerned that it appears the Board put a lot more time into studying their salary comparators than those of their employees.
With surrounding jurisdictions like Prince William County, (9%) Loudoun (6%) and Stafford (close to 10) providing far larger cost of living raises to their workers, we're no longer competitive for social services, public safety and essential services such as trash collection.
There is no shortage of aspiring politicians; there is a shortage of social workers, admin help, cops and refuse workers."
-Fairfax Workers Coalition (FWC)
Residents can share their thoughts, at a public hearing regarding the pay increase on March 21 at 4:30 p.m.
The vote has to be done by April 15, and if approved would go into effect in January of 2024.
>Read the full report from the March 7 meeting, including the section called "Compensation for the Chairman and Board Members" below: