ARLINGTON, Va. — Three years after Amazon announced it would build its second headquarters in Arlington, the tech giant offered a look inside the construction site of its first phase.
Metropolitan Park sits along Eads Street in Pentagon City. The 2.1-million-square-feet project will include two 22-story office buildings, more than 50,000 square feet of retail space for local small businesses and a 2-acre public park. District Dogs and RAKO Coffee are the first businesses to sign a lease at Met Park.
Construction has been right on track and should open by 2023, according to the company. About 800 workers have been at the site almost every day at a pace where a new floor is built every eight to 10 days.
Amazon Vice President of Public Policy Brian Huseman announced more than 3,500 employees have been hired and more than 2,500 roles are open as of November.
Amazon says it is committed to bringing 25,000 jobs to Arlington.
"We have announced a more flexible policy for employees working in the office but we view real estate as a long-term investment and we think there's a place for employees to come into the office collaborate and share ideas," Huseman said.
Amazon has been promoting its sustainability efforts to reduce the carbon footprint, which includes most of the construction materials used being diverted from landfills.
The tour started off at the rooftop of The Bartlett and then down to the construction site in between both towers. Representatives from Amazon and Clark Construction led a group made up of government officials and media to different floors and rooms including the event center which can hold up to 700 people.
Gov. Ralph Northam, who helped push for Amazon to choose a site in Virginia, attended the tour. He also signed a bill in 2019 that would provide $750 million in state incentives over the next 15 years if Amazon can create up to nearly 38,000 jobs and 6 million square feet of office space.
"To bring in a company like Amazon is a large step moving forward to diversifying our economy in Virginia," Northam said before the tour.
"What we're endeavoring to build here is an 18-hour community," Amazon Director of Real Estate & Facilities Joe Chapman said. "We're not just looking to build things for Amazonians but for the community to enjoy."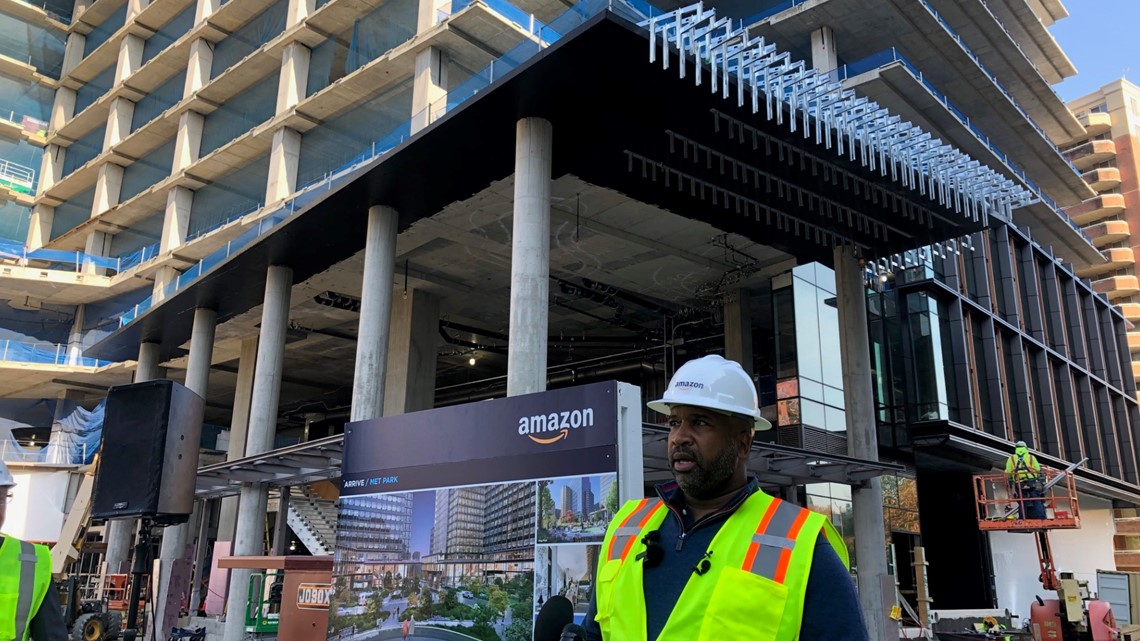 The second phase of HQ2, PenPlace, sits just north of Met Park and is in the final stages of the approval process. Amazon hosted a tour of that site a few weeks ago.
Arlington County has started an online engagement opportunity to ask for more feedback from the community as part of the next step of the proposed HQ2 site. People can review the latest slides and video presentations and fill out an online form.
The form will provide an opportunity for comments on aspects of the project such as the development proposal summary, the site layout, building form and architecture, open space, transportation, community benefits, and sustainability.
A county spokesperson said planning staff will then compile the public comments received into a preliminary report for the Site Plan Review Committee of the Planning Commission.