WASHINGTON, D.C. -- The city's latest push to make the District of Columbia the 51st state is a charm offensive, with tax dollars being spent on everything from mobile apps to M&M's to try and build support for giving District residents full representation in Congress.
People like 69-year-old Anise Jenkins, who was first introduced to DC Statehood as a teen growing up near U Street – listening to civil rights leaders like Julius Hobson demanding DC Statehood – way back in the 1960s.
"I just remember thinking, 'These people are... basically they are dreamers," Jenkins said. "You know, is this going to happen? Will we be a state?"
It's a question city leaders have spent decades trying to answer. DC has tried to get statehood passed in congress dozens of times, debating bills on the floor of the House of Representatives since Bill Clinton's first year in office.
Supporters argue DC pays more federal taxes than 22 states and has a bigger population than two states, yet still doesn't have true representation in Congress. Delegate Eleanor Holmes-Norton and DC's so-called "shadow delegation," made up of shadow Senators Mike Brown and Paul Strauss and shadow Congressman Franklin Garcia, have no voting rights thanks to a quirk in the Constitution the framers included to make sure there wasn't too much power given to lawmakers who work, and also reside, in the District.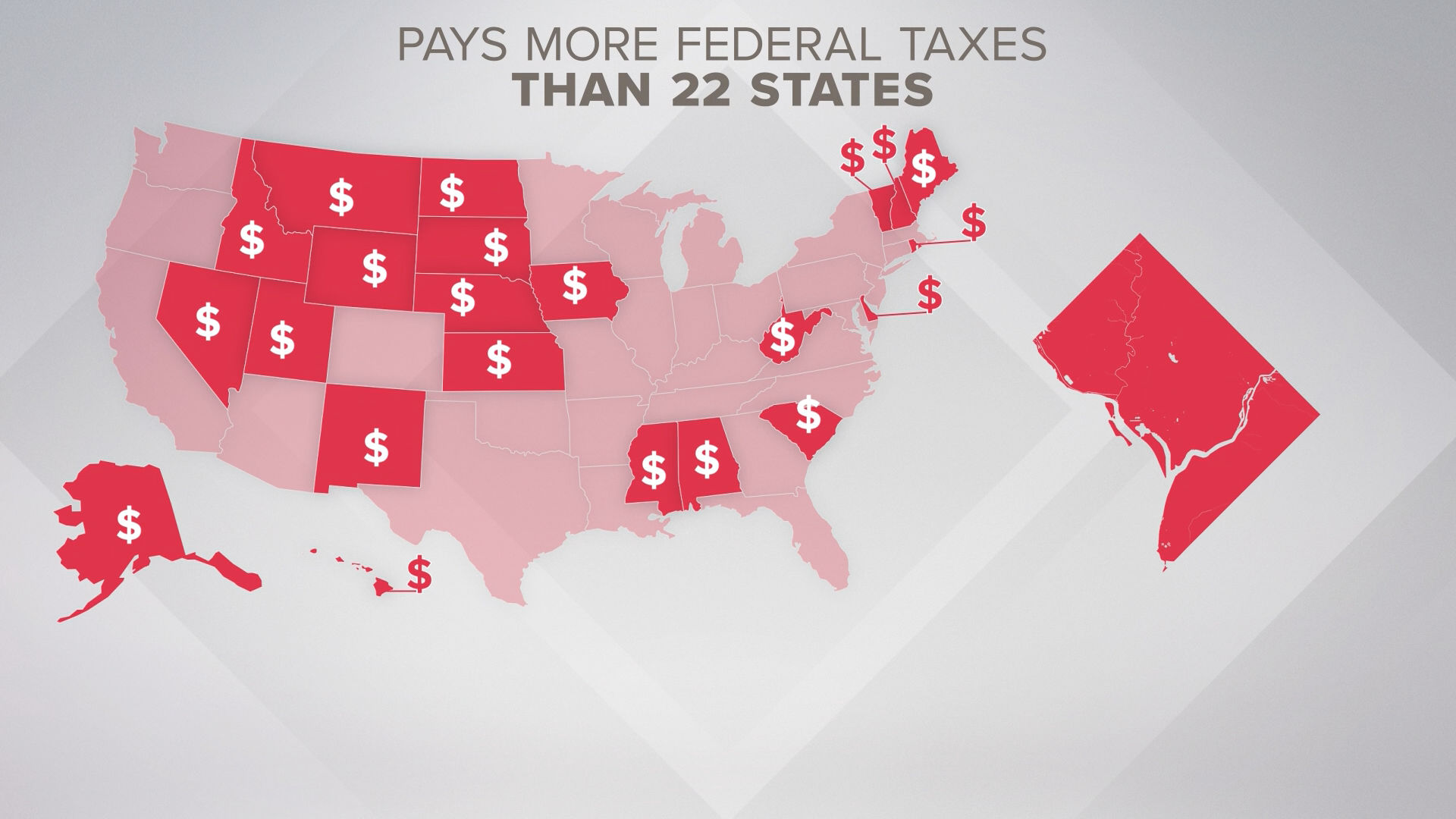 Brown, who hosts an internet radio show called "Shadow Politics" that often discusses DC statehood, revisited the issue again on his August 26th broadcast.
"When Democrats control the house and senate, because Democrats are really behind pushing this, we can get our legislation through and hopefully get it signed into law," Brown said. "That's one of the reasons we need to put some more resources behind this. Because we are starting to get momentum."
The latest plan to change that would shrink the size of the District of Columbia to the land around Capitol Hill, the White House and the National Mall. The rest of DC as we know it would be the 51st state – or "New Columbia," as activists like to call it.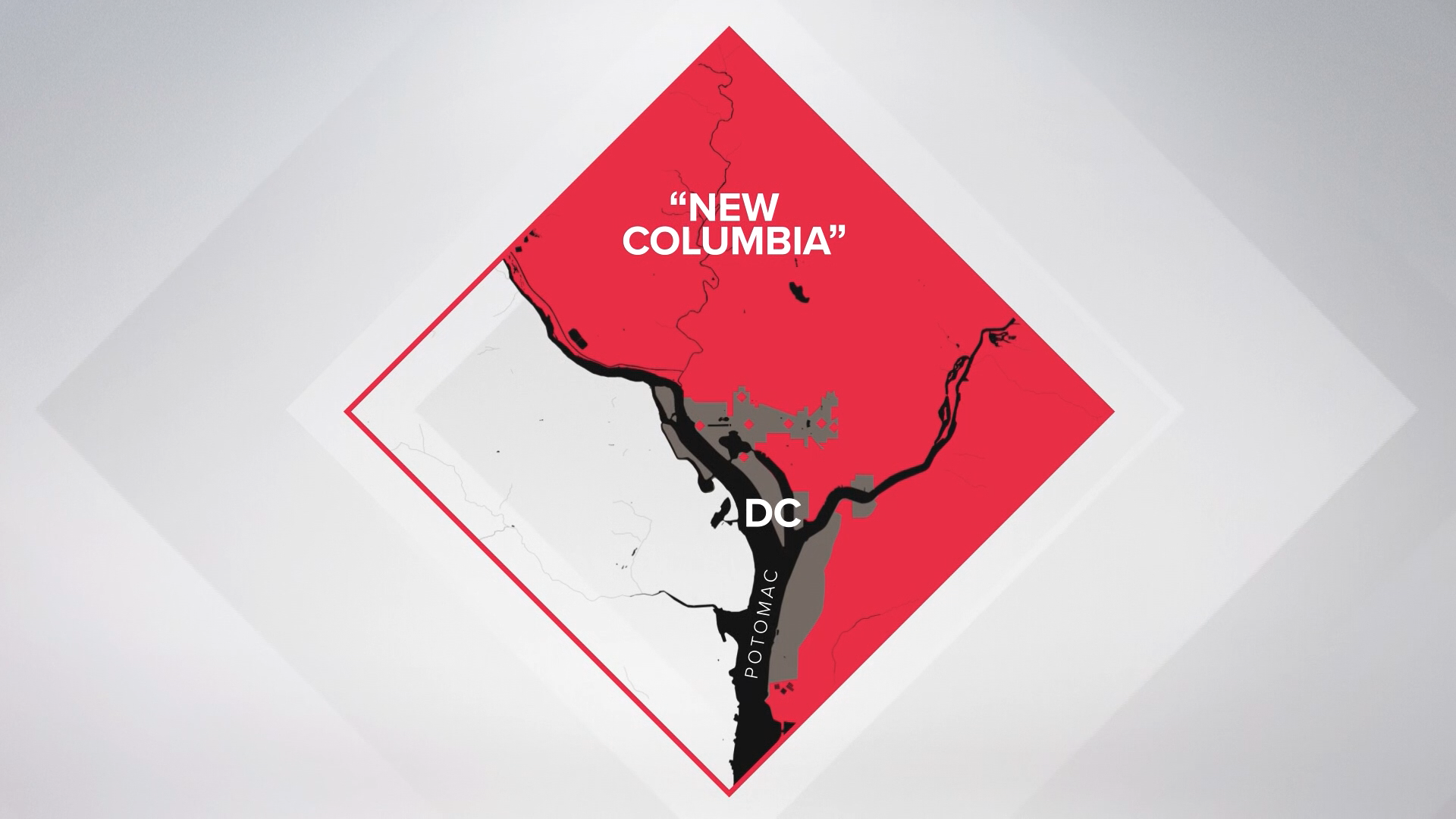 Above: The proposed boundaries of "New Columbia" and the remaining federal District of Columbia.
Beverly Perry, the senior advisor to Mayor Muriel Bowser who heads up the city's statehood initiative, believes this time is going to be different.
"We have a new strategy," Perry said.
Perry's war room is staffed by a modest two employees in the Wilson Building on Pennsylvania Avenue. Perry's budget is much more substantial.
WUSA 9 obtained a copy of the city's most recent budget breakdown and found:
$86,000 for computerized kiosks designed to educate out-of-towners;
$43,000 to take the message on the road to political conferences around the country;
$25,000 for a statehood mobile app;
$63,000 for a text message campaign;
$136,000 for a marketing firm to help the city coordinate the message;
$25,000 for celebrity endorsements for the statehood cause.
"Our strategy in centered around educating Americans on our plight," Perry said.
DC is spending $44,000 on "branded materials," including M&M's. But not just any M&M's: special-ordered M&M's with statehood messaging like "51," "add a star" and "our vote matters."
"They have the message on them," Perry pointed out when questioned about the validity of the expense.
Also paid for under the "branded material" heading, t-shirts that include special "MMB branding." MMB stands for Mayor Muriel Bowser.
"It's a statehood campaign that's led by Mayor Bowser," Perry explained.
Perry said it makes sense to put the mayor's name on taxpayer-funded statehood t-shirts because she is the one who created the statehood office, and is the movement's biggest cheerleader.
"We also work in conjunction with the New Columbia Statehood Commission, with the chairman (Phil Mendleson) and with the Statehood Delegation," Perry said, although she admitted logos from those offices would not be included on statehood t-shirts alongside the Mayor.
Not everyone believes the statehood initiative is money, or time, well spent.
"It is a fool's errand," said Roger Pilon, director of the Center for Constitutional Studies at the CATO Institute.
Pilon says with a Republican-controlled House, Senate and White House, passing statehood for DC, which would likely result in additional Democratic votes in congress, is a non-starter.
"Not likely given the political realities of the day and not likely in the future," Pilon said.
Jason Chaffetz, former Utah's Congressman and former chairman of the United States House Committee on Oversight and Government Reform, the committee that would have to approve a statehood bill, agrees.
"No way, no how," Chaffetz said in an interview.
"Republicans are simply not going to hand DC two senators and a representative. Their best chance was when Democrats had control of the House and Senate and the presidency. If they couldn't get it done with President Barack Obama, they are not going to get it done now."
But Perry said the city's latest statehood push is not futile or window dressing.
"It's a realistic campaign," Perry said. "I would not get up every day... I would not spend the time I spend if I didn't think this is doable."
Perry says the latest statehood bill in Congress has more co-sponsors than ever before, although they are all Democrats.
"We just have to turn that first Republican chair," Perry said. "And we're going to do that."
Until that day, people like Anise Jenkins will continue to walk the streets of a nation's capital whose people have no voice in the nation's government.
"We're going to keep fighting," said Jenkins, who believes DC will become a state in her lifetime. "You don't give up a civil rights fight."
Both statehood bills currently introduced in Congress, one on the House side and one on the Senate side, are sitting in committee. A hearing date has not been scheduled.
If you would like to sign the petition for DC Statehood, click here.