RICHMOND, Va. — Virginia Governor Ralph Northam announced more details on what Phase 1 of reopening in the commonwealth would look like when it begins on May 15.
Northam said that he believes the state has flattened the curve of the coronavirus outbreak and Phase One will emphasize to residents "safer at home, rather than stay at home."
While the stay at home orders are set to expire on May 15, Northam emphasized the importance of continuing to social distance and that groups of 10 and more are still prohibited.
"This won't be like flipping a light switch," Northam said. "It's more like slowly turning up a dimmer switch."
Northam also said that some localities may not feel they are ready to reopen May 15, specifically highlighting Northern Virginia as a continuing hot spot of coronavirus cases.
Three days before the scheduled start to Phase 1 of reopening, Gov. Ralph Northam issued Executive Order 62, allowing specific localities in Northern Virginia to delay entering Phase 1 of the "Forward Virginia" plan to ease restrictions on certain businesses that were put in place in response to COVID-19.
A spokesperson for Arlington County said the county is not planning to reopen with the rest of the state on May 15 because of the high number of cases reported in the county.
As of Friday afternoon, Loudoun County does plan on reopening.
Loudoun County At-Large Chair Phyllis Randall said Loudoun County is seeing a smaller percentage of cases and believes they could be on track to open with the rest of the Commonwealth.
"We believe that phase one will probably look like the rest of Virginia, but we don't know what phase two is going to look like," Randall said. "We will have to monitor very closely in Northern Virginia."
Randall also said she would have to continually talk with the rest of her colleagues in the region about reopening, adding that it would be difficult to have different opening dates depending on the city or county.
Other areas hoped to gather more data and input before making an official decision, including Alexandria.
Mayor Justin Wilson said that after the city saw a 400% rise in unemployment since February, he knew businesses in the area were eager to reopen.
"Behind every one of those businesses, there are a whole number of employees that are employed and for every one of them there are families," he said. "The heartbreak we've seen and the economic ruin that our residents and businesses have experienced is wrenching. It's absolutely wrenching and it's every day."
However, with the city seeing around 1,000 cases of coronavirus and over two dozen deaths, he said it was important not to rush a decision.
"We have one of the highest rates of infection in Virginia right now," Wilson said. "We're continuing to see double-digit increases every day. I think the guidelines that Gov. Northam laid out for Phase 1 seem largely reasonable. I have some questions. We're still trying to digest it all."
Above all else, Mayor Wilson said it would be important for Alexandria to meet the criteria for case reductions, testing, personal protective equipment, and hospital care.
"Any plan anywhere in the world to reopen always has the base that you've got to be able to test. If you don't know what your infections are, then you don't know and you're flying blind. The last thing we want to do is reopen and then have a second wave that requires us to go back in the other direction."
Mayor Wilson also hoped cities and counties in Northern Virginia, Maryland, and D.C. could work together on a coordinated response.
"Ultimately, we operate as a region here and it's important to recognize that in making decisions with that in mind," he said.
Phase 1 will allow businesses to re-open with limitations, which Governor Northam laid out in detail Friday:
Retail stores will be able to host up to 50% of a store's capacity,
Restaurants and breweries will still have curbside and takeout. If they already have a required permit, breweries and restaurants are allowed to serve on outdoor seating at 50% of their capacity.
Entertainment and amusement businesses remain closed
Fitness centers remain closed unless there is an outdoor exercise area
Beaches are for exercise and fishing only
Places of worship can have 50 percent indoor capacity and drive-through services
Barbershops and salons will be appointment only with strict social distancing and a requirement of face coverings.
Private campgrounds can reopen
State parks will still be day use only, with a slow phase-in of overnight camping
Child care remains open for essential workers only
Overnight summer camps will remain closed.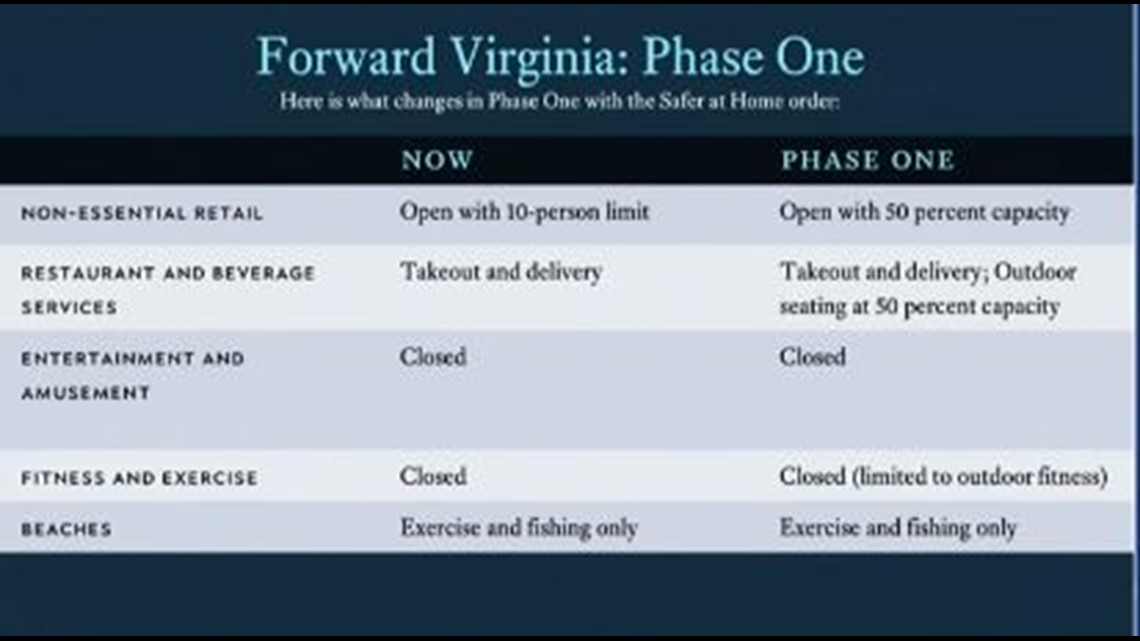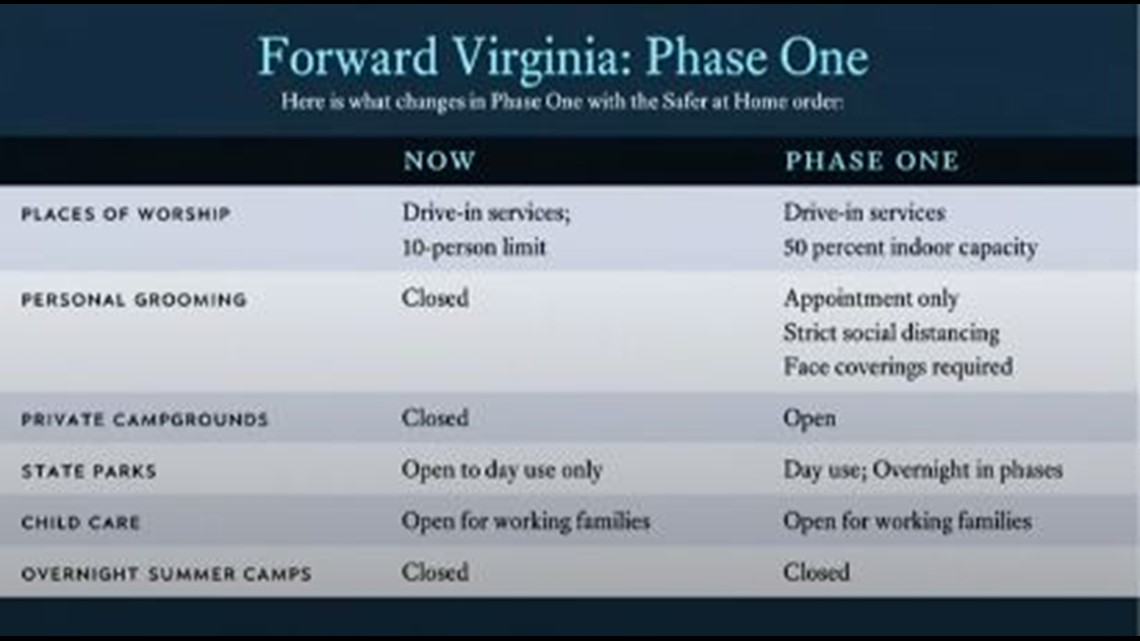 Phase 1 of reopening the commonwealth eases beach restrictions, allowing for fishing and exercise. Tent camping and RVs will slowly be allowed more access but groups are still required to be 10 people or less.
Virginians can go to the hair salon and barbershops but will need to make an appointment, as well as with other personal grooming spots like nail salons.
Restaurants and breweries are still available for takeout and curbside pickup and will be allowed to serve on outdoor patios at 50% capacity as if they already have a required license.
Religious services will follow that 50% capacity ruling as well, rather than being at a strict 10 person limit.
Entertainment venues and amusement parks will still remain closed.
Here's what else Phase 1 will look like in Virginia:
Policies to keep customers and workers separate at in-person businesses
Conferences and trade shows limited, as short as possible
No social gatherings of more than 10 individuals
Short breaks for workers to wash hands
Outdoor fitness activities only
Northam said Phase 1 will last a minimum of two weeks, but may last longer depending on what data shows. The commonwealth will use health metrics and guidance to see when to specifically move into Phase 2.
After Phase 1, Northam said the state will go into Phase 2. This will lift some of the restrictions the state is under, but life will not go back to normal.
Phase 2 for reopening in Virginia would mean:
Stay-at-home for vulnerable populations only
No social gatherings of more than 50 people
Continued social distancing
Face coverings recommended in public
Further easing of business limitations
*Note: Phase 2 could last 2-4 weeks or longer
Phase 3 for reopening in Virginia would mean:
Safer at home for vulnerable populations
Remove the ban on social gatherings
Remove capacity limits on establishments
Continue heightened cleaning and disinfection
Possible other measures
Northam said Phases 2 and 3 will likely also last three weeks as long as the health data supports it. The governor also noted that Phase 3 could be 10-to-12 weeks away or more - sometime in July.
The governor said even when the state is ready to move into a new phase, the virus will still be present and people should remain vigilant. He said it will not be eradicated until there is a vaccine.
"This virus is still here," Northam said. "It has not gone away and will not go away until we find a vaccination. Hopefully, that will be at the end of this year or sometime next year."
In neighboring D.C., Mayor Muriel Bowser said Monday it's not time yet for the District to reopen.
In Maryland, Governor Larry Hogan has outlined a plan, but not yet provided a timeline for reopening, citing the need for more testing and a downward trend in the number of cases.
What precautions should you take?
Avoid close contact with people who are sick.
Avoid touching your eyes, nose, and mouth with unwashed hands.
Wear a mask if you have to make an essential trip outside
Wash your hands often with soap and warm water for at least 20 seconds.
Use an alcohol-based hand sanitizer that contains at least 60 percent alcohol if soap and water are unavailable.
Cover your cough or sneeze with a tissue, then throw the tissue in the trash.
Reasons to leave your home under stay-at-home order:
Grocery store trips
Medical visits or trips to the pharmacy
Travel to your essential job
Exercises such as walks, hikes or bike rides
Commonly reported symptoms of COVID-19 infection include:
Fever
Cough
Shortness of breath
Pneumonia
If you are sick or suspect you are infected, the Centers for Disease Control and Prevention recommends taking the followings steps:
Stay home except to get medical care
Avoid public areas, including work or school
Avoid public transportation
Separate yourself from other people and animals in your home
Contact your doctor via telemedicine for more guidance
Check the status of the virus in your state with your state health department's websites by tapping below: