WASHINGTON — D.C. Health Department officials have confirmed that now eight members of the DC Fire and Emergency Medical Services Department (FEMS) have now tested positive for the coronavirus. Officials said they are in the process of contacting anyone who had contact with the individual to advise they self-quarantine.
This news Saturday comes after an initial person in their department tested positive on Tuesday, and an additional person tested positive on Wednesday.
The latest case involves an assistant fire chief that was not feeling good over the weekend, according to officials.
"Our Infection Control Group is working closely with DC Health Department officials to identify and contact any members who were potentially exposed to the assistant fire chief since Saturday, March 21," Gregory Dean, the chief of DC FEMS, said in a statement.
Dean said other FEMS employees will be tested for coronavirus "if DC Health or a doctor recommends it."
This is a reminder of the heroic work our first responders are carrying out during these unprecedented times," Dean said.
Washington, D.C. is under a State of Emergency with 39 cases of coronavirus reported in the District, prompting D.C. schools to close until April 1, and the government to operate on a modified schedule to mitigate the spread of the virus.
Beginning Monday, March 16 through Tuesday, March 31, the District of Columbia Government will operate on a modified schedule to prevent the spread of the coronavirus for the safety of the community.
Some government operations will be performed fully remotely and other services will remain at public buildings under modified operations, Bowser said.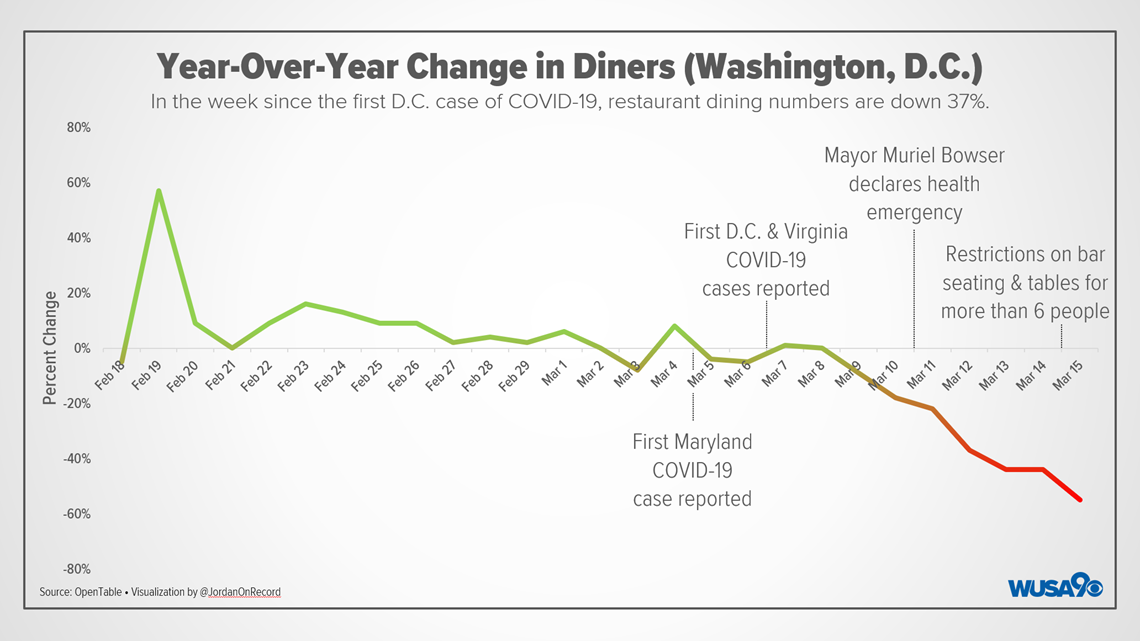 Bowser has issued new guidelines for District bars and restaurants in an attempt to curb the spread of coronavirus.
The new restrictions include the prohibition of bar seating, tables for more than six people and the operation of nightclubs entirely. Service to standing customers will also be suspended, and tables must be at least six feet apart.
The District of Columbia Government plans to resume normal operations on Wednesday, April 1.