WASHINGTON — If DC Public Schools' proposal moves forward, students at Washington Metropolitan High School will have to find a new home base next year.
Two days before Thanksgiving, the District sent a letter to stakeholders, detailing a proposal to close the school at the end of the year. The main reasons they cited for the closing are low enrollment and low attendance rates.
Washington Met is one of four "opportunity academies," or alternative schools, in DCPS.
"It's for people that need a chance to get back on their feet," senior Na'asia Hawkins said.
Hawkins found solace in the school's open doors, after she became pregnant as a sophomore at Anacostia High School. She struggled to straighten out her paperwork with the school, and Washington Met was her only option.
"Basically, [Anacostia High] didn't accept my maternity leave, so I couldn't go back to school after I had my baby," Hawkins said.
After a two-year struggle to get back in school, she enrolled at Washington Met and will be graduating in 2020.
Students and staff said the news came as an upsetting surprise heading into the holidays.
"I'm like 'what?!'" senior Lyric Johnson said. "It's my school. It's my community."
She said the school was designed for vulnerable students like her. Johnson was held back in the eighth grade and decided to transfer to Washington Met instead.
"I was playing, I wasn't focused," she said.
While attending her new school, she got into a fight, and still wanted to stay at Washington Met.
"I had got stabbed when I was fighting," Johnson said. "But that's like the old me. This school actually helped me grow."
During two public meetings, the school reported Washington Met's enrollment for this year as 157, the lowest of the four academies. The school has also seen a less than 40% attendance rate so far this year.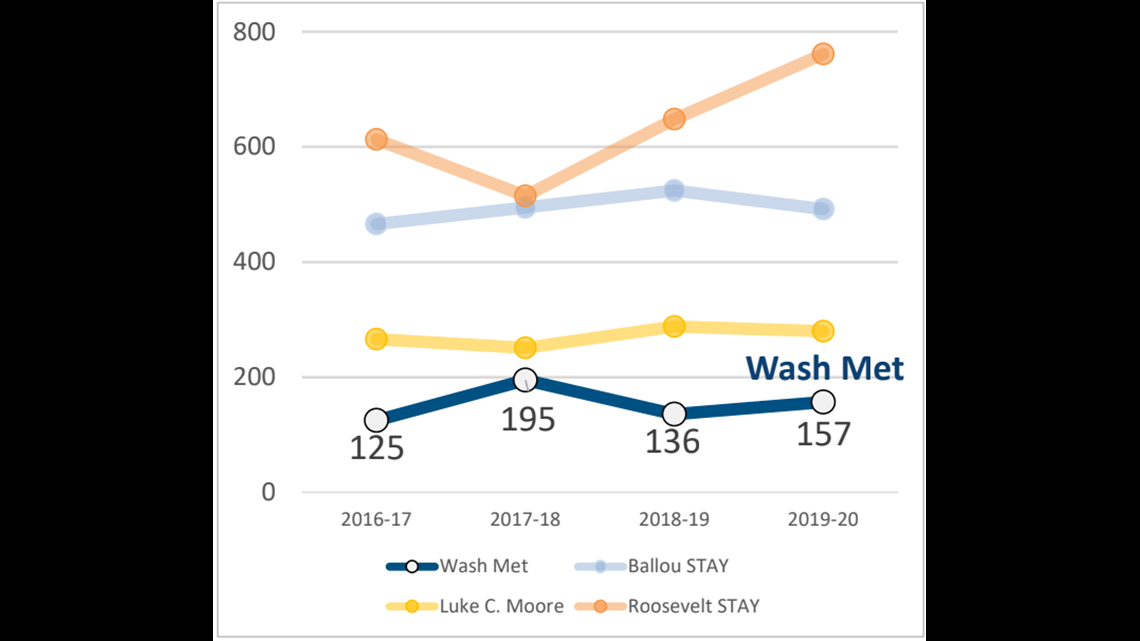 In the letter, the chancellor said they are "confident that this proposal is in the best interest of students and families and would yield positive results."
The State Board of Education representative for Ward 1, Emily Gasoi, said families with whom she has spoken told her it is not a fair comparison.
"It's a different population of students," Gasoi said. "Some of them have already tried the STAY academies, they tried their neighborhood schools, and they're at Washington Met because that didn't work for them."
She said the District needs a smaller alternative school to help kids like those at Washington Met. She also suggested increasing mental health resources after teachers said they suffered from a severe lack of them.
Regardless of its deficits, students said Washington Met has become a safe haven, and they're not ready for it to close.
"When I first got here I was scared," Johnson said. "But, they just kind of took me in, you know, and loved me."
According to the survey, 93% of respondents disagreed with closing the school.